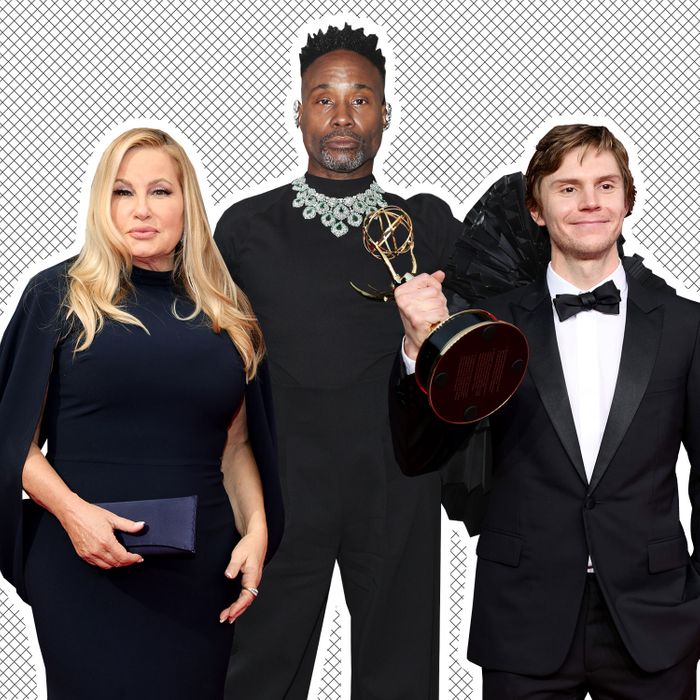 Photo-Illustration: The Cut; Photos: Getty Images/Shutterstock
Last year's Emmys were their own brand of strange. There were presenters in hazmat suits, rumors of a Zoom after-party, and Jennifer Aniston putting out a garbage fire — a little on the nose, but okay! Fortunately, the award show was (mostly) back to its usual shenanigans for the 2021 Emmys on Sunday night.
There were skits and sketches galore during this year's award show. We had Rita Wilson rapping, a cameo from Dr. Phil, and a brief homage to Met Gala Horse Girls. We are truly in the golden age of television!
Below, some of the best, worst, and weirdest moments from the night.
Very good men's fashion!
Bowen Yangs's boots! Josh O'Connor's little flower-esque bowtie! Billy Porter's … everything! Love a man that really Does Something with his red-carpet look.
Oh God, the rapping
As per usual, the Emmys opened with all the famous people doing a fun little skit. This year, it was a pandemic TV-themed parody of Biz Markie's "Just a Friend." What else is there to say except … why?
Seth Rogen, voice of reason
Everyone's favorite ceramicist, Seth Rogen, looked like a handsome pumpkin-spice man at the 2021 Emmys. As the ceremony's sole voice of reason, he did what no one else was brave enough to do: ask why so many people were in the same room given *gestures wildly* all of this.
Kerry Washington recognizing Michael K. Williams
Williams, who passed away just a couple weeks ago, was nominated for Best Supporting Actor in a Drama for his performance in Lovecraft Country. While he didn't win, Washington paid tribute to the late actor while presenting the nominees for the award. "Michael was — it's crazy to say 'was' — a brilliantly talented actor and a generous human being who has left us far too soon," Washington said. "Michael, I know you're here because you wouldn't miss this. Your excellence will endure. We love you."
Our collective boyfriend, Evan Peters
Mare of Easttown star Peters won for Outstanding Supporting Actor in a Limited or Anthology Series or Movie. I, much like Peters's American Horror Story co-star Sarah Paulson, was very excited. I would watch this man gleefully scream, "KATE WINSLET" any day.
Adam Driver
Though everyone's favorite Tall Horse Boy was not at Sunday night's award show, he was there in spirit. While accepting the award for Outstanding Writing for a Variety Series, writers for Last Week Tonight With John Oliver did what we would all do were we given a microphone on live TV: speak directly to Adam Driver. "We would like to dedicate this award to Adam Driver," writer Chrissy Shackelford said. "He knows what he did — and we know what we would like him to do."
Jennifer Coolidge
Her mere existence is worth celebrating. But the White Lotus actress gave us more than we deserved when presenting the award for Lead Actor in a Comedy Series. First, she congratulated all the nominees on their ability to "overcome the handicap … of being men." Then, she gave a hearty, "Way to go gentlemen, wherever you are!"
RuPaul becomes the most-awarded Black artist
Winning the award for Best Reality Competition Series, RuPaul has broken the record for Emmys won by a person of color, securing his 11th Emmy Sunday night. Shantay, you stay!
Kate Winslet's acceptance speech
Winning the award for Best Actress in a Limited Series or Movie for role in Mare of Easttown, Winslet gave a shout-out to her fellow nominees, acknowledging the importance of "women having each other's backs." She also thanked show creator Brad Inglesby for creating a "middle-aged, imperfect, flawed mother," adding, "you made us all feel validated, honestly." You ARE indeed the winner, Kate.
That speech from the Queen's Gambit director
Some speeches, like Winslet's, are good! Others are … this man's.
The illustrious Jean Smart
The Hacks star won her fourth Emmy tonight. If you have not seen her in Watchmen, you must, at the very least, watch her marvel at this giant metallic-blue dildo from the show.
Michaela Coel wins!!
The star, writer, and creator of I May Destroy You received some long-overdue recognition Sunday night. In her brief but impactful speech, she urged others to "write what scares you." She added, "Do not be afraid to disappear from it, from us, for a while and see what comes to you in silence." Coel ended by saying, "I dedicate this story to every single survivor of sexual assault. Thank you," she said.