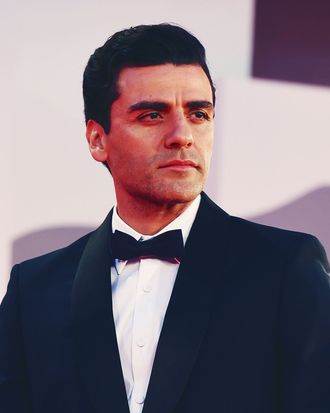 Photo: Stefania D'Alessandro/Getty Images
Oscar Isaac — need I say more? No, but I will! The internet's boyfriend has two entire movies and a miniseries coming out this fall, and we must celebrate accordingly: with some important thoughts/thots on this extremely gorgeous man.
Our first Oscar Isaac vehicle is The Card Counter, which is now in theaters and asks the question, "Could Oscar Isaac be hot even if his hair was slicked back kinda stupid?" (The answer is yes, obviously.) The Card Counter follows an Iraq War veteran (Isaac) who becomes a card-counting gambler. He's stoic. He's tortured — both spiritually and literally. He makes intense and horny eyes at Tiffany Haddish, who plays a woman named La Linda who runs a stable of gamblers. My main critique is that the movie had me constantly concerned for Oscar Isaac's well-being, which is a hard state of mind to maintain for two hours. Please do not hurt my beautiful husband! If that sounds too stressful, you can always watch this video of Oscar Isaac saying The Card Counter in Italian while drinking an Aperol spritz. Molto bene!
Next, the first episode of the HBO miniseries Scenes From a Marriage premiered Sunday, September 12. The five-part series depicts the marriage of Jonathan, played by Isaac, and Mira, played by Jessica Chastain, with all its ups, downs, hostility, and horniness. A key part of marriage, as portrayed by Isaac, is having gorgeous gray hair, wearing sexy glasses, and washing your face a lot. Also, sex. In fact, Isaac apparently sang to Chastain between takes of their sex scenes in order to ease the tension. I, for one, cannot fathom having Oscar Isaac singing to me in bed and thinking, "Wow, I am so at ease and not nervous at all!" Each episode begins with a behind-the-scenes shot following one of the actors as they walk onto set, with face masks and COVID protocols in place. It's initially jarring but eventually settles into some comforting Theater Kid energy. Both Isaac and Chastain are very much Acting, with a capital "A," adding to the cinema of it all. Here's a trailer for the series:
Just kidding, it's Isaac and Chastain on the red carpet Flirting with a capital "F." Good-bye, world! I am but a puddle of goo melted on the floor now!!!
Finally, we have Dune, the much-anticipated adaptation of the sci-fi book of the same name, which was also made into a movie in the '80s. In the 2021 version of Dune, Isaac and all my various significant others — including Timothée Chalamet, Zendaya, and Javier Bardem — are in Future Space, doing sand fighting and hanging out with some big butthole worms. Based on reading one (1) Wikipedia article, Dune is about a brilliant, Beautiful Boy who has to travel to a dangerous planet to retrieve a drug called "the spice" in order to save his people. Isaac plays Chalamet's dad, and if I hear Timmy call Isaac "papa" I will pass away. Isaac's spouse in the movie is played by Rebecca Ferguson, who is, get this, also extremely hot! Plot-wise, the most important thing you need to know is that Oscar Isaac and his beautiful space beard will be there, and who among us wouldn't do space crimes for this face?
Dune will be in theaters and available to stream on HBO Max on Friday, October 22. But with the recent premieres of The Card Counter and Scenes From a Marriage, Oscar Isaac SZN is already well under way. You can pay your respects by gazing at the Dune promo shots and imagine being Jessica Chastain's arm.