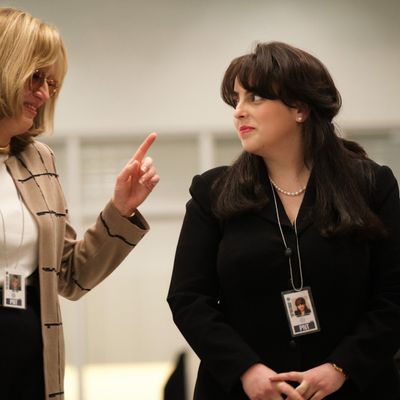 Sarah Paulson as Linda Tripp and Beanie Feldstein as Monica Lewinsky
Photo: Tina Thorpe/FX Networks
You likely know the major beats of Impeachment: American Crime Story. There's President Bill Clinton's affair with White House intern Monica Lewinsky, the allegations of sexual harassment former Arkansas state employee Paula Jones files against the president, and Clinton's eventual impeachment by the House and acquittal by the Senate. However, this week's premiere episode of the latest ACS installment may have felt like a history pop quiz if you, like me, don't remember many of the details surrounding the events.
Impeachment is told primarily through the women involved in Clinton's scandals and lawsuits. Namely, Lewinsky, Jones, and Linda Tripp, a White House civil servant best known for secretly recording phone calls in which Lewinsky talked about her affair with Clinton. This season's first episode is laden with '90s news nostalgia — SlimFast shakes and microwave dinners, references to Designing Women, the beret. But how accurate is it?
Below, a cheat sheet to the real-life people and events referenced in this season.
Monica Lewinsky
Lewinsky is a producer on this season of American Crime story and worked closely with Beanie Feldstein, who is playing her on the show. Off the bat, it's arguably among the most humanized media portrayals of Lewinsky, who was 22 and 23 during the time of the affair. As shown in the series, Lewinsky started as a White House intern in the office of Chief of Staff Leon Panetta in July 1995. After initially taking a paid position in the White House Office of Legislative Affairs in November of the same year, Lewinsky was moved to the Pentagon in April 1996 after her superiors thought she was spending too much time with Clinton. There, she worked as an assistant to Kenneth Bacon, the chief Pentagon spokesman at the time, and met Linda Tripp.
American Crime Story starts after the affair has already begun, the first episode ending with Lewinsky telling Clinton about her first day in her new position at the Pentagon. The show as a whole works to reframe what happened between Lewinsky and the president, portraying the then-22-year-old as a smart young woman who fell in love, was manipulated by powerful people many years her senior, and ultimately, dehumanized in the media. It's a long-overdue reprieve from how Lewinsky was treated in real life. Not only were intimate details of Lewinsky's sexual relationship with the president made extremely public, she was repeatedly vilified, slut-shamed, and reduced to a punch line. Lewinsky herself has called the kind of public shaming she experienced "a blood sport," adding, "Now I admit I made mistakes — especially wearing that beret — but the attention and judgment that I received — not the story, but that I personally received — was unprecedented." Clinton, on the other hand, suffered few consequences in comparison. (Most recently, he attended a celebrity softball game in the Hamptons.) Lewinsky has said that the former president has yet to apologize.
The Linda Tripp of it all
Tripp, who is played by Sarah Paulson on the show, worked as a White House aide during George H.W. Bush's presidency. She stayed when Clinton was elected into office, eventually working as a civil servant in the office of Vince Foster, an attorney who served as deputy White House counsel. As depicted in the show, Foster died by suicide amid the brewing Whitewater controversy. Afterward, Tripp was moved from her role in the White House to a less prestigious role as a public affairs officer at the Pentagon, where she eventually met Lewinsky. The two became friends despite their significant age gap — Tripp was 24 years older than Lewinsky.
Given her proximity to Foster and the Clintons, Tripp had contacted literary agent Lucianne Goldberg (played by Margo Martindale) in hopes of selling a book on her experience in the White House. After Lewinsky confided in Tripp about the affair, Goldberg advised Tripp to secretly record her conversations with Lewinsky as book fodder. However, those tapes could have gotten Tripp charged with wiretapping. So, in exchange for immunity, she gave the recordings to independent counsel Kenneth Starr, whose investigation into Foster's suicide and the Whitewater controversy eventually expanded to include Clinton's potential perjury when he famously denied having sexual relations with Lewinsky. Tripp remained a prominent figure in relation to the affair, with her recordings playing a key role in Clinton's impeachment trial. Tripp was also the reason Starr (and the rest of us) found out about the Blue Dress. She died last year of pancreatic cancer.
Paula Jones
Jones, who is portrayed by Annaleigh Ashford, worked for the state of Arkansas in March 1991. She later said that, during that time, then-governor Bill Clinton exposed himself to her in a hotel room. In 1994, after Clinton was elected president, she filed a sexual-harassment lawsuit against Clinton, which would become a catalyst for exposing the affair between the president and Lewinsky. As depicted in the show, Jones was asked by Clinton's team to draw a picture of the president's penis as proof of the harassment. "There are many moments in this show that, that if you wrote them, and if this was fiction, you'd get a note from the studio and the network that 'that's too crazy, that would never happen in real life,'" Ashford told Newsweek. "We are really doing a re-enactment of real moments, and so that really did happen in a deposition." Jones's case was eventually dismissed before it reached trial, with the judge ruling that there was insufficient evidence that she suffered any damages.
Ann Coulter
Colbie Smulders plays a surprisingly spot-on Coulter in Impeachment: American Crime Story. Equally surprising — at least to me — is the fact that Coulter was involved in Clinton's impeachment. As shown in the series, Coulter — who worked as a Senate aide and then a constitutional lawyer before becoming … whatever she is today — provided legal advice to both Tripp and Jones during the Clinton scandal. By 1998, Coulter was already known for mocking those mourning Princess Diana's death and telling a Vietnam veteran, who Coulter claims she didn't know was disabled, "People like you caused us to lose that war." Then, she essentially inserted herself into the impeachment conversation, becoming a cable-news-circuit staple calling for Clinton's removal following the success of her best-selling 1998 book, High Crimes and Misdemeanors: The Case Against Bill Clinton. It's little surprise this propelled her to ultraconservative pundit infamy.