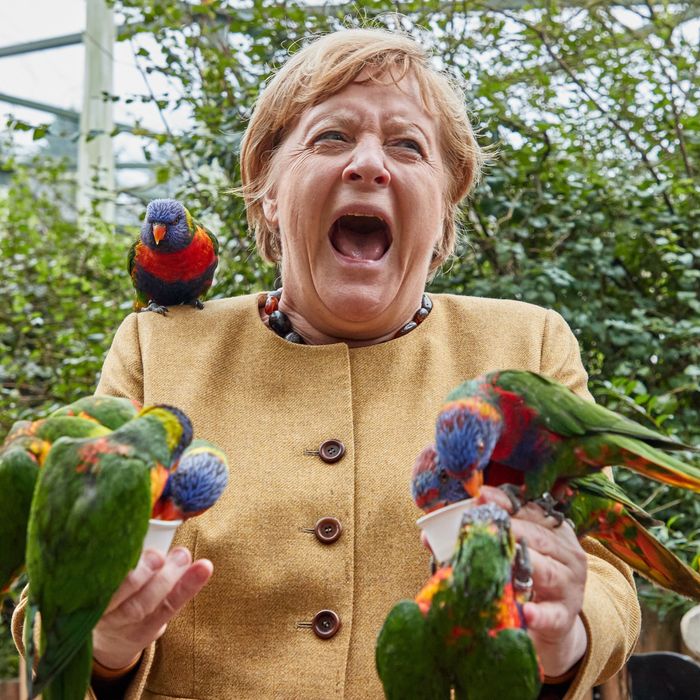 Photo: Georg Wendt/dpa/picture alliance via Getty Images
Angela Merkel is approaching retirement and, like any self-respecting bureaucrat readying herself for a life of leisure, she is taking a little time to commune with nature. Namely, birds. On Friday, Merkel visited a bird zoo in her home constituency of Mecklenburg-Western Pomerania and blessed us with an emoji keyboard's worth of facial expressions. Due to an unfortunate altercation between Merkel's hand and a bird beak, the chancellor suffered a small injury. Blessedly, she persevered, and hopefully with minimal emotional trauma.
Nevertheless, Merkel's visit to the birds was filled with all kinds of tonally nuanced moments. Please, gaze upon a sampling of her expansive emotional range when it comes to interacting with her aviary constituents:
First up is a look of severe unease, well masked but nonetheless apparent, at this owl, who does indeed look mildly spooky. Obviously, Merkel is right to be wary, given how the rest of her visit is about to go. But maybe she's just thinking about what this owl's legs look like?
Look at that focus. This is the look of a woman who is serious about her bird feeding. Also to consider: how polite Merkel has charmed this bird into being while it eats out of her extremely competent hand. Behold the power of her practical hooded jacket.
We've now reached the "tentative joy" stage of Merkel's visit, wherein a bird flies alarmingly close to her head and she nonetheless manages to hold this pose. That is years of strict German discipline culminating in one awe-inspiring photograph.
More tentative joy, but this time with color and some Australian birds. It's giving Mary Poppins bird lady meets Home Alone 2 bird lady.
Here is the money shot, where Merkel is presumably screaming a few choice German curse words upon being bitten by a pretty rude bird, if you ask me. Is it even legal to bite the chancellor of Germany? I did not know faces could position themselves this way! The woman's eyebrow muscles know no bounds.
Conflict resolved.