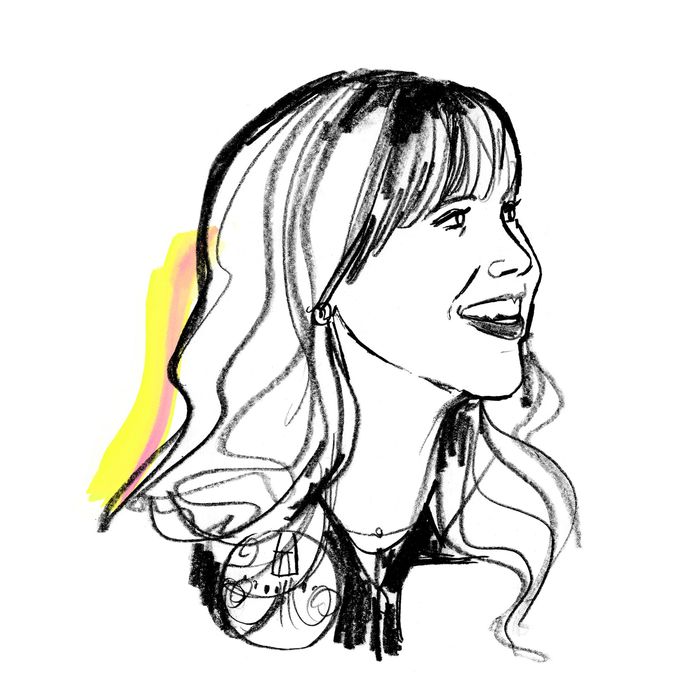 Illustration: Lauren Tamaki
Hayley Arceneaux is a 29-year-old physician's assistant at St. Jude Children's Research Hospital in Memphis, Tennessee, and a soon-to-be astronaut. At the age of 10, Arceneaux was diagnosed with osteosarcoma, a kind of bone cancer, and received treatment — which included nearly a dozen rounds of chemotherapy, a limb-preservation surgery, and extensive physical therapy — at St. Jude, where, nearly two decades later, she now works with leukemia and lymphoma patients. In February of this year, she was chosen by billionaire entrepreneur Jared Isaacman to join him and a small team on Inspiration4, a three-day mission to orbit Earth with SpaceX to raise awareness and funds for the hospital. For the past six months, Arceneaux has been splitting her time between the inpatient ward at St. Jude and flight simulators at the SpaceX headquarters in California. The Falcon 9 rocket is scheduled to launch from Florida on September 15, at which point Arceneaux will become the youngest American ever to travel to orbit as well as the first person with a prosthetic body part to go to space. Netflix is producing a five-part docuseries about the flight — Countdown: Inspiration4 Mission to Space — which airs September 8. Arceneaux spoke to the Cut about her work at St. Jude, training for this once-in-a-lifetime voyage, and the importance of holding on to hope in dark moments. Here's how she gets it done.
On her morning routine:
I don't have a very strict morning routine, but I like to ease into the day with some quiet time. My dog likes to cuddle in the mornings, so when I wake up, she comes up near me and I'll pet her for a while, and then I'll make myself a latte. I really look forward to my morning lattes, and I keep it simple — just espresso and milk. No flavors; nothing crazy.
On travel:
I love being immersed in a foreign culture and all the challenges that come with it. For instance, I love being in a place where I don't speak the language or understand the currency. You have to figure a lot out on your own, and it really helps you appreciate the way other people live. My interest in travel really started in undergrad. I knew I wanted to be a PA at St. Jude, and there's a big Spanish speaking population at the hospital so I decided to major in Spanish. I did a study-abroad program in Valencia, Spain, and just fell in love with it. I ended up going back the next year. I spent a month working in a clinic in Peru after PA school. It is so beautiful, and the community I was working with was just really special. I am 29 now, and I've been to 21 countries.
On working with cancer patients: 
I work inpatient — so, with kids in the hospital — with leukemia and lymphoma patients specifically. The majority of them received their cancer diagnoses pretty recently, so a big part of  my role is helping to educate and support families through the beginning of treatment. I help them understand, What is cancer? What does the treatment process look like? What should I expect? A lot of them feel blindsided at first. We also manage the kids while they are in treatment. If they get an infection or if they get a fever, we take that really seriously. So I'll manage their IV antibiotics or other treatment-related complications that can occur. I check on patients, assess labs, order tests, update families on the results, order meds for outpatients. It is a lot of coordinating and educating. It's hard, but it's the greatest job in the world. One of the great things about St. Jude is that we mostly keep the same patients. So if a kid I saw in his first week of treatment is re-admitted months later for an infection, I'll take him again. We really try to maintain continuity, which helps us build strong relationships with the families.
On the emotional toll of being a caregiver:
Some people say that you shouldn't let yourself get attached to your patients, but I do. I can't imagine how you wouldn't. When I think back to when I was a patient, what I loved so much about St. Jude was the relationships that I formed with the staff. I became part of the family, and so, yeah, I let myself get close with these families. It can be hard at times, but most of our kids do great, and getting to celebrate those end-of-chemo parties, when their treatment is finally over … there is nothing like it.
On hope: 
"Hope" has been a big word in my life. When I was in treatment, it was something I held on to very tightly. In the years that followed, I wore a necklace that had the word "hope" on it. I had it all over my room, on all my notebooks. When I was a kid, I had so much fear that my cancer would come back and that I wouldn't get to grow up and have a future — and I had to counter that with something. I had to imagine something better for myself, and for my friends too. It was something I talked about a lot, so when I got invited to this mission, and I found out that I was representing the hope seat, it gave me chills. No matter what you are facing, it is so important to hold on to hope because the truth is that you don't know what's around the corner. You can't predict your life. To me, hope is the feeling that there will be better days ahead. And I try to share that hope with the patients I treat.
On going to space: 
I'm so excited. Ever since I got the call, I have been 100 percent ready. I've been counting down [the days]. For some reason I'm really not nervous. I think it helps that I've met all the lead engineers for our mission. I've even gotten pretty close with some of them, and I just know that we're in really good hands. This Falcon 9 rocket has had more successful runs than any other spacecraft. It's really reliable. I think I'm most excited to see the Earth out the window — and, of course, floating and living in zero gravity. While we're up there, we're also going to call a current St. Jude patient on a video call. I think that's going to be a really special moment, where we can show them what their future can look like. Kids are so visual, and if they see somebody that was just like them, who recovered from cancer and is now in space floating around a rocket ship, they're gonna know that they can do that too. Recently, one little girl was just like, "I can't wait to be an astronaut!" There was no "if" in her mind; it was just a matter of "when." And I love that mentality cause it means she's thinking about life after cancer — growing up and accomplishing her dreams.
On preparing for space travel:
I never want training to end. It has been a lot of studying. There is also a lot of physical training involved, building muscles and endurance. Last week, we had a 30-hour simulation where we did everything that we're gonna do in space. It was awesome. We slept, ate, everything. The simulator allows us to practice for any possible situation — and it allows mission control to practice, too. We did all the quintessential astronaut training: centrifuge, hypoxia. Our commander, Jared, also has some fun ideas for team bonding. He wants us to, as he put it, get comfortable being uncomfortable. So we all hiked Mount Rainier together and spent three days camping out on the mountain. We have also done some fighter-jet training, which is mostly about getting comfortable with the G forces and getting used to feeling somewhat out of control. It is teaching me a lot about myself, and it's showing me that I'm tougher than I thought it was — and I already thought I was pretty tough.
On space food:
One of my first questions was, "Are we gonna have astronaut ice cream?" And the answer was no. In our capsule, we don't have a way to rehydrate food. And since we're going for a short-duration mission, it has to be shelf stable. We're gonna have cold pizza. I ordered a white pizza with jalapeños and peppers on it, and that's gonna be my food for, like, the first day and a half. We also have some shelf-stable bacon and cheese, some nuts and Skittles and M&Ms, jerky sticks, and protein bars. I mean, I'm not going for the food. I told the food engineers that I didn't think I would eat much, but during the simulation I was eating all of my crew member's food — so I think I might actually have a good appetite in space.
On balancing her busy schedule: 
I think it helps that I have some natural energy. It takes a lot to make me tired. But when I am as busy as I have been lately, I have to write things down in a to-do list or they won't get done. Also making time for friends and family really helps me feel grounded. Especially when I have a lot on my plate. The people close to me have been so supportive through it all. I talked to a friend on the phone for hours yesterday — that, for me, is really sustaining. And, you know, I try to be balanced. I'm doing a lot, so I try to let myself be a little lazy when I can be. I love a craft cocktail at the end of the day. I get done what I have to get done, but I also try to give myself some grace. Like, I haven't unpacked my suitcase from my most recent trip yet. That's okay. I'll get to it.