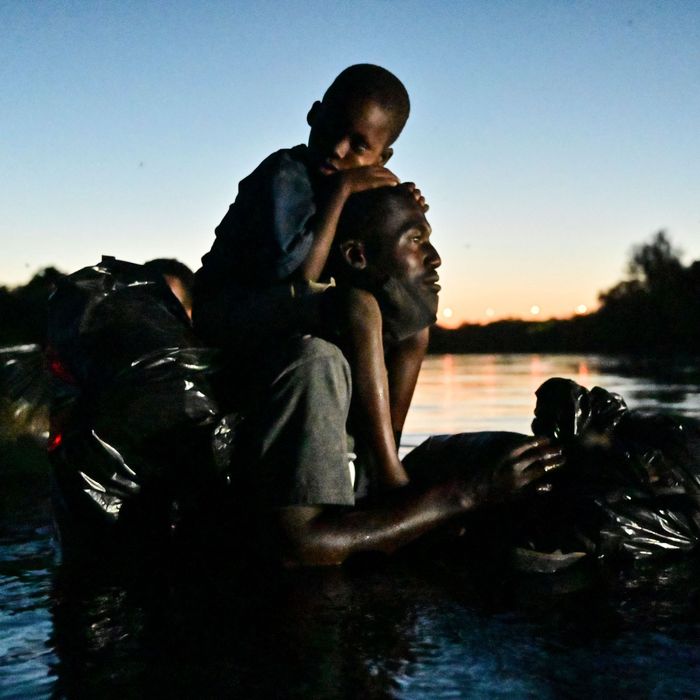 A man carries a child on his shoulders as Haitian migrants cross the Rio Grande river on September 23, 2021.
Photo: Pedro Pardo/AFP via Getty Images
Despite campaigning on a pro-immigration platform, with Joe Biden promising to welcome immigrants and Kamala Harris declaring herself "heartbroken" after visiting an ICE detention center, under their administration we've seen some of the highest numbers of detainees — and some of the cruelest human-rights abuses by ICE.
By now, most of us have seen the horrifying photos of ICE agents on horseback, whipping asylum seekers from Haiti. Deportation flights started this week, with the U.S. using a Trump-era rule to deport Haitian asylum seekers before they even have a chance to seek asylum.
2021 brought unprecedented tragedy for Haitians. The year began with protests demanding that President Jovenel Moïse step down; in July, he was assassinated, throwing the already unstable government into turmoil. Food and water became scarce, and violence increased. Then, in August, a magnitude 7.2 earthquake hit, killing more than 2,000 people and injuring more than 12,000, and was followed almost immediately by flash floods caused by tropical storm Grace.
The U.S. has deported at least 1,400 asylum seekers so far, and thousands more have retreated back to Mexico after hearing about the deportations. If this situation leaves you feeling devastated and angry, here are some actions you can take.
Call your senators and representatives
As outlined by Haitian American author Maika Moulite in this Instagram post, clogging the phone lines of senators and representatives all over the country can help emphasize the urgency of the crisis, and with enough pressure, could prompt the Biden-Harris administration to change policies. Moulite is using a script from the Haitian Bridge Alliance, which can be found here. The Black Alliance for Just Immigration (BAJI), a racial and immigration justice organization, has also created a tool kit to guide you through how to advocate for Haitian asylum seekers.
Donate
Unless you're able to travel to the border and volunteer with organizations providing aid on the ground, the next best thing you can do is donate. Even if you can't afford to send large donations, setting up regular donations (monthly or biweekly) is the best way to offer sustained support for Haitian asylum seekers, even after Haiti is no longer in the headlines. Here are some organizations to consider donating to:
The Haitian Bridge Alliance has been supporting Haitian immigrant communities in California for years, and is one of the primary organizations currently on the ground in Texas. Its work includes providing supplies, reuniting families, and welcoming the few asylum seekers who aren't being deported. Donate here.
San Antonio–based Black Freedom Factory is a grassroots organization that is on the ground distributing food and supplies at the border, as well as providing shelter, supplies, and food for newly arrived Haitian asylum seekers in Texas. Donate here.
BAJI is a national organization with staff in Texas that organizes for immigration justice and advocates for Black immigrant communities; it's currently fighting to stop deportations by the Biden administration. Donate here.
The Haitian Immigrant Bail Assistant Project (HIBAP) helps pay bail to free detained refugees, asylum seekers, TPS holders, and other undocumented immigrants. Donate here.
Since its founding in 2015, Houston Haitians United has worked to connect and uplift Houston's Haitian community. Now, the organization is on the ground helping run a shelter where volunteers are providing Haitian food and supplies, translation services, COVID tests, and even hairstyling. Donate here.
Undocublack is a support network that advocates for undocumented Black immigrants by building community, providing education and training, and organizing for immigrant rights and racial justice. Donate here.
Border Kindness was founded in 2018 in response to the caravan of migrants from Central America. Since it has continued to provide food, shelter, medical services, transportation, and legal services for asylum seekers, refugees, and migrants of all kinds. The group is offering support services to Haitian asylum seekers who have passed through the border. Donate here.
Val Verde Border Humanitarian Coalition provides food, supplies, and transportation to newly arrived refugees who have gotten through border patrol. Donate here.
Black Immigrants Bail Fund is a collaborative effort from the Haitian Bridge Alliance and the Detroit-based African Bureau for Immigration and Social Affairs whose ultimate goal is to end the mass incarceration of Black immigrants. Donate here.
Detention Watch Network is a national coalition whose goal is to abolish immigration detention in the United States. It recently hosted a national day of action to stop the deportations and continues to organize for the rights of immigrants. Donate here.
World Central Kitchen is an international organization that goes wherever there are hungry people to feed. It's currently on the ground in Del Rio, feeding hot meals and fresh fruit to Haitian asylum seekers. Donate here.