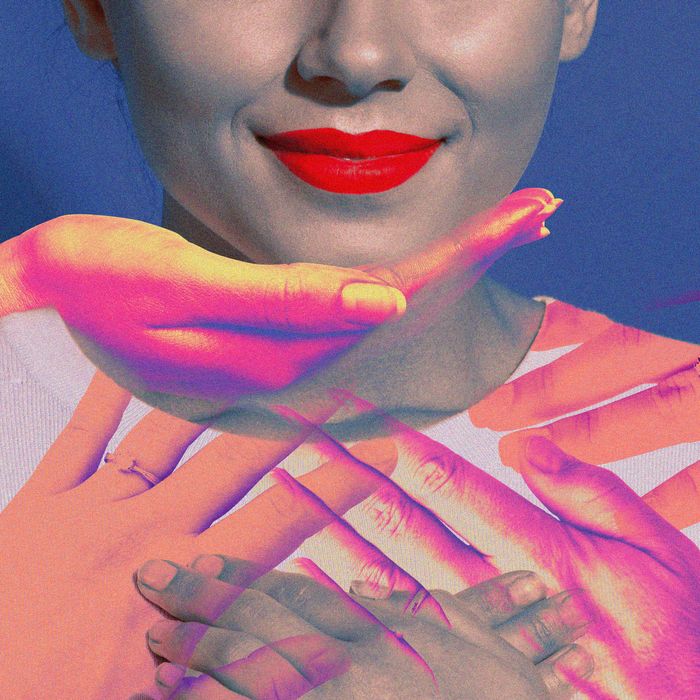 Photo-Illustration: The Cut; Photos from Getty
Living through the first year of a global pandemic, many found solace against the dark unknown in sourdough starter, Tinder's passport feature, and Zoom happy hours. I dated my entire quarantine pod.
Plenty of other people developed pods, tight-knit groups of two to ten people who exclusively gathered together before there was a vaccine. But ours was different. Over the course of 2020, my pod became a committed, closed, polyamorous fivesome — a relationship structure that implies some exclusivity, like monogamy, except with more than two people involved. I don't just mean a fivesome as in just sex between five people, but a full relationship, with agreements, expectations, and regular date nights that formed a protective shell against the apocalyptic world around us. It was as unlikely as anything else about 2020.
My fivesome was comprised of two other households: Sara and Oliver, a polyamorous couple of three years, and Le and Ellis, a polyamorous couple of five years. We weren't all dating at first, though Ellis and Oliver had been seeing each other for about six months when the pandemic began. I identified as basically single, thrust into the quarantine arrangement via bad luck and a series of health problems that included a new diagnosis of severe Crohn's disease. In July 2020, I had an outpatient surgery, and my boyfriend of a year, while sheltering in place at my Chicago apartment, panicked and left me on bed rest. He blocked my number before driving away.
My good friend Le, who had already had COVID-19 and recovered, was suddenly visiting my home at all hours. They made sure I ate, looked after my dog, and soothed my broken heart by repeating: "You're my queen." My friends' two households had just formed a pod, and after my surgery, Le insisted they take me in, too. We had basic pod rules, like no having friends over to our apartments unmasked, and no hanging out inside other homes, masked or not, with scant exceptions.
We filled our weekends with pod activities, like suburban hikes, beach days, baking, and marathoning TV shows. After being abandoned after my surgery, I was grateful to have a pod at all, even if it meant I wasn't allowed to see anyone else. In the fall, Le took me and Ellis backcountry canoe camping, and after spending four days happily sharing one canoe and one tent, Le asked me to be their girlfriend. We worked well in isolation.
When the five of us were together, we often joked that it almost felt like we were all dating. The evenings we spent cooking dinner and swaying to music around the kitchen island felt increasingly flirtatious. Ellis, Le, and I began daring each other to flirt with Sara, who was the most reserved among us and only dating Oliver. Then one Saturday night we had a slumber party, and, after a couple hours of discussion about boundaries and feelings over noodles, we all started kissing.
I was all butterflies and serotonin the first time the five of us piled into bed. I wasn't thinking about the future; I was immersed in a fantasy about finding intimacy in times of crisis.
While most of our friends hunkered down in smaller pods with roommates or parents, we all moved quickly into the honeymoon phase of dating. My schedule revolved around my four partners: Tuesday was my date night with Le (sometimes joined by Sara) and Ellis's date night with Oliver; Ellis saw Sara every other Thursday; Saturday was our fivesome date night. I also saw Oliver and Sara, and whenever possible I slept at Le and Ellis's.
Pre-pandemic, I would have never agreed to a closed, fivesome relationship, but I was becoming agoraphobic. Part of it was that, after witnessing so much bad behavior all year — people refusing to wear masks, the backlash against Black Lives Matter protests — it was actually a relief not to see other people anymore. But I also just felt secure. In my fivesome's promise of fidelity, I felt sure that I would never go on another bad date, or find out that anyone I might want to kiss didn't vote.
I felt loved, especially when Sara would playfully slap my butt, or Oliver would bend over to kiss the top of my head, or Ellis would bake me loaves of my favorite pumpkin bread. But five people also meant unending opportunities for conflict. And at the end of each weekend, when we would return to our respective homes, I faced down my own loneliness.
I tried not to mind that my partners were in other, more committed relationships with each other, how sometimes our intimacy felt forced by the pandemic and not fully earned. I didn't want to upset the delicate balance in our COVID bunker by voicing my own needs, but I craved more one-on-one time with each of them, and feared churning up undercurrents of jealousy. Whenever any of them led me into a bedroom, touched my neck, unbuttoned my clothes, I held my breath.
Whenever I held Le's hand and felt the metal of their wedding band against my skin, I felt closer to them, like I was part of something bigger than myself. But other symbols of commitment gave me pangs. When Oliver booked an Airbnb to celebrate his anniversary with Sara, I feared that no one would do the same for me. And on one fivesome date night, Le spent the evening in the subtle BDSM collar they only use with Ellis, even wearing it to bed. I cried myself to sleep next to them, unable to find words for the overwhelming longing I felt for something to call mine.
The world changed fast. The United States' vaccine rollout began, and by March, Ellis and Sara were fully vaccinated. Le noticed that I had recently updated my Tinder profile, and on the same day I got my first dose of the Moderna vaccine, they told me we should break up.
Pointing to my left arm, their voice flat, they said, "You're vaccinated now. You can see anyone you want." This declaration defied logic, but I didn't want to argue. I thought back to that morning post-surgery last summer, standing barefoot on my building's hot front steps, begging my panicked ex to come back inside. I did not have it in me to do it again.
The fivesome met up the next night for dinner, and I announced that I was leaving the pod. I explained how I loved them all, but felt torn apart by the logistical and emotional hurdles of a five-person relationship. Polyamorists like to say that love begets love, but I sometimes feel like I'm dividing myself into smaller pieces, all of which I give away.
I found myself missing the period when Ellis, Sara, Oliver, and I were just friends — and living for the quietest moments I spent with Le alone, and the private rituals we shared, before we started arguing about the COVID vaccine and relationship protocols.
We decided we were taking a break at first, and our last hurrah as a group came two months later — a trip to Colorado. Amid the stunning beauty of the Aspen Highlands, Le gave me the silent treatment for a week straight. I watched from afar as my fivesome, these people I loved, now a foursome, frolicked in town, ate ice cream, and drank frosé, without me.
When we landed back in Chicago, I texted Le a song we'd once listened to. "I don't wanna be the owner of your fantasy," it goes. "I just wanna be a part of your family." They never replied.
They wanted a girlfriend for the end of the world, I think. All those myopic quarantine routines covered up just how much we depended on each other. I wanted the opposite: to live in the world again. I wanted to fly home to California and see my parents — it was a miracle that they were alive. Sex is great, but I wanted to take my mask off and even just smell other people. I wanted a stranger's arm sweat to get on me on the bus.
Of course I'm afraid of getting sick again. And I wonder who will stay with me if I do. Sometimes I'm convinced the world is ending, but I can't live in someone's apocalypse fantasy bunker. Not even in a fivesome.