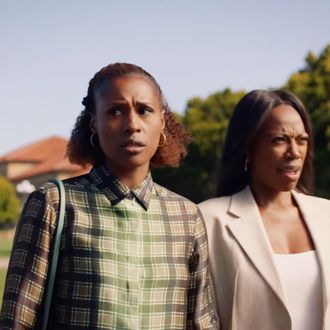 Friends, I come bearing bittersweet news: Today, HBO dropped the trailer for the fifth and final season of Insecure. In it, we see Issa back where she began: hyping herself up in the mirror. This time, Issa's reflection is a "throwback" version of herself, complete with braces and endearing eagerness. "Can't believe this is the last #InsecureHBO trailer I'll ever share," Issa Rae tweeted alongside the trailer. We can't believe it either, Issa.
"[Insecure co-producer Prentice Penny] and I are so grateful that HBO believed in our show from the beginning and kept faith in us to see our vision through the end," Rae previously told Deadline. "We always planned to tell this story through five seasons, but we couldn't have made it this far without the tremendous support of our audience. I feel blessed beyond measure to bring our characters' stories to an end, on-screen at least."
While the rest of us have been anxiously awaiting the show's return since season four ended in June 2020, Rae has been quite busy in real life. Her face got a new job in a Madewell campaign. She got married to her longtime partner, Louis Diame, in the south of France. She wore grillz to the Emmys.
If the trailer is any indication, we can prepare for a heavy hit of nostalgia, antics in dating, and probably a lot of tears. You've got until the final season premieres on October 24 to stock up on your tissues.