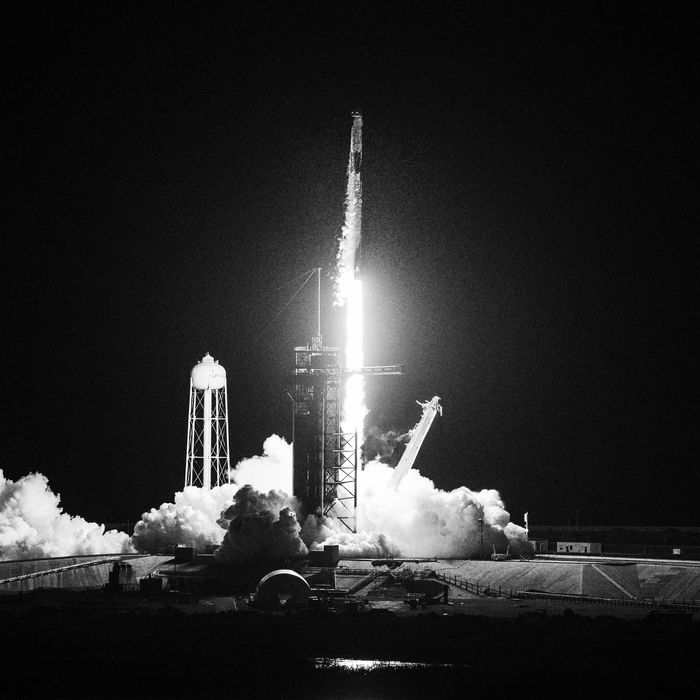 Photo: Chandan Khanna/AFP via Getty Images
Do you like camping? Yes? Would you like to go camping, but without gravity or hot food? This is how the civilians currently in space have described their expected experience for the three days they orbit around Earth.
The mission, which took off yesterday, is the first time an all-civilian crew has blasted into the cosmos, and is pioneered by (who else?) Elon Musk and his space company SpaceX. It's sponsored by a billionaire entrepreneur named Jared Isaacman, who is apparently also hoping to raise "awareness" and $200 million for St. Jude Hospital via this trip. This does raise the question: Why spend money on a three-day space trip intended to … raise money? In any case, Isaacman is also one of the civilians on board, along with a physician assistant at St. Jude hospital, a geoscientist, and a data engineer whose friend won a spot on the spacecraft in a lottery and (wisely) gave it away.
At a pre-launch press conference the day before blastoff, Isaacson said, "We're very aware of how lucky we are," which is … one way of putting it. Another way is: Space life sucks, actually. Life aboard Crew Dragon (I can only assume Musk personally named this spacecraft) sounds miserable. Sian Proctor, the geoscientist who also happens to be the first ever Black female spacecraft pilot, revealed that her comfort food of choice for the mission would be … cold pizza. She continued, "Food and mood are so important. It was really important to get food that made us comfortable."
Comfortable? With cold pizza? Why must they eat it cold? Is Inspiration4 not equipped with SpaceX-branded ovens? I would argue that the space ice cream I bought at the Intrepid Museum in 2004 would be tastier and more comforting than cold space pizza. Jeff Bezos's phallic rocket is more comforting than cold space pizza. Also, I can't blame Bezos now for capping his space time at 11 minutes. He probably got hungry.
After consuming the sad cold space pizza, the civilians can decompress in Crew Dragon's cupola, a little glass observation bubble at the top of the spacecraft that is also the spacecraft's toilet. Hmm. The crew is also keeping a few pieces of merch in its custody, namely a bunch of art to later be auctioned on Earth and 66 pounds of hops that Sam Adams will then turn into space beer (??) and sell. They are also responsible for keeping an NFT of a Kings of Leon song safe. In addition to Kings of Leon, the crew will be listening to one of its members play the ukelele he brought to space.
Ultimately, it seems like no one is too upset by the shoddy quality of life in space, as they're already busy performing medical experiments up there, which sounds suspiciously like the premise of every extraterrestrial invasion movie I've ever seen. The plan is to do ultrasounds, swabbing, and performance and cognition tests to better understand how the human body functions in space. This is especially of interest because they're going higher than the International Space Station and the Hubble Space Telescope, where they might be exposed to extra radiation. Great! Surely nothing can go wrong here.
All crew members apparently confirmed they were not at all nervous to go to space, to which I say: brave. Personally, I do not plan to join the 600 people who've left our burning trash heap of a planet anytime soon. I would rather crisp here!