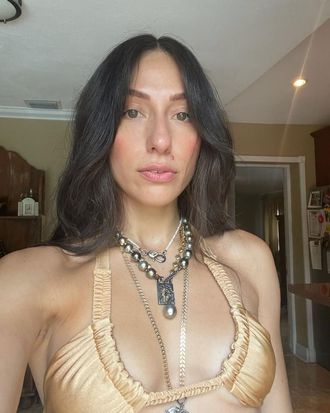 Photo: Courtesy of Tefi Pessoa / @hellotefi
Want more skin care? Join the Beauty Group on Facebook.
Estefania Pessoa is Latinx. This is important to know, she says, when you consider why her Colombian mother was "horrified, of course," by her recent decision to get Botox and filler. The TikTokker and InStyle host, who goes by Tefi, had gotten "droplets" of injectables on her forehead, cheeks, chin, nose, and under eyes before, but had never gotten her lips done. She decided she wanted to do it. Why? "I'm a grown-ass woman with grown-ass money," she recently told her followers. "I'm constantly spending money on everybody around me. At the time, I had a partner who I was supporting financially too so I was like, 'You know what? I deserve it.'" So she went to Dr. Yael Halaas's office in Manhattan, where she sees injector Andouah "Andi" Assebian, and among other work, got her lips filled in.
Afterward, "I called my mom, and I said, 'I got something done,'" Tefi remembers. "She thought I was gonna say, 'Oh, I did more microblading,' but I told her about my lips, and she goes, 'Increíble. Rebelde. Traicionera. Send me a picture right now.'" Tefi sent her a photo while she was still swollen from the injections and looking like, in her words, "handsome freakin' Squidward." Her mom saw it and said: "'Te arruinaste. You ruined yourself. You were beautiful.'"
Two days later, when her mom came to New York City, "I opened the door and she acted as if I was Quasimodo at a monster festival."
To her mom's credit, Tefi admits, she also had a moment of panic after first seeing her new lips: "I grab the mirror, and I look at myself and I go, 'Oh my God. I really fucked up this time.' The next day, I looked like I put my mouth on my vacuum." But the swelling went down after about a week.
It's stories like these that Tefi doesn't shy away from sharing. Transparency is important, she says, and she doesn't want anyone to look at her and think her smooth skin and lips are just a result of skin-care products, though she does credit some products with helping her rosacea-, cystic-acne-, and blackhead-prone skin happy. She also doesn't want to perpetuate the common idea that drinking more water will help or lessen your acne. "It's a myth! I've been drinking a gallon of water a day since I was 15, and the news that it doesn't benefit your skin was life-altering."
Below, she shares her current morning routine — and as far as Botox and fillers are concerned? She's in it for the long haul. "I'm never going back. I would not buy meat to keep my Botox and fillers going."
The Cleanser
The Toner
The Serum
The Moisturizers
The Face Oil
The Sunscreens
"Finally, my morning routine is complete with sunscreen. I have three that I love.
Colorescience's Sunforgettable Face Shield is sheer and weightless but still dewy-looking without looking like I'm a greaseball. It also doesn't give me 'sunscreen eyes,' when it melts and drips into your eyes; I went to Barcelona two months ago, and someone thought me and my ex-fiancé had gotten into a street fight, but really, it was that I had sunscreen in my eyes. I was bent over trying to wash my eyes out with my water bottle, and you know it's bad when you're willing to sacrifice your eyelash extensions.
Milk Makeup's Sunshine Skin Tint Broad Spectrum SPF 30 Sunscreen makes you look like you have zero blemishes. It reminds me of the Revlon PhotoReady Foundation, except it has SPF. I use shade Medium.
Then, Dr. Zein Obagi, the founder of ZO Skin Health, makes sunscreen, too. His Smart Tone Broad-Spectrum SPF 50 is incredible."