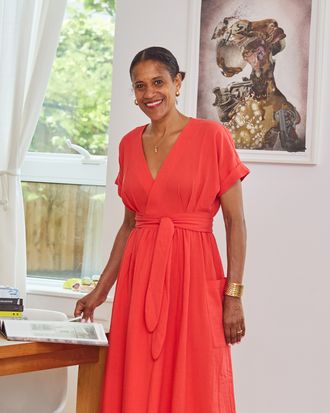 Isolde Brielmaier was preparing for the opening night of "Inward," the latest exhibit she has curated for the International Center of Photography Museum, where she is a curator-at-large. This is a special one for her: a curation of works by five younger Black artists — Djeneba Aduayom, Arielle Bobb-Willis, Quil Lemons, Brad Ogbonna, and Isaac West — who have never shown in a museum before. Brielmaier prompted them late last winter to document their inner lives using an iPhone.
"Artists are really good at being very present in this moment and looking and seeing and observing," she says of the world in the midst of a pandemic and how art is reflecting that. "We're a part of history, and we're on the precipice of something. I'm hopeful that there are many of us that are aware of that, care deeply about it, and want to have an impact and make a shift."
That shift is displayed through the work of the artists in the show, like Ogbonna, who captured intimate and family-oriented photographs featuring his family and friends shown through the lens of his Nigerian culture. The portraits were scattered across the museum's wall as they would be in a grandmother's living room, something Brielmaier did with intention. Her goal: creating an experience that both honors the vision of the artist and takes into account a broad range of audiences.
Brielmaier's relationship with art started with dance classes at the age of 6 in Seattle. She practiced all kinds of dance, including ballet, modern, and African. On the weekends, her family would frequent museums and theaters. "I think about how we approach space and move through space with our bodies that's connected to dance," she told the Cut as she walked through the exhibit.
She started working at museums in her 20s, first at the Museum of African Art when it was in Soho and then at the Guggenheim for two years. She can't remember when she actually decided she was going to be a curator. "I think just coming out of dance and being surrounded by creative people and creative thinkers while enjoying artists — their vision and their ideating process — it was something I loved," she says. While she doesn't want to claim she just "fell into it," she credits her "more untraditional" way of working her way up through museums to land where she is now.
She realized there were many ways to do what she loved beyond a traditional museum job. She knew she loved working with artists. "There's something exciting about starting with a curdle and then planting it and figuring out how to make it grow and shift," Brielmaier says.
When she was first embarking on her path to being a curator, it felt a little "pie in the sky," she says, but now it's a title that's used a lot more readily. There's a great sense of freedom that comes along with it now, she adds, but she doesn't see it as one fixed idea: "It involves working with artists and partnering with them to really bring their vision to life, but that can be in a variety of places. That can be at ICP, at the New Museum, or even in a public realm that could be a park." Her main concentration is keeping the artists and their art as the focal points of what she curates, so the audience is always viewing the art from the artist's point of view. She is inspired by Deborah Willis and Carrie Mae Weems, two Black American artists who have been pioneers in the art world.
Brielmaier's work is in a lane of its own. For her, ensuring that the art is engaging the audience, whether that's a group of "sophisticated museumgoers or a group of school kids," is important.
Aside from her curator-at-large position with ICP, Brielmaier is the newly appointed deputy director of the New Museum, where she will be working with leadership on new initiatives and visions. She wants to bring in more virtual experiences or new ways of engaging with art.
"I've seen a lot more art now online and through virtual studio visits. We've beefed up a lot of our online programming at the New Museum," she says. In July, there was a virtual exhibit that was accessed solely through IGTV. Brielmaier is ready to move on to the next chapter, one she knows will be central to the New Museum. But experiencing the world during a pandemic poses a lot of questions, not only for her but for the museum as a whole. She asks herself constantly, "Where do we want to go? How do we want to get there? Who do we want to be? Who will take us there?"
The answer: "I think the who we want to be is very central. It's new art and new ideas."