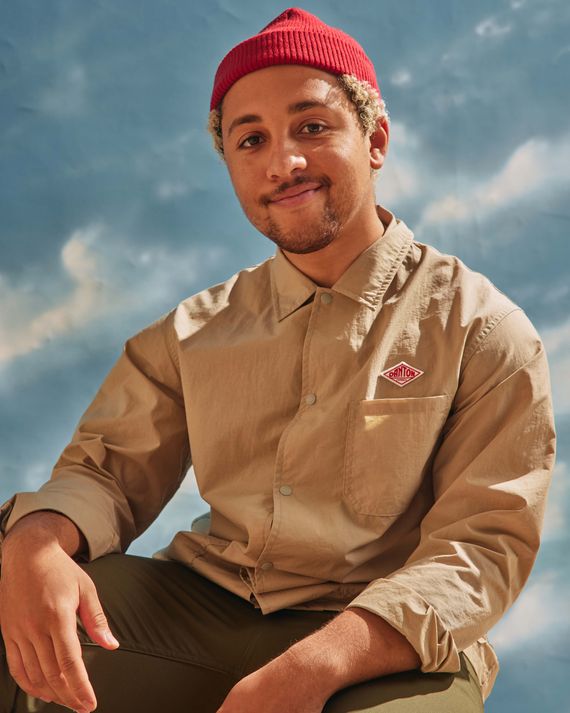 Photo: Zack deZon/Contour by Getty Images
Dream Date: Brushes with our celebrity crushes
Jaboukie Young-White biked across the Williamsburg Bridge to meet me at an East Village restaurant. It's the Tuesday before Labor Day weekend, summer's final gush. He approaches wearing maroon shorts and a bright-green helmet obscuring his signature curls, currently tinted blond because, he later says, "There's that thing where every gay man has to dye his hair blond before he turns 30." (So does every male celebrity, apparently, from Zac Efron and Kanye West to Riz Ahmed and Pete Davidson.) We are supposed to hang out at a joint where Young-White shot a scene from his new movie, Dating & New York, but it's closed, so we wander over to Miss Lily's, a Jamaican hot spot that harks back to Young-White's heritage.
"I'm thinking codfish fritters for the app," he says after we sit down. "Have you had fritters before? And then I might go with the jerk chicken. It's been so long. That's one thing I almost never make for myself. It's very time-intensive."
Young-White doesn't hesitate when given an opening to boast about his "amazing" cooking chops: "I'm not afraid to say it." In general, he speaks with an assurance befitting someone who, at 27, swiftly moved from Twitter darling to TV writer to well-known stand-up to leading man. And yet he seems to lack the self-absorption that underwrites most performers' ascendancies. He listens as well as he talks. Dating is his first starring role, arriving at a time when the dominant formats for young comedians are autofiction and personality-driven podcasting. Young-White has done neither. Even his segments on The Daily Show, where he was hired in 2018 to be the senior youth correspondent, are, to his mind, more character-based than Jaboukie-based.
Young-White is determined to be more than just himself — so determined that he agreed to play a hyperromantic straight guy named Milo. Even if Dating & New York (now open in select theaters and available on VOD) defies the version of Young-White the public thinks they know, it has enough rom-com hallmarks to ensure he remains an object of our affection: cute sweaters, sly dimples, a quest for "true love's kiss." He's been approached with queer roles that hew more closely to his own biography, but he's resisted the commodification that a newly woke Hollywood is pushing for right now.
"A lot of it was like, 'This is about your story as a gay Black man,'" he says. "I can write, I can act, I even went to film school. If I wanted to do this, I could do this myself, but I don't want to do that because I would like to act. You're asking me to do something that is branding."
This contrarian streak is part of Young-White's charm, especially because he approaches it with the same giggly, carefree ease he evinces onstage and screen. He still tweets snappy jokes (and periodically gets suspended for impersonating the FBI or CNN), and sometimes he posts photos of his toned torso on Instagram, because that's what Instagram is for, right? But in the age of oversharing and overfamiliarity — like when people slide into his DMs with remarks both "flattering" and "weird," or when a stranger recently peered at his masked face and said, "You can't lie, I know those eyes" — he is working to keep some things close to his vest.
Young-White has had practice. When he dropped out of DePaul University in Chicago to pursue comedy in New York City, he left his parents in the dark. (Young-White didn't have a bed in his first Brooklyn apartment, so he slept on a pile of clothes.) Along the way, he flew to Los Angeles to perform an unpaid showcase set at his agents' recommendation. A few important things happened there. First, he bombed, opening with "raunchy dick-sucking jokes" when everyone else was doing "TV-clean" material. But there was a scout in the crowd who thought his raunch would fit in among the writers of the ribald true-crime parody series American Vandal. Young-White, who didn't have much money at the time, tweeted a call for Cash App donations to get back to New York, which resulted in a "hundred-something dollars" from John Mayer — yes, that John Mayer — and a note that said, "Pay me back when you're famous." (Mayer's reps did not respond to the Cut's requests for comment.) The American Vandal gig also led to the Big Mouth writers' room and ensured that his parents couldn't call him a deadbeat for leaving school. (He'd run out of scholarship funds anyway, he says.)
His parents also didn't know he was gay until his debut Tonight Show set in 2017. ("People don't always read me as queer when they first meet me because I've been told that I can come across as masc," he said before an enthusiastic audience. "If you don't know what that means, it's basically just gay for 'I'm not like other girls.'") Young-White describes Jamaica, where both of his parents were born, as "violently homophobic." His mom is okay with his queerness, but his dad isn't. They haven't spoken since 2017, and he seems totally unvexed by the situation.
"I knew it was going to happen," he says. "It's always so funny to me, too, because people are like, 'Well, I'm sure he'll come around.' And I'm like, "I think it's so funny that you think that someone who would disown their child for their sexuality was otherwise a grade-A parent.' If you're going to do that, there are probably other problem areas to begin with. I knew I wasn't going to come out on Google until I can support myself."
Young-White is adopting the Lil Nas X school of celebrity representation. His experiences belong to him, however much he might milk them for public consumption. That's part of why he isn't interested, at least not yet, in writing a script based on his own life or in helping other writers to check off a diversity box on their casting rosters. "I actually never want to play myself," he says. "Stand-up does a great job of polishing and presenting that mirage, but when it comes down to it, I genuinely don't think I'm that interesting. A lot of what people think is interesting about me, if I thought those same things, I would never be where I am right now. The whole 'wow, this is a first-gen queer person of color telling their story' thing? If I was always thinking of myself as 'a queer person of color,' I never would have done stand-up. My imagination for myself is limitless, and to other people, it's very limited. I also don't want to be a spokesperson for anyone. I speak for myself, and if you relate to that, that's great."
Young-White's vast imagination is evident in the other projects he has on the horizon. First up is the potential awards-season contender C'mon C'mon, directed by the great Mike Mills of Beginners and 20th Century Women renown. Young-White plays Joaquin Phoenix's radio station co-worker, tasked with helping to babysit Phoenix's character's 9-year-old nephew; his section of the film was largely improvised. Later, Young-White will appear in the Issa Rae–written HBO Max comedy Rap Sh*t and voice a role in Amazon's animated middle-school satire Fairfax. He's also writing and producing an adaptation of the nonfiction book The Gang's All Queer: The Lives of Gay Gang Members, under Rae's WarnerMedia production deal.
For someone who was quoting Dave Chapelle and Katt Williams at age 8, Young-White has a remarkable handle on how to navigate a comedy career that doesn't just borrow cues from his elders. "I would just sit there and watch Comedy Central specials," he says. "Doing a lot of that, there's some cadences and rhythms that are just in my head from having seen them so much."
He auditioned for Saturday Night Live the same year that Bowen Yang did but lacked the crop of unhinged characters that most SNL hopefuls keep in their back pockets. "I knew Bowen was getting it, and they already have Pete [Davidson]," he says. "I don't know what I would really add." So he's forging his own path, doing a little of this and a little of that and making a pretty good name for himself en route.
"What it really comes down to is people just want to be able to predict you and know what box you fit into," Young-White says. "I'm really happy the way I did it because it was from the go, 'This is what it is, and if you don't like it, then fuck you.'"