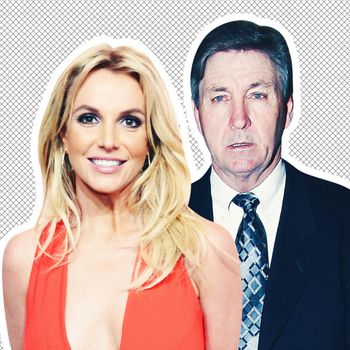 Photo-Illustration: by The Cut; Photos: Getty Images
Every new detail surrounding Britney Spears's conservatorship somehow manages to be more disturbing than the last. We already knew Britney had an IUD that she allegedly wasn't allowed to remove despite wanting more children. In her June testimony, she implied that she wasn't allowed to get married as part of a stipulation of her conservatorship. Now, according to a new report from the New York Times, we know Jamie Spears heavily surveilled his daughter's dating life, from secretly recording conversations she had in her bedroom to making boyfriends sign nondisclosure agreements.
"There was an obsession with the men in Britney's life," Alex Vlasov, a former employee of the security company Jamie hired, told the Times. Vlasov revealed that, at one point, he was instructed by his boss to destroy a USB drive with "extremely sensitive" information pertaining to Britney. When Vlasov opened the drive, he found more than 180 hours of recordings — including conversations with her boyfriend at the time and her children — from a device that had been secretly placed in Britney's bedroom. Jamie reportedly also monitored Britney's text messages to her mother, her boyfriend, and her court-appointed lawyer.
Though it can be illegal to record conversations without the consent of both parties, a lawyer for Jamie insisted anything he'd done was aboveboard. "All of his actions were well within the parameters of the authority conferred upon him by the court," the lawyer told the Times. "His actions were done with the knowledge and consent of Britney, her court-appointed attorney, and/or the court." However, Britney's lawyer, Mathew S. Rosengart, seemed to imply the recordings were "unauthorized" by Britney, adding that these actions should be "fully and aggressively investigated."
Jamie also hired private investigators to look into men Britney grew close to, according to one of Britney's exes and a court investigator. As the investigator told the Times, a confidential report in 2016 found that Britney wasn't allowed to make friends, specifically with men, without Jamie's approval. Any men that she did date were "followed by private investigators to make sure their behaviors are acceptable to her father," the court investigator said. David Lucado, who dated Britney between 2013 and 2014, told the Times that he was aware he was being followed by private investigators and had to called 911 twice due to "dangerous tailing situations."
Vlasov also revealed that Britney's boyfriends were required to sign nondisclosure agreements. According to the Times, Sam Asghari, who is now Britney's fiancé, signed an NDA in 2020 which technically banned him from posting about Britney on social media without Jamie's approval. However, Asghari has been more outspoken about Britney's conservatorship than her previous boyfriends. He has been a vocal supporter of the #FreeBritney movement, even posting a photo wearing a "Free Britney" T-shirt shortly before her first testimony in June.
Like her father's legal fees, any costs related to the surveillance were reportedly billed to Britney's estate.