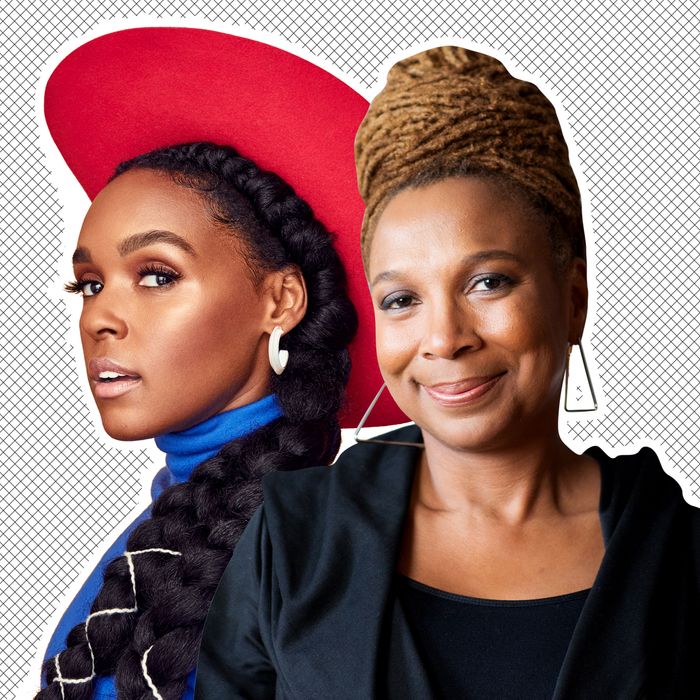 Photo-Illustration: by The Cut; Photos: Danielle Levitt, Annabel Clark
Last week, alongside lawyer, civil rights advocate, and pioneering scholar Dr. Kimberlé Crenshaw and the African American Policy Forum, musical and theatrical auteur Janelle Monáe released a powerful, 17-minute, femme-focused revamp of her rousing song "Hell You Talmbout." The original came out in the summer of 2015, during a particularly tense moment in time wherein police were finally being held accountable for the murder of Black and brown Americans. Just one month before the song's release, the late Sandra Bland was found dead in a jail cell, where she was held after being stopped for a minor traffic violation. The new version of the single was released last Friday, two days before International Daughters Day, a date that was intentionally chosen to represent the mothers who have lost their daughters to police violence.
"Say Her Name (Hell You Talmbout)" is driven by repeated calls to say the names of all the Black women and girls who have been killed by law enforcement in recent years. The accompanying lyric video features an animated protest and the names and faces of those whose lives are being honored. The vocals, delivered by women artists, actresses, and activists — including Beyoncé, Mj Rodriguez, Alicia Keys, and Brittany Packnett Cunningham — are layered on top of thrumming drums and a strong percussive rhythm. "I know the impact when you lock arms with other Black women," Monáe says of the final product. "When we're all together, there is an infinite source of power."
The proceeds from the single, which is available to stream and purchase on all platforms, will benefit the African American Policy Forum's work. Dr. Crenshaw and Janelle Monáe discuss with the Cut their involvement with the #SayHerName movement, how the song has evolved over the years, and what listeners can do to help the families of those impacted by police brutality.
Dr. Crenshaw, with the creation of #SayHerName, when was the moment that you decided, "Enough is enough: We have to do something on a cultural level"?
Dr. Kimberlé Crenshaw: It's such an important story. I can tell you when the fact that Black women being killed by the police and not having their names mentioned was just so moving to us; it was about five days after Mike Brown was killed, in August 2014. Fran Garrett took the coffin of 50-year-old Michelle Cusseaux to Phoenix City Hall to, as she put it in her words, "make sure the world recognized that somebody killed my daughter." One of my board members said, "Have you seen this?"
It was such a dramatic demand that Michelle's name be said. Coverage was rare for Black women. So that's when we realized that in fact, it wasn't just our perception: There is a reality there that wasn't being mentioned. And I think in the months between that moment, which was in August, and then in December, later that year during the Eric Garner March, we had added Michelle's name along with many others. During the march, we would do the chant for shutting it down for Michael Brown and other kinds of chants for Eric Garner and Tamir Rice. But then when we started saying the names of Michelle Cusseaux and Tanisha Anderson, people really looked at us like we were crazy. They had no idea who these names were, no idea that Black women were also killed by the police.
So quite literally, #SayHerName was an imperative that came directly from that moment of protest. We were literally saying, "Say her name!" So that more or less became the impetus for what we're telling people. This is something that needs to be said. We're marking the space where it's not being said. We are making clear that there is a gender dimension to anti-Black police violence, and we need a marker for that. Over the months, more and more people started saying it. And then when Sandra Bland was killed in the summer of [2015], I think that was a cultural moment of recognizing #SayHerName, but it took many more years after that for this moment to really be the marker that it is. And that's, of course, thanks to Janelle.
Janelle, this song has evolved since its initial inception several years ago. What has changed from then to now?
Janelle Monáe: I think the lack of visibility of Black women has changed. In my opinion, these are our sisters. There's a connection when I see another Black woman, when I see a Black little girl. Older, younger, generational — there's a real unspoken connection and a sense that we need to take care of each other. When I learned more about #SayHerName, I wanted to figure out how to lock on with Kimberlé and everything she and this incredible organization have been doing. But I didn't know how. I don't know if you [Kimberlé] remember this, but you invited me to one of the mothers' meetings, to hear the mothers talk directly about their loved ones that were lost. And in that moment, I realized that I didn't know like 90 percent of the stories. It felt like I was listening to my aunt, my mom, my mom's best friend, their girlfriend, my grandmother — it felt like I was watching all of them grieve right before my eyes.
And when you see something like that, and when you see family hurting like that, you just take on a different level of responsibility. It becomes personal. I feel like I am family, they are family, and we have to take care of them. What can we do? And the one thing that I knew we had was an opportunity to use our voices, to speak truth to power, to bring more awareness. I knew that I could do it alone, but I know the impact when you lock arms with other Black women, when we're all together, there is an infinite source of power. I reached out, I asked for the blessing to be able to do a rally cry, a sort of spoken ritual, speaking their names with more women in my industry.
Not as celebrities, not as artists, but as daughters, as sisters, as family. How can we amplify their names? How can we bring more awareness to their cases? And how can we bring joy to the hearts and to the minds of these families? These families live this tragedy every single day. How can we lift some of the work off their backs? From what I gathered from the meetings, they're always talking about their loved ones. They're always trying to get people to understand, in addition to Breonna Taylor, in addition to Sandra Bland, Michelle Cusseaux like we were talking about, there are girls as young as 7 to 93.
How can we give them that level of visibility, so another young Black girl's name does not have to be said? Honestly, I wish that we did not have to come together around it. I wish it was around celebrating their lives because they matter on a human level.
When we had a listening of the song with all the mothers and the family members, I got an opportunity to be on that call with them. And I'ma tell you, it was a different level of just like, "Finally," on their faces. "Finally, more people are recognizing my baby. That's all we want is to be acknowledged. That's all we want is for people to know how incredible my little sister was, how incredible my daughter was." They want their loved ones to be acknowledged. And it's an honor to be able to amplify that.
Absolutely. What would you say to anyone who feels uncomfortable listening to this song?
JM: Listen. I had a personal responsibility to uplift the names of these women and to bring more awareness. The media is not doing it. Some of their cases are closed and these incredible human beings are gone. So I had a personal responsibility to that and to the families, to see a smile on their faces, just by hearing that more people are finding out about their loved ones. I also have a responsibility to self-care, as well. And promoting that and encouraging that, especially for our people, for Black folks, and for us who live this experience and have to constantly deal with a life snatched away. If you can't listen, don't listen. If you don't feel like you have the energy or you're not in the mental-health space to listen, please do not. I am all for, do what feels good for your body, for your spirit, for your soul. If you have another way of honoring, do that. If you have something that feels good to you, then you can do that. But I'm in no way, shape, or form making anyone feel guilty for not being able to listen to this.
DC: One of the things that #SayHerName has always done when we gather, is we create rituals of remembrance, rituals of recognition. It is the way that we take our power to be the one thing that we can do for these families. We can't do anything about bringing them back, but we can make sure that their loss is not obscure. We can make sure that the message that it doesn't matter is completely reversed. That's what we have committed ourselves to doing for the last six years. So #SayHerName has always been a central moment of any of our coming-together ceremonies. And to ask those who care about this issue to take up the task of bearing witness, right? Not to just say, "It's a shame." We all know it's a shame. What the families need is people to see them, to help lift up what has been buried.
We want people to understand, part of the commitment to seeking justice is making sure that the next mother who cannot go on — there are lives right now that we can impact by saying, "We see you, sister. We want to share the joy that was your daughter. We want to carry some of the pain that is the loss. We want to suture what that wound is for you."
A lot of times, people come into the #SayHerName space and they meet the mothers and they're shocked that they're three-dimensional people. They're like, "Wow, I didn't think that there would be laughter. I didn't think that there would be any kind of celebratory moment of joy." Well, these are mothers who are enjoying the memories of their daughters. Yes, they're carrying the burden of the loss, but their relationship with their daughters didn't end on the day that a police officer took her life. And we, bearing witness and holding that state, allow for them to tell her stories, allow for them to experience joy as well as sadness. So when people have a sense that hearing this song invites them into a space of remembrance, of uplift, of life, you're not going to forget this woman. Actually, it's bringing joy to the family. They are waiting for a lifetime for this recognition, a lifetime trying to remember their daughters. The least we can do is give them 17 minutes.