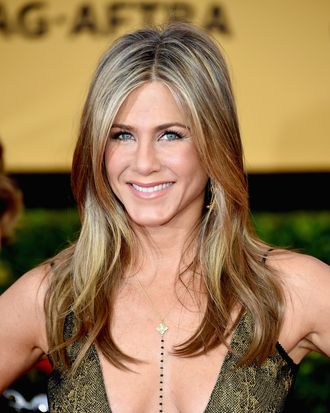 Jennifer Aniston
Photo: Getty Images
After inspiring 11 million women to cut their hair into a layered, shoulder-length square back in the '90s (and causing a whole new generation to do the same over 20-plus years later), Jennifer Aniston — actress, producer, and longtime hair influencer — has launched a hair-care brand of her own.
Named LolaVie, the new brand is formulated with "a drop of attitude, a pinch of flair, a dash of science, and a sprinkle of nature." The first embodiment of that promise is the brand's debut product, the multitasking Glossing Detangler, which contains a vegan thermal shield, shine-boosting lemon extract, nourishing vegetable ceramides, and protective chia seeds, housed in a black-and-white spray bottle.
While a beauty brand is undoubtedly the celebrity accessory du jour, Aniston's launch seems a little less out of the blue than most. She was a co-owner of hair-care brand Living Proof before it was acquired by Unilever in 2016, and just last year she was named chief creative officer for ingestible collagen brand Vital Proteins, so she seems to know what's up. For LolaVie, Aniston is doing a little hair modeling, of course, but she's mainly overseeing product development, marketing, creative direction, formula-testing, and a little bit of social-media management from the looks of this Instagram post.
Further proof that she's been doing this beauty biz stuff for a while? She picked the intriguing brand name a whole decade ago. Aniston stans will recognize LolaVie as the original name of her 2010 fragrance. It abruptly got changed to the more straightforward "Jennifer Aniston," who, turns out, was the mysterious Lola in question all along. "So 'Lola' is a nickname that I was given years ago when I first moved to California. I love that song, 'Whatever Lola Wants' by Sarah Vaughan," she recently revealed to Refinery29. A release added that Aniston sees Lola as a representation of someone who "knows what she wants and goes for it," which in this case is shiny, heat-protected hair that smells like a grove of lemon trees.