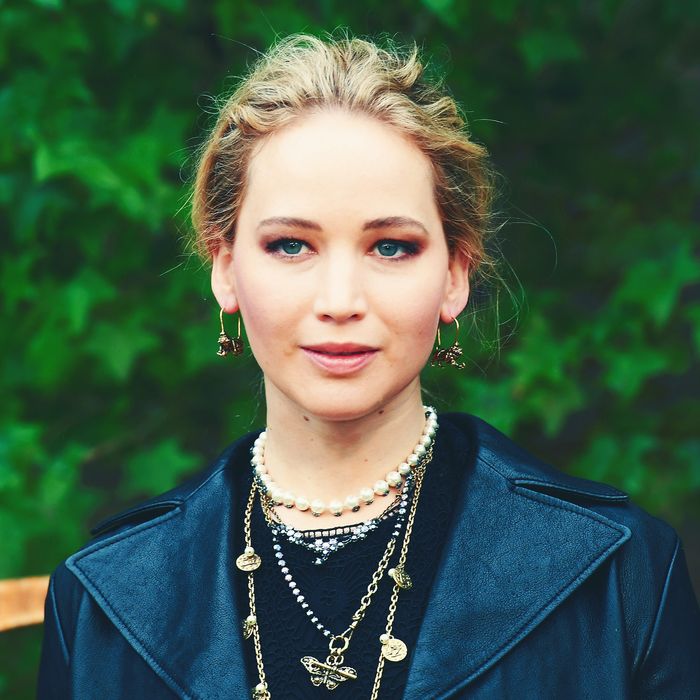 Photo: Stephane Cardinale/Corbis via Getty Images
The celebrities are spawning! Just this week, Kylie Jenner confirmed she and Travis Scott are expecting their second child, John Mulaney confirmed he and Olivia Munn are expecting their first child, and actress Alicia Vikander confirmed that the baby she and husband Michael Fassbender have been toting around for the past month is, indeed, theirs. Now, Jennifer Lawrence would also like to enter the baby chat. As confirmed by People, Lawrence and her husband, art gallery director Cooke Maroney, are expecting their first child together. Celebrity babies abound!
The Red Sparrow star is having her own little chick! Katniss Everdeen is having her own little tribute! … mother! Jennifer Lawrence is pregnant and that's about all we know. The actress hasn't shared how far along she is — a normal and fine boundary to have. But if you want to play Celebrity Baby Detective, she and Maroney were photographed in matching outfits back in May, and she didn't appear to be any more pregnant than usual.
Lawrence and Maroney got married in October 2019, and they've been relatively private about their relationship since then. Before they got married, Lawrence gushed about Maroney on a June 2019 episode of Catt Sadler's podcast Naked. "He's my best friend, so I want to legally bind him to me forever," she said. "And fortunately, the paperwork exists for such a thing." First comes love. Then comes legally binding paperwork. And finally, a baby! Congrats to the two of them!