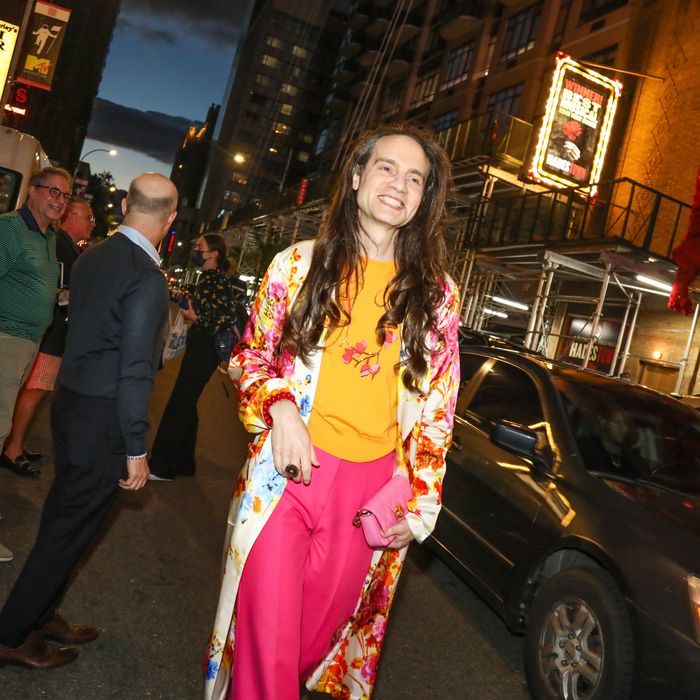 Photo: Courtesy of the subject
Even in the darkest depths of lockdown, Broadway shone bright, literally — those Times Square lights never go out — but also emotionally. There was something about Broadway that made us feel hopeful, you know? The inability to perform live notwithstanding, the city's theater community kept us distracted and entertained, improvising with livestreams celebrating theater icons like Steven Sondheim, virtual stagings of musicals like The Last Five Years, and, yes, Zooms. For the past year and a half, Broadway kept granting us opportunities to stop worrying, even for just an act or two.
A Tony-winning producer and the president of Jujamcyn Theaters, Jordan Roth has been slowly dipping his toe back into the scene with new shows like Pass Over and the return of Bruce Springsteen's Broadway run. "Each one builds on the energy of the one before and each one reminds us in its own way that we can live," he writes for The Cut. "In the dark days of this, when I would imagine how we might emerge, I always imagined a light switch, a ticker-tape parade. Like, the doors are flung open and boom! What we have been offered is an opportunity to take a step and then another opportunity to take another step and then another opportunity to take another step, and it's a thing we are doing individually collectively. And it's allowing each of us grace." And as Broadway reopens step by step, Roth has been right by its side. This past weekend, his critical darling Hadestown, reopened at the Walter Kerr Theater to joyful documentation all over Instagram.
The tradition Roth once maintained in his theaters — a new show would be "welcomed" into the theater for the first day of tech rehearsals — has been flipped. Now they are welcoming the returning shows in the same way that they would have introduced new ones. "We often talk about the new [Broadway] season. Everything's new. Even the things you think you've seen before, it's new. Because you are new." And this reinvention is something that Roth is relishing for what it means for Broadway, fashion (have you seen his outfits?), and the arts.
Roth documented his night out celebrating the "new" Hadestown and let The Cut tag along.
Some nights just feel like how the world could be. Especially when my husband, Richie Jackson, and I are together.
At the first performance of her groundbreaking play Pass Over at the August Wilson, playwright Antoinette Chinonye Nwandu and I just started hugging and dancing in the street. Now it's our first performance tradition!
Broadway fans are part of the Broadway family, and one very thoughtful fan left this Post-it note on the door: "Break a leg! Bring the world back into tune!" (One of my favorite lyrics from the show.)
Susan Elrod has been the theatre manager of the Walter Kerr for over 27 years. This opening night was also her closing, as she retired after bringing the show back. A legendary Broadway run! (We're laughing because the moment before, as my head was leaning on hers, she said "I'm wearing your hair.")
One of the five standing ovations DURING the show! This extraordinary audience brought a year and a half of pent up love and joy and celebration and kept releasing it over and over again like confetti canons!
Curtain speeches always make opening nights special, but as we celebrate opening the entire industry, not just any one show, they take on profound meaning. Director Rachel Chavkin and writer-composer Anais Mitchell are the heartbeat of Hadestown and extraordinary humans.
Right after the show, the cast and band went out on the balconies outside the theatre and showered the exiting audience with Hadestown flowers. Then we all sang "Way Down Hadestown" and "Lean on Me." Singing heals the soul, and singing with 1,000 people out on the street REALLY heals the soul!
One of the many mythic metaphors in Hadestown is the coming of spring after the darkness of winter — never more meaningful than right now. So I went for a full floral explosion with a Dries van Noten robe, Khaite pants, a Proenza Schouler sweater, a Marni blossoming-branch necklace, and a Silvia Furmanovich marquetry rose ring. I always like to wear something of my grandmother's, and tonight it was her bead bracelets.
Haven't been up this late in a year and a half. Goodnight, everybody!