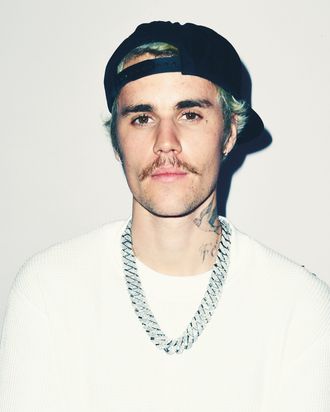 Photo: Jon Kopaloff/Getty Images
Well, it looks like Justin Bieber's season of listening and learning is still going strong. Fresh on the heels of his most recent experiment with white-guy dreads, he is now selling anti-racist merch. The collection of T-shirts, sweatshirts, sweatpants, and caps all bear the slogan "RACISM IS EVIL" in fuzzy white lettering. This bold stance appears to be a collaboration with a label called Simple Gospel, which, per its website, "encourages a deeper spiritual connection with positive messaging on feel-good staples." Sounds … extremely Bieber.
Bieber has been on a long and often convoluted journey to racial consciousness, dating back to at least  2014, when two videos of him uttering racial slurs at age 15 leaked. Bieber released a statement saying that he "didn't realize at the time that it wasn't funny and that in fact my actions were continuing the ignorance." Two years later, he got cornrows while on vacation with his then-girlfriend Hailey Baldwin, followed shortly by the first dreadlock incident, which Bieber explained was fine because "being weird is fun." Clearly this man had some more Learning and Unlearning to do.
Four years later, amid nationwide protests following the murder of George Floyd, Bieber acknowledged on Instagram that he has both "benefited off of Black culture" and also been "influenced and inspired by Black culture." He also wrote, "I am committed to using my platform from this day forward to learn, to speak up about racial injustice and systemic oppression, and to identify ways to be a part of much needed change."
Alas, Justin's racial awakening after this point included promoting another artist who's been recorded saying racial slurs, and also getting dreadlocks again. This happened to coincide with his artistic choice to include Martin Luther King samples in his album of songs about being horny for his wife. Of "MLK Interlude," which was not received kindly by critics, Bieber said, "I never try to talk about social justice … because I just have so much learning to do." But, he continued, sampling Martin Luther King Jr.'s words was "a no-brainer." Huh!
To Bieber's credit, 100 percent of the proceeds from his "RACISM IS EVIL" merch will go toward the Hip Hop Smoothie Shop, a mobile food truck that delivers fruit smoothies to Skid Row. However, should you feel inclined to deck yourself out like this model posing in front of Katz's, you'll be disappointed to find that the entire collection is sold out.