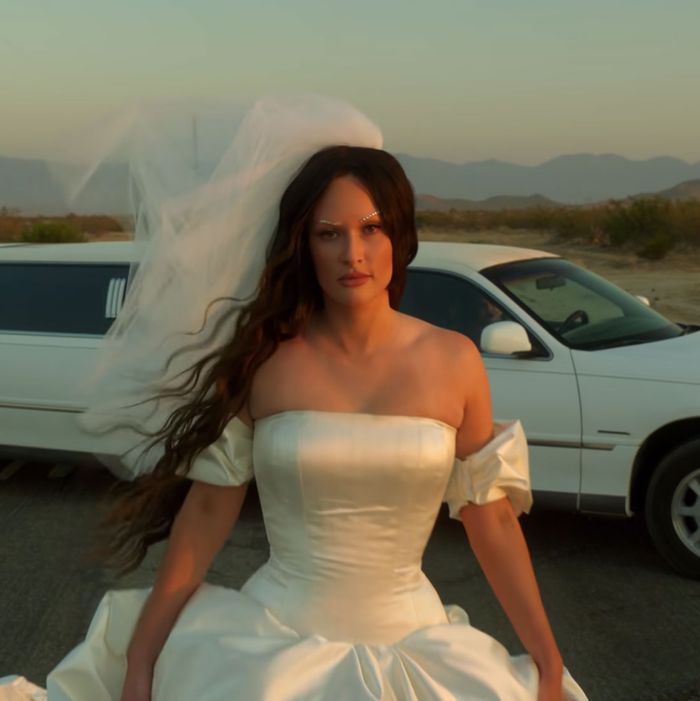 Photo: Kacey Musgraves/Youtube
Kacey Musgraves famously loves horses (high ones not included), which I can only assume to be her preferred mode of transportation. Right? Wrong! Her new album-slash-movie, star-crossed: the film, came out today on Paramount Plus, and in it, Kacey Musgraves hangs out around so many cars that I now feel a midlife-crisis-shaped hole in my life where a fancy car should be. How will I process my next breakup without a vehicle in which to nurse my heartbreak?
Star-crossed, which follows Musgraves through a mall trip, a sad car ride, and what may or may not be an LSD trip, is just as glittery and devastating as we were all expecting. In addition to Meg Stalter arming and outfitting Musgraves's girl group to rob a wedding-dress store, a trippy disco party in a church, and, by my informed estimate, 17 billion rhinestones, it also features what I can only describe as Some Really Cool Cars.
Personally, I identify as anti-car, having tried to parallel park in New York City a total of one time. But something is going on with these star-crossed cars. They're purple! They're full of flowers! They transport pirated Chanel skirt suits!
First up: a white stretch limo lingering behind Musgraves and her diamond-encrusted eyebrows while she dances in some alarmingly high platforms. Next is a Jeep, also white, out of which hangs Victoria Pedretti, Princess Nokia, and Symone in various pastel co-ords. Every car in the film has the same vanity license plate, "STR-CRSSED," which doesn't seem entirely legal but is chic nonetheless.
Then comes my personal favorite: the purple convertible Meg Stalter borrows from her grandma to deliver the aforementioned armory to Musgrave and her friends. (Some Googling informs me this is a 1970 Dodge Challenger, which means absolutely nothing to me, but I still want it.) After that, Musgraves hops into a muted-green hatchback for a journey through heartbreak and across America, which is suddenly cut short by a Camera Roll Memory–induced car crash. (I knew that Facebook feature was cursed.)
After Kacey crashes her beautiful green car, Eugene Levy, who's been tasked with piecing her back together, advises her just-reassembled corpse: "Two words, kiddo: public transportation." To which I say: No, Kacey! Keep buying beautiful cars. Just maybe turn on Do Not Disturb while you're driving.