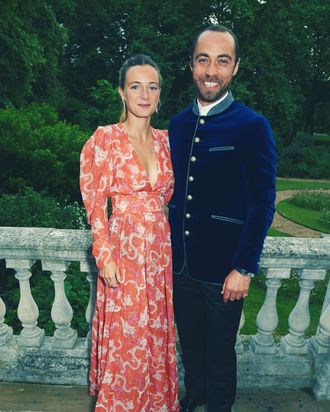 Photo: David M. Benett/Dave Benett/Getty Images for Bvlgari
Have you heard of the third Middleton sibling? No? How about his golden retriever, Mabel? Maybe his cocker spaniel, Ella? Let me enlighten you. Over the weekend, James Middleton, English entrepreneur and younger brother of Pippa and Kate, married his fiancée Alizee Thevenet, an extremely French financial analyst who speaks three languages, in the village where Beauty and the Beast takes place. Just kidding, it's a village in the south of France called Bormes-les-Mimosas (!!), and yes, I have looked into its Airbnb rates already. Good news: They're moderately priced.
But back to James. James and his beautiful French wife have a relationship that appears to heavily involve James's six dogs, as it should. A quick perusal of James's Instagram informs me that, in addition to the six dogs, four of whom are matching black cocker spaniels, he also has a rabbit named Pretzel, who seems to get along great with his canine siblings, and a half-blind goat. If it wasn't already clear, dogs are very important to James: He frequently credits his dogs with saving his life while he sought treatment for depression, and he extends this service to others by volunteering with a therapy-pet charity group in England.
Naturally, dogs also feature in James and Alizee's origin story: The couple met three years ago, when, according to the Daily Mail, Ella ran up to Alizee in a private members' club in London. That last part is less cute, but we are talking about a Middleton. Anyway, their wedding photos featured Mabel panting in the background, and James made sure to squeeze his precious companions into the wedding announcement, writing, "Yesterday I married the love of my life surrounded by family, friends and of course a few dogs."
That family included both Kate and Pippa, as well as Prince William. The Duke and Duchess of Cambridge's three children also joined, though it does not appear any royal corgis were in attendance, which is a travesty.
Really, though, the royal family (corgis included) can only dream of the life these two are about to live. Imagine: You wake up in your tasteful mansion in the English countryside, tell Ella to allons-y!, and feed her a little of last night's roast chicken from a rustic dog bowl before heading to your job as a financial analyst. After a long day of analyzing money (?), you head home to your bearded and emotionally evolved husband, who's wrapping up another day of tending to his marshmallow empire and refining his natural dog food recipes. He makes Stanley Tucci–inspired cocktails for the two of you to sip while watching the horses head back to their stables. Every so often, duty demands that you pay your miserable royal in-laws a visit, where you silently thank God for your beautiful dog family.