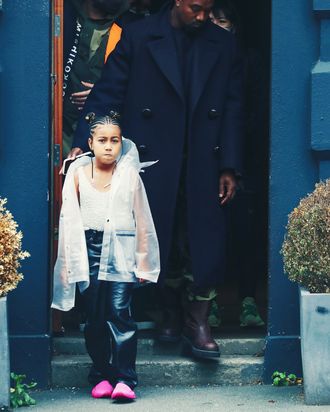 She loves Hot Topic!
Photo: Neil Mockford/GC Images
North West reportedly has one big thing in common with her Aunt Kourtney: a preference for Hot Topic. On Thursday's episode of The Ellen DeGeneres Show (still on?), fashionable Ringwraith Kim Kardashian West explained that each of her four children has developed their own distinct style. Chicago, 3, "is my girliest girl that loves pink and purple and makeup," Kardashian West said. "Chi-Chi is my little princess. Anything princess, anything girlie-girl — that's her." Saint, 5, "is like video-game, tech wiz — like, amazing." Psalm is apparently "really into PAW Patrol and Cars," both interests that make sense for a 2-year-old! But North?
"North is like goth — she's into Hot Topic. She puts fake tattoos on her face, and she listens to Black Sabbath, and she's just, like, a full-goth girl," Kim said. North, 8, apparently also longs to be an only child and shows no signs of growing out of that phase, but … that is neither here nor there.
The only phase that matters, for our purposes, is the goth phase, because — again! — her aunt is having one too, and I am dying to know what North thinks of this. Since Kourtney started dating Blink-182 drummer Travis Barker, her style has taken a distinct turn toward dark and pointy, all skull necklaces and studded hoodies. For a 42-year-old woman, the change in aesthetic seems easily attributable to one influence, but for North? Rude of me to assume that "goth girl" is a phase. It could be forever. Congrats to her on finding her niche so young.