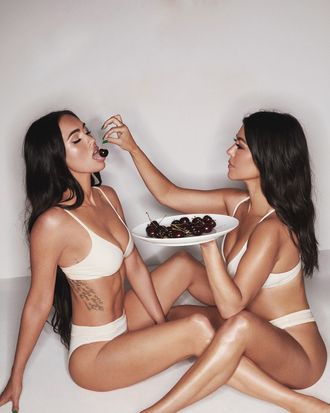 Our favorite horny girlfriends in Skims.
Photo: Donna Trope/SKIMS
I can't look away from the Skims photo shoot featuring Megan Fox and Kourtney Kardashian, and I guess that's the point. The latest ad campaign from Kim Kardashian's shapewear line features our favorite horny girlfriends doing what they do best: being hot and horny.
They're pouting in their underwear! They're feeding each other cherries — the horniest food! There's a pic where Fox and Kardashian are both biting into an apple that I know is supposed to be sexual, but it just makes me think about how there was a kid I babysat who always made me start his apples for him. Maybe Kardashian and Fox also have weak baby teeth?
In theory, these photos are meant to model new pieces from the Skims cotton collection. In practice, they make me feel like a perverted preteen. Who styled this shoot? Machine Gun Kelly? A sentient porn pop-up ad? Me in middle school? This photoshoot looks like 2021 version of the black-and-white poster of two girls kissing every straight man had in their college dorm. Apparently, I'm not the only one who thought the shoot looked a little too familiar. Basketball Wives's Draya Michele thought the Skims photoshoot was oddly similar to a shoot she previously did with model Tanaya Henry.
Given this recent photoshoot, I can't help but wonder … have Fox, Kardashian, and their respective significant others done more than just had dinner together? The two of them did introduce Travis Barker and MGK as their "future baby daddies" at the VMAs. At the very least, the four of them are giving off strong double-goth wedding vibes. Also, why do Kardashian and Fox look so similar in these pictures? Does everyone have the exact same face now??
Regardless, the family seems to be a fan. I mean, Kourtney and Kim are sisters, and, on Instagram, Barker's stepdaughter commented what we're all thinking: "HOTHOTHOT."
This post has been updated.