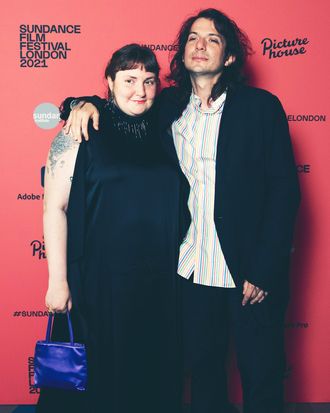 Lena Dunham and her husband (!), Luis Felber.
Photo: John Phillips/Getty Images
Lena Dunham and musician Luis Felber got married in London over the weekend, as reported by the New York Times. In an email to the Times, Felber discussed the moment he knew he wanted to marry Dunham, saying: "Time is fluid, and when you know, you know. I love my wife, who is also my best friend."
Felber, who performs under the name Attawalpa, appeared to hint at the wedding Sunday morning when he posted the song "This Will Be Our Year," by the Zombies, on his Instagram Story. Dunham posted lyrics to the same song back in June in an Instagram tribute to Felber on his birthday. "Everyone who comes into contact with you — creatively, emotionally, accidentally — is lucky," she wrote at the time. "But I am the luckiest."
According to "Page Six," the two kept the ceremony to just their close friends and family, which apparently included Taylor Swift. There were rumors that the singer would be walking Dunham down the aisle, but it seems she just gave a speech. The two have been friends for nearly a decade, with Swift even featuring Dunham in her 2015 music video for "Bad Blood."
Felber told the Times that he and Dunham first met on a blind date in London during lockdown. "The first time we hung out, we didn't stop talking for, like, eight hours," he said. Dunham first confirmed she was dating Felber in an April interview with the Times. At the time, Dunham said they had been together for a few months. "I feel really lucky," she told the Times, adding that Felber is "the greatest person I've ever met." In August, the two made their first red carpet appearance as a couple for the London screening of the movie Zola.
Dunham previously dated another musician, Jack Antonoff. The two dated for five years before breaking up in December 2017. She has been open about their split, telling the Cut in 2018, "I texted Jack last week and said, 'HOW DOES IT FEEL TO HAVE DATED SOMONE EVERYBODY HATES?' in all capitals."
Exes aside, Dunham and Felber seem happy together. He apparently has not seen Girls (though he says his mother was a fan) but has watched Dunham's "current stuff," including the TV series Industry and her film Sharp Stick, which is out next year. Congrats to these two on their marriage!
This post has been updated.