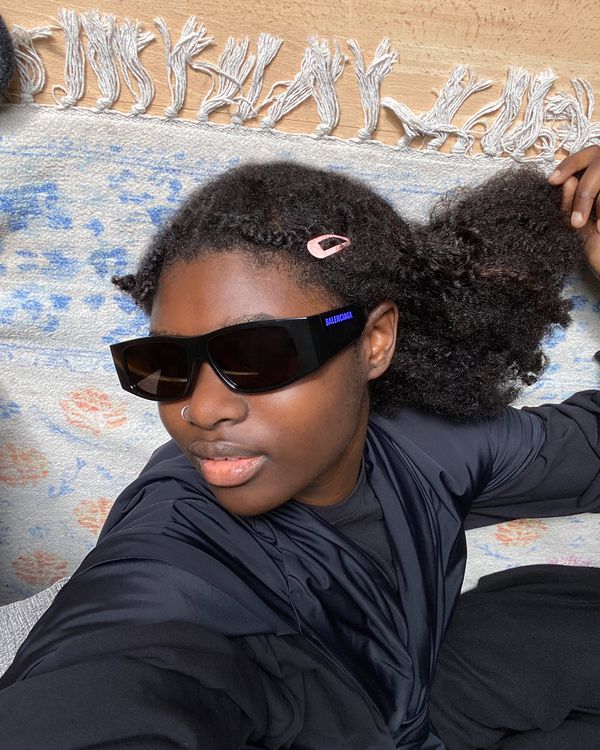 Photo: Courtesy of Balenciaga
Sunglasses serve a purpose: protect eyes from the sun. There is one pair, however, that (cue moody '80s synthesizer) I'd wear exclusively at night.
The eyewear in question is like the light-up sneaker of the face. The rectangular frame sits on thick, tapering arms, which contain a lightweight LED system that illuminates the Balenciaga logo. The brand actually debuted them at the end of 2019 at its spring/summer 2020 show but is relaunching them again now, to our luxurious sci-fi pleasure.
The logo animates in multiple colors and patterns — all controllable with the tap of your finger. The light can either blink, remain static, or fade from one color to another in blue, red, green, purple, yellow, and white, depending on what you want. (Just don't forget to charge them with a USB cable.)
As seen in the video above, the LED light shines brightly even in daylight, when normies would wear sunglasses. But I would wear them in the darkness of a club, for instance, where I'd be a floating Balenciaga logo. Or while sheathed entirely in a black Balenciaga look, à la Kim Kardashian at the Met Gala. Sure, I wouldn't be able to see anything with the combo of my face being completely covered and black sunglasses, but it would look so cool. It just would cost me over $1,000.