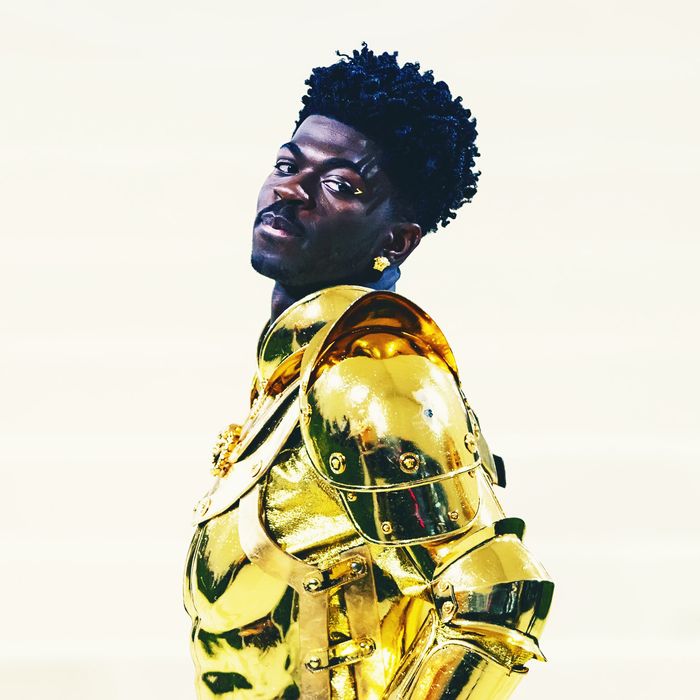 Photo: Gilbert Carrasquillo/GC Images
If you haven't seen the billboards for Montero, you might be entitled to financial compensation. Lil Nas X's ad campaign for his debut studio album, which comes out on September 17, is innovative. It's iconic. It appears to be inspired by those old mesothelioma TV ads. Truly, no one is doing it like Lil Nas X.
One Montero billboard reads, "Are you single, lonely, and miserable? You may be entitled to financial compensation." There's a picture of Lil Nas X in the corner wearing a wig similar to the one he recently wore on the VMA red carpet. Another says, "Do you hate Lil Nas X? You may be entitled to financial compensation." Yet another asks a simple question: "Gay? You may be entitled to financial compensation." And finally, there's a billboard with an American flag that reads, "Do you miss the real America!? Visit WelcomeToMontero.com to see how we can take our country back." Each ad has a QR code and URL that take you to a page where you can pre-save Montero or watch one of Lil Nas X's music videos. These are now the only acceptable billboards. All other billboards must go!
Lil Nas X has perfected the art of the meta-marketing scheme. He has been sued by Nike for designing knockoff shoes made with blood. He has given Satan a lap dance. He gets TikTok on a level that other artists can only dream of achieving. A big part of what makes these "stunts" work is that they don't read like stunts at all. They're funny and weird and truly seem as though Lil Nas X called in to a planning meeting like, "What if we did billboards like those old mesothelioma ads?" Brilliant. No notes.