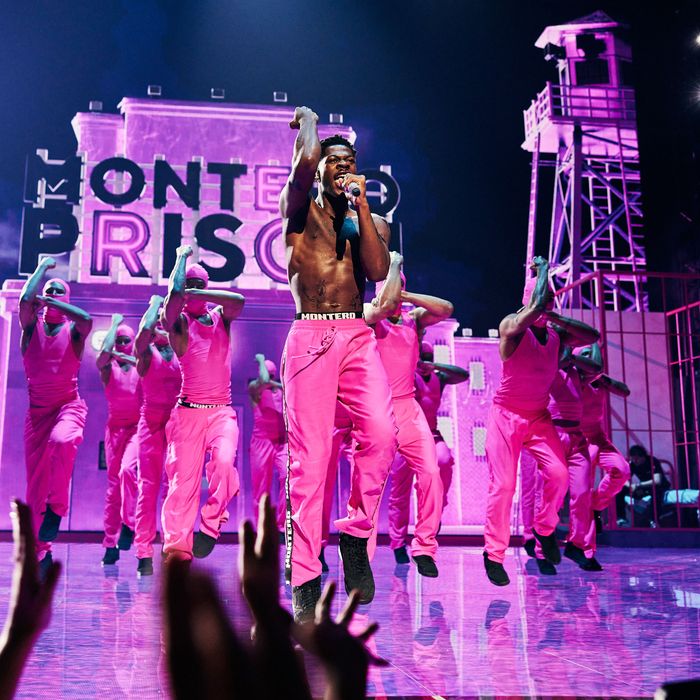 Photo: John Shearer/MTV VMAs 2021/Getty Images for MTV/ViacomCBS
Lil Nas X did the most MTV Video Music Awards–iest thing at tonight's, yep, 2021 MTV VMAs: removed as much clothing as possible. And really, what better way to celebrate the award show's 40th anniversary? Ruby? No.
He started the evening walking onto the red carpet in a mullet and a sparkly lavender suit. "I'm happy. I look good," he told one red-carpet interviewer before asking, "Don't I look a little good?" Unfortunately, that interviewer happened to be the sole living person who was not a fan of the outfit. "Listen," she began, which is never the first word you want to hear after asking someone how you look. "I'm not going to say I'm hating on the fit, but let's move on, okay?" Devastating.
Then, Lil Nas X disappeared for the first hour of the show before returning to the stage in full marching-band regalia to perform the two lead singles from his new album, Montero (out September 17). The band outfit was short-lived as he immediately stripped down, just as the MTV gods intended, to just some custom Montero track pants. I believe the lesson here is if someone says they hate your outfit, simply take it off and go naked.
Backed by a posse of hot, hot-pink ski-masked dancers, Lil Nas X ran through his ode to being extremely young and successful, "Industry Baby," during which Jack Harlow popped in for his verse in a shiny getup. (Harlow, I think, might have benefited from a bit of stripping himself — pleather doesn't exactly breathe. I'm sweating just thinking about it.)
Anyway, after a cute little secret handshake-y hand-slap with Harlow, Lil Nas X removed a little more clothing for the grand finale for "Montero": a pair of tight, teeny, sparkly pink boxers.
While there were no backup dancer make-outs to be found, the underwear-clad group onstage certainly got the message across. That message: thrillingly horny. Oh, the performance? Yeah, it was really good, too.
After he gives birth to his new album, I have no doubt in my mind Lil Nas X will devote his time and energy to calculating exactly how much nip he can slip at January's Grammys. I look forward to seeing the results!
This post has been updated.