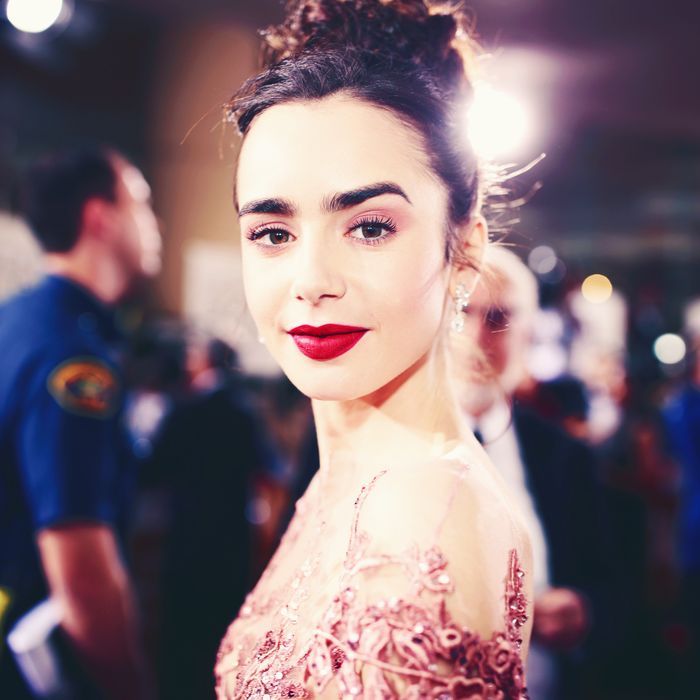 Photo: Christopher Polk/NBC/via Getty Images
This weekend, Emily in Paris star Lily Collins married director Charlie McDowell in a magical-looking mountain forest affair. It was not, as you may have initially assumed, in some woodsy and vaguely southwestern section of the Parisian suburbs but was, in fact, at a luxury resort in Colorado. Humble Chicagoan that she is, Collins wore just one dress, a Ralph Lauren gown with a hooded veil. The whole ordeal seems, to be frank, a little Américain for Emily's taste, but no matter.
McDowell is a film and TV director and, more importantly, the son of America's sweetest mom Mary Steenburgen (whose maternal roles include Step Brothers, Elf, and most recently Happiest Season). Collins, you may recall, is the daughter of Phil, the brains behind Disney's finest movie soundtrack. While it's not clear who attended the wedding, I'm prepared to spend the rest of my afternoon thinking about Phil Collins and Steenburgen's current husband, Ted Danson, meditating in a hot spring post-hike. (Also, maybe they stopped by a dispensary?)
Collins posted about the wedding on her (non-bot-like) Instagram, saying, "What started as a fairytale, is now my forever reality."
Magique indeed! Congratulations to this very cute couple.