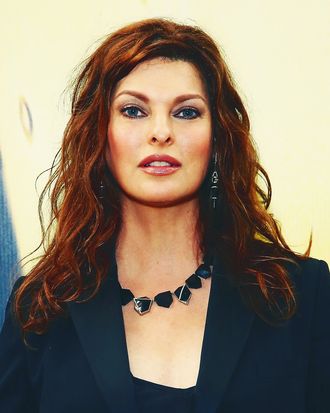 Photo: Astrid Stawiarz/2015 Getty Images
Linda Evangelista, a top '90s supermodel known as a member of fashion's "holy trinity," announced on Thursday that she plans to sue the company behind Zeltiq's CoolSculpting procedure, a non-invasive fat-reduction treatment frequently marketed as an alternative to liposuction. Evangelista wrote on Instagram that the procedure, which she had five years ago, left her "brutally disfigured," sending her into "a cycle of deep depression, profound sadness, and the lowest depths of self-loathing."
CoolSculpting is a fat-removing process that involves freezing your fat cells, the idea being that the frozen cells will be absorbed by the lymphatic system and eventually expelled from the body. According to her post, Evangelista developed a rare side effect of CoolSculpting called paradoxical adipose hyperplasia (PAH), which means that new fat cells were created to replace the frozen ones. She wrote that even after "two painful, unsuccessful, corrective surgeries" she is "permanently deformed" by the condition.
While a 2014 study deemed the incidence of PAH as a side effect of fat-freezing extremely low (0.0051 percent), more recent evaluations have placed it higher, between 0.05 and 0.39 percent. According to Evangelista's post, she was not made aware of the risk of PAH before the procedure.
Evangelista is not the first public figure to come forward about having aesthetic work done — transparency around cosmetic procedures is growing, with some influencers and celebrities starting to discuss botox and fillers the way they might share their skin-care routines with their followers. That includes transparency around adverse side effects, which often aren't treated with the same gravity given to, say, a botched medical procedure.
Evangelista said that she had become a recluse due to the effect her condition has had on her mental health. She concluded, "I would like to walk out my door with my head held high, despite not looking like myself any longer."