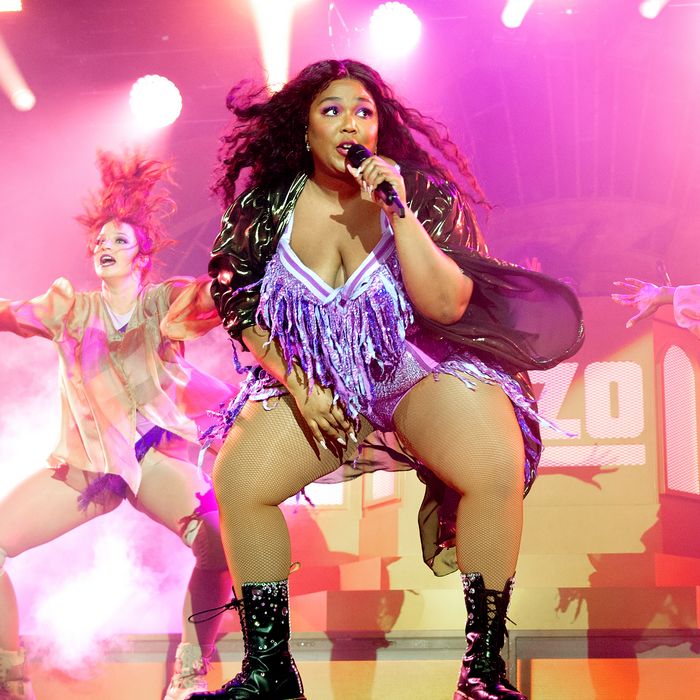 A true expert.
Photo: Shirlaine Forrest/WireImage
Hello and welcome to Lizzo's "TED Twerk," which is — just as it sounds — a TED talk on twerking brought to you by the best in the business. In a video "exclusively shared" with People, the renowned flutist discussed how her "famous" ass (once her least favorite body part, she said) became "the topic of conversations," featured in magazines and the subject of a standing ovation by Rihanna.
"How did this happen?" she asks the audience. "Twerkin'." Pause for hair toss!
Lizzo, a true expert in her field, explained that she first learned her "ass could do magic" when she encountered twerking at a teen club in Houston. Since then, she's done her research, and she wants her audience to remember where twerking came from, since "everything that Black people create, from fashion to music to the way we talk, is co-opted and appropriated by pop culture." Take it away, Lizzo:
Modern-day twerking derived from Black people and Black culture. It has a direct parallel to West African dances like Mapouka. Traditionally, Mapouka was a dance for West African women to be used as a celebration of joy, religious worship, or a dance to do at a wedding to show that you were DTF or DTM — down to marry … Black people carried the origins of this dance through our DNA, through our blood, through our bones. We made twerking the global cultural phenomenon it became today.




Twerking is a Black American communal collaboration of Black Southern culture. From DJ Jubilee and Cash Money Records to New Orleans, to Lil Jon and the Ying Yang Twins in Atlanta, to Uncle Luke in Miami, twerking was alive and well in nearly every Black club in the South, but it would take years after these songs were released for twerking to finally become mainstream.
But then came Miley Cyrus and her 2013 VMA performance, and suddenly, critics were calling twerking "disturbing and disgusting," Lizzo recalls. She would like to correct the record: "In this TED Talk, I'm not trying to gatekeep — but I'm definitely trying to let you know who built the damn gate," she continues. "Black people will not be erased from the creation, the history, and the innovation of twerking."
"For me, twerking ain't a trend. My body ain't a trend," Lizzo says. "I twerk for the strippers, for the video vixens, for the church ladies who shout, for the sex workers. I twerk because Black women are undeniable. I twerk because of my ancestors, for sexual liberation, for my bitches — hey girls. Because I can. Because I know I look good. I twerk because it's unique to the Black experience, it's unique to my culture, and it means something real to me. I twerk because I'm talented."
Please watch the full video below, and thank you for coming to Lizzo's TED Twerk!