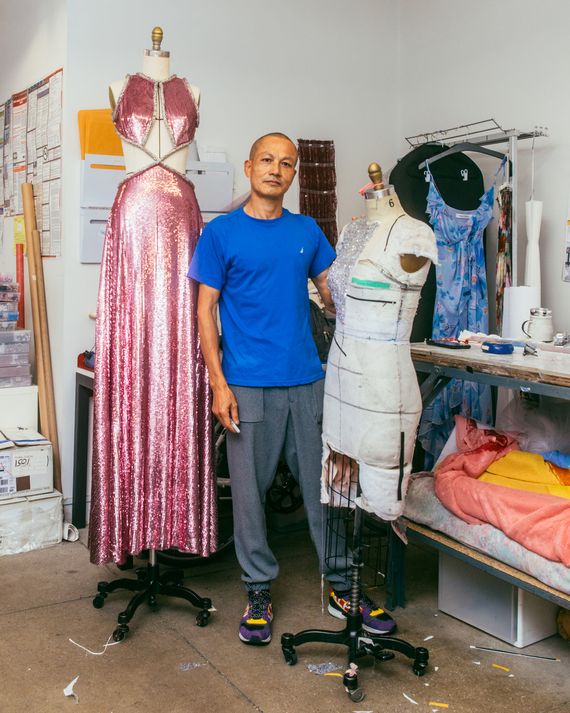 Frankie Fang.
Photo: DeSean McClinton-Holland
This past spring, the Metropolitan Museum of Art announced the return of its annual gala and exhibition with a theme honoring American fashion. "We very consciously wanted this to be a celebration of the American fashion community, which suffered so much during the pandemic," curator Andrew Bolton told the New York Times.
And while a long list of designers will be fêted at the museum this fall, the fact remains that the American fashion community consists of much more than its brand names. A label is nothing without the people who cut, drape, and sew its clothes, workers who are as vital to a garment's creation as the name on its tag. Ahead of this year's event, the Cut met with six of them to talk about creating American couture, Fashion Week rituals, and the work that goes into those outrageous Met Gala gowns.
.

Frankie Fang (pictured above)
Patternmaker, Prabal Gurung
Began tailoring in China in 1985; has worked in the Garment District since 1998.
Men's shirts and pants are easy, but the dress and the gown are hard. The designers always ask me to work with crazy patterns. Once, I made more than 100 pattern pieces for one dress. It was the only thing I made that week. Before that, I worked at DVF for more than 15 years, where I made clothes for all of the famous movie stars. My favorite is a sexy dress. You know, something crazy, something that looks beautiful when you're walking, and you finish it and put it on the model and you're like, "Oh, it's beautiful!"
.

Hardeo "Harry" Samaroo
Specialized Tailor, Calvin Klein
Began tailoring in Guyana in the 1970s; has worked in the Garment District since the mid-'90s.
Back home in Guyana, I apprenticed with my cousin, who was a tailor. But I was a fast learner, and I taught him things too, mostly about fashion trends — he was more old school. After that I had a small tailor shop with people working for me, but Guayana was in an economic crisis, so when the opportunity came to move, I did, and came to New York City in 1988.
During Fashion Week, it's the craziest. We work seven days a week, morning to midnight, and the night before the fashion show, nobody goes home. I used to be backstage at the runway shows sometimes, just to be there in case something goes wrong.
I buy Calvin Klein jeans, but I make my own coats and jackets and blazers. In Guyana I used to make all of my clothes — it's not a big deal for me because I can make almost anything.
.

Carol Gryne
Patternmaker, Brandon Maxwell
Born in Trinidad and studied fashion in Toronto; has worked in New York since 1987.
I've been with Brandon Maxwell from day one, and I'm constantly reading his mind: He will give me a sketch or a drape and then I take that idea and make it work. Every season I have a favorite piece. Last season it was the butterfly dress, the one that Jill Biden wore not too long ago. I love that one because I love butterflies. I have three butterfly tattoos on my leg.
I take my work home in my head. I always tell them, "You guys got to pay me when I'm at home sleeping; I worked last night, all night in my head." My husband is always like, "You need to separate work from home," but it's almost impossible. And during COVID, all the fabric was at my house; it looked like our studio.
Half the time I never see the show because I'm behind the scenes, making sure that everything is good. As we grow, this job has become more demanding. But I still make all my nieces their prom dresses.
.

Francois Bouchet
Patternmaker-Draper, Carolina Herrera
Began patternmaking in France in 1982; has worked in the Garment District since 1997.
When I was 15 years old, I wrote a letter to Pierre Balmain, wanting to hear from him about the world of fashion. He received me and my mother in his Paris office and told me that in this field, you don't need just an excellent eye but technical know-how. So when I was 16, I left to train in Paris, and after working at Pierre Balmain I needed a change, and came to New York in 1997.
I started working at Carolina Herrera 17 years ago. When I met her, I was fascinated and bewitched by her — she always had the right approach to dressing. One of my favorite designs was the white suit we made for Vice-President Kamala Harris. I also loved Zendaya in the orange micro-dress —she was perfect.
.

Heidi Poon
Head of Production, Anna Sui
Raised in the Garment District; has been with Anna Sui since 1988.
My family owned a garment manufacturing business for 20 years, so I knew how to sew and cut. I'd buy vintage gowns and add trims to make them look nice, which is what I did for my wedding. Traditional Chinese weddings have a lot of outfit changes, but I went a little overboard. I changed about six times.
My job is to make sure the products are made and shipped to accounts on time. When I started in the 1980s, it was just three of us working out of Anna's apartment. As the business grew, she rented half a floor, and then one, and then two, five floors. Suddenly we were seeing top models in the office, like Christy Turlington, Naomi Campbell, Linda Evangelista, all of them. I'm like, Oh my gosh.
.

Akiko Mamitsuka
Head of Sample Room, Anna Sui
Raised in Nagoya, Japan; has been with Anna Sui since 1989.
I've been working in the fashion industry for 40 years now. Growing up my mom taught me how to crochet. Eventually I went to fashion school in Japan. Now I work closely with the designer, patternmakers, sewers, and a fabric cutter to make sure all the samples are developed from start to finish.
Early at Anna Sui the sample room was just me, one sewer, and one patternmaker. For the earlier collections, we would make about 120 styles, so on average we would be making six to ten pieces a day. I'm most proud of Fall 1991, because it was the first Anna Sui show I worked on. I helped with all of the samples for that show.
More From fall fashion issue 2021
See All