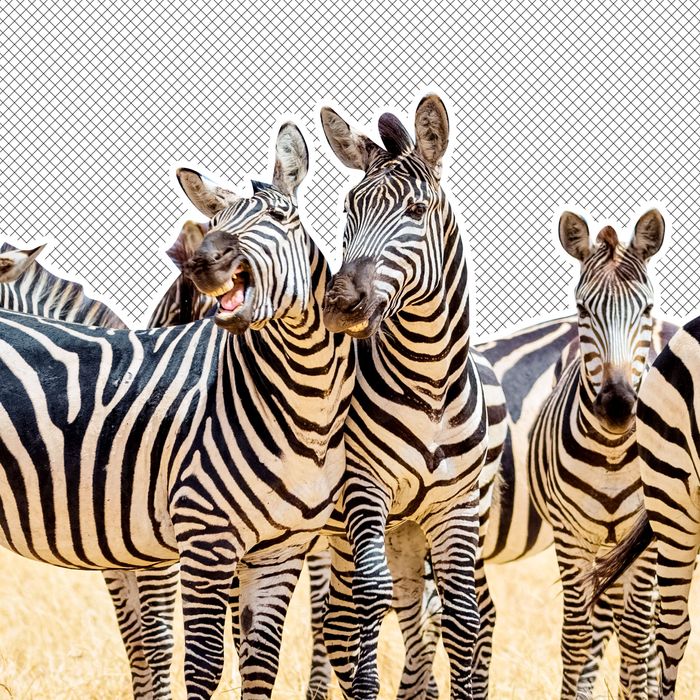 Good for them
Photo-Illustration: by The Cut; Photo: Getty Images
Move over, renegade Texas tiger; it's time for zebra fugitives to run roughshod over Maryland. It has been nearly one whole month since a dazzle of stripy bandits escaped a private farm outside Upper Marlboro, and though both their "caretakers" (per the Washington Post) and local animal control officials have sought to rein them in, these zebras simply won't be tamed. They are galloping around Prince George's County, feeling the wind in their hair and surprising motorists cruising through the suburbs.
Zebras, baby. Zebras!
Since their jailbreak on August 31, the pack of five cloven outlaws has split off into a throuple and a couple and continues to evade capture. They belong to a herd of 39 zebras owned by a mysterious breeder in Croom, according to the New York Times, and while the operation is legal, it's unknown what their purpose is. "He just has them," Rodney Taylor, chief of the Prince George's County Animal Services Division, told the Times, referring to the owner. "He may sell them. I have no idea."
I also have no idea, but I suspect that maybe — maybe! — a feeling of purposelessness led our five rogues to break their farm chains and strike out on their own. In any case, they're still running around out there, sneaking off with snacks from feeding stations established to entrap them. One sighting reportedly took place about 20 miles away from the White House (their ultimate target?). Animal control is slowly but surely building a fence around the feeding station, which it will finish off with a gate and trip wire in due time: According to Taylor, zebras are sharp-eyed and sensitive; they will definitely notice if the shape of the growing pen changes too drastically, too quickly. Plus they are wily — "Animals that you just can't walk up and put a lasso on," Taylor told NBC 4 Washington, because "they're going to run away from you" — and they may bite. Hmmm, sounds like we should just leave them be, no?