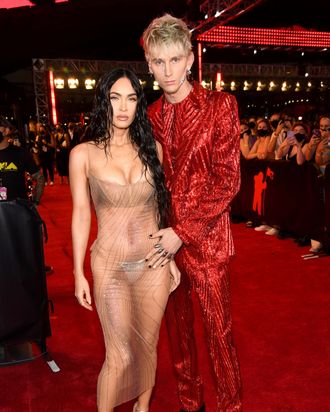 Photo: Kevin Mazur/MTV VMAs 2021/Getty Images for MTV/ViacomCBS
Machine Gun Kelly appears to have gotten a little too jaded about living out his childhood dream of dating Megan Fox, whom, you might remember, he gazed at during his teenage years via a poster in his bedroom. The man, who arrived at the VMAs with pearls on his face and Fox on his arm, managed to get in an altercation with UFC star Conor McGregor within minutes of stepping onto the red carpet.
Of course, two men decked out in sparkly suits and ruffled shirts throwing hands at music's most chaotic event is nothing out of the ordinary. This is, after all, the show that saw Miley Cyrus twerk on a Beetlejuice-themed Robin Thicke. But the real mystery is why Machine Gun Kelly was not preoccupied looking at his childhood crush's butt, which was expertly holding up a silver-sequined thong under a totally sheer dress.
While I understand that, over the course of a relationship, one gets accustomed to seeing the unclothed body of one's partner on a daily basis, I still cannot wrap my head around the fact that, instead of appreciating Megan Fox's butt sequins, Colson Baker allowed himself to be distracted by an Irish UFC star in a hot-pink suit. I mean, come on.
McGregor gave an interview backstage after the scuffle, saying, "I don't even know the guy." (Okay, Mariah.) He went on to call Machine Gun Kelly a "vanilla boy rapper" and said he "only fights real fighters." According to TMZ Sports, McGregor was trying to say hello to Machine Gun Kelly and ask him for a photo, and both the singer and his security team suddenly pushed him back, spilling his drink.
And it gets worse. Sources told TMZ that, in a moment not captured by the red-carpet cameras, McGregor threw his half-spilled drink at the couple in retribution. Can you believe this grown man threw a drink at Megan Fox and her sequined butt?
Megan Fox's sequined butt doesn't deserve to be around such absolute chaos. It soothes with the power of ASMR and essential oils combined. Whatever alleged beef Mr. Baker might have with McGregor simply cannot, and should not, compete.
In any case, should you find yourself Googling "Does Machine Gun Kelly have beef with Conor McGregor?" (something I must recommend against), at least keep a photo of Fox and her sparkles on hand for emergency use. Maybe it can't help either of these adult men, but it should help you.
This post has been updated.