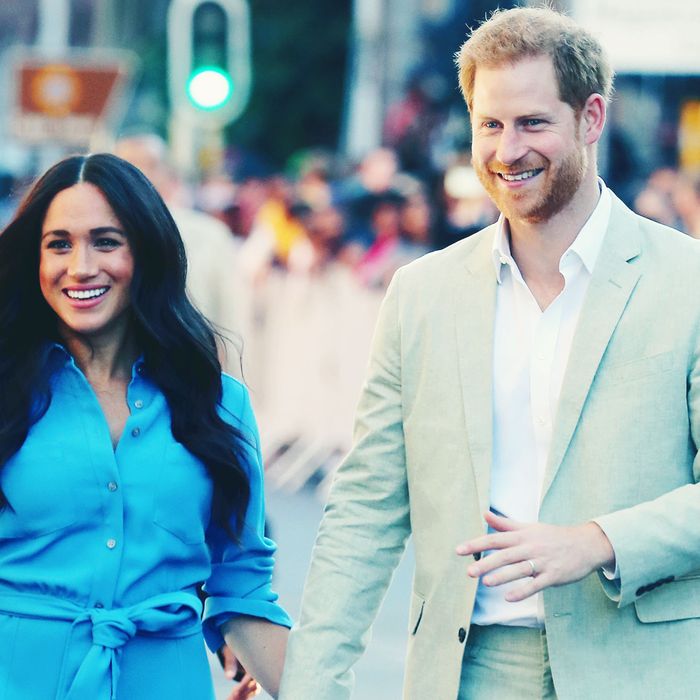 Photo: Chris Jackson/Getty Images
Time has released its 2021 list of the most influential people in the world, and, as per usual, there are a few questionable choices. However, there is no arguing that Meghan Markle and Prince Harry deserve to be on the list. (Silence, petty royal haters!) Gaze upon the Duke and Duchess of Sussex in all their influential glory:
The royal couple is featured on one of the multiple covers of the Time 100 issue, which also include Billie Eilish, Simone Biles, and Minor Feelings author Cathy Park Hong. Chef José Andrés, who founded the nonprofit World Central Kitchen, wrote about Markle and Prince Harry for Time's list. He talked their humanitarian work and dedication to service, both individually and as a couple. He specifically mentioned the 2013 video of Prince Harry, who was serving in Afghanistan at the time, running out of an interview toward fellow soldiers to respond to an emergency. (It is among my personal list of Inappropriate Moments That, Unfortunately, Turn Me On.) "In a world where everyone has an opinion about people they don't know, the duke and duchess have compassion for the people they don't know," Andrés wrote. "They don't just opine. They run toward the struggle."
Meghan and Harry have had quite the year. They had royal baby No. 2. They dealt with rude comments about baby Lilibet's name. Prince Harry did a Spartan Race course and reminded us all that he is, indeed, hot. The couple also gave the now-famous interview with Oprah, which was nominated for an Emmy but lost to actor Stanley Tucci's food-and-travel show. (If you have to lose, it's best to do so to Stanley Tucci.) The two have also been more candid about the impact of media scrutiny on their mental health. Markle talked about her experience with depression and thoughts of suicide during her interview with Oprah. Prince Harry has also spoken more about his own mental well-being, particularly in the wake of his mother's death, having released a documentary series on therapy and mental health with Oprah. Again, if anyone deserves the title of "influencer," it's them.
Congratulations to these two and my condolences for having to be mentioned on the same list as Tucker Carlson.