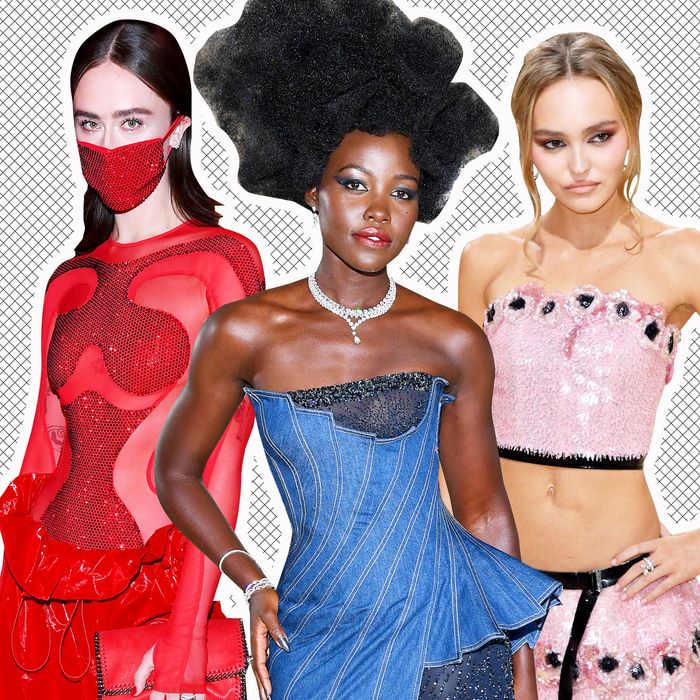 It's the second Monday in September and the red carpet of the Metropolitan Museum was filled with celebrities giving their best version of "American Independence," which is the theme of this year's Metropolitan Museum of Art Costume Institute exhibit.
When thinking about American fashion, so many ideas of what is American? could pop into your head. There's the expected: denim, patriotic colors (red, white, and blue), and Western. But the purpose of the exhibition is to show how American fashion is more than what's expected. The show features over 70 percent emerging designers of diverse backgrounds, so attendees had the opportunity to go above and beyond old Hollywood glam.
So, what does American Independence look like? Below you can see our curated roundup of the best, worst, and wildest looks at the 2021 Met Gala.
See: All the Looks from the Met Gala
Lupita Nyong'o: The Demin Countess
Lupita gets an A for understanding the assignment. In this denim-meets-Bridgerton look, she gave us the version of elevated American glam we had been looking for throughout the night.
Ella Emhoff: Off-Duty Figure Skater
Vice-President Kamala Harris's stepdaughter Ella Emhoff is serving cozy figure skater in this cool look designed by Stella McCartney.
Lil Nas X: Most Outfit Changes
There's only one thing we love more than multiple outfit changes throughout the night and that is Lil Nas X, who is wearing Versace.
Ciara: Most All American
Ciara's Met Gala look is supporting American football and her hubby, Russell Wilson, who is No. 3 on the Seattle Seahawks.
Kristen Stewart: Most Rockabilly
If Jeannie Barbie went to the Met wearing Chanel.
Rosalía: Most Red, Fringe, and Leather
This is an incredibly stressful amount of fringe. I hope she doesn't plan on getting on any escalators tonight.
Lily-Rose Depp: Best Paris Hilton Cosplay
A crop top is so American. And low-rise skirt. The look says Y2K prom queen and you either love it or not
Dan Levy: Most Touching
A shirt with a message. Love is love.
Kim Petras: Most Yeehaw
American horse girls finally getting representation.
Frank Ocean: Best Accessory
Frank Ocean brought an unexpected plus one to the Met Gala. His name is Cody. Is he a direct descendent of Shrek? A rare American Girl Doll? A high-fashion accessory version of dad-core?? We have no idea. All we know is that we love him.