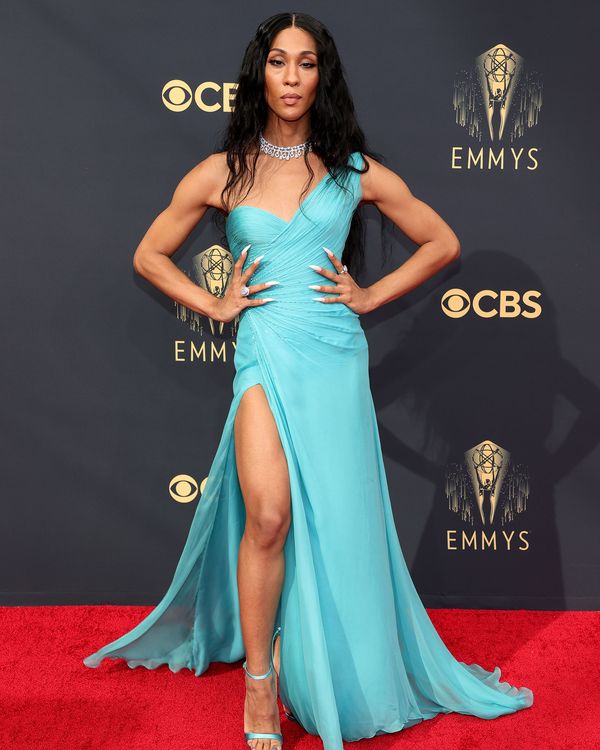 Michaela Jaé
Photo: Rich Fury/Getty Images
Michaela Jaé could make history tonight as the first out trans woman to ever win an Emmy, having received a nomination for Lead Actress in a Drama Series award for her role in Pose. However, she's already made an impression on the red carpet, giving us ocean-siren eleganza.
Jaé, who previously called herself MJ Rodriguez, looked stunning as per usual in a light-blue Atelier Versace gown. On the red carpet, she told Entertainment Weekly she wanted her outfit to feel like "water." I don't know what that means exactly, but the outfit is definitely making me thirsty!
See: All the Emmys Red Carpet Looks.
Pose, which portrays New York's underground ballroom scene in the 1980s, holds the most regular roles for trans actors of any series … ever. Though the show has received Emmy nods in the past, its trans actors have often been snubbed when awards season rolls around.
Jaé plays House mother Blanca Evangelista on Pose, which wrapped its final season this year. When she heard her name announced in July, she told Entertainment Weekly: "I just ran to my mother. She grabbed me and swing me around. My godmother gave me the biggest hug and kept screaming, 'You deserve it!'"
"For a long time, I didn't feel like I was deserving of these things. There's so much stacked against us when we identify as trans. I had all these insecurities," Jaé added. "It feels like I have finally stepped into a place where people can understand me as a human being."
Fingers crossed we'll get to celebrate her win tonight.