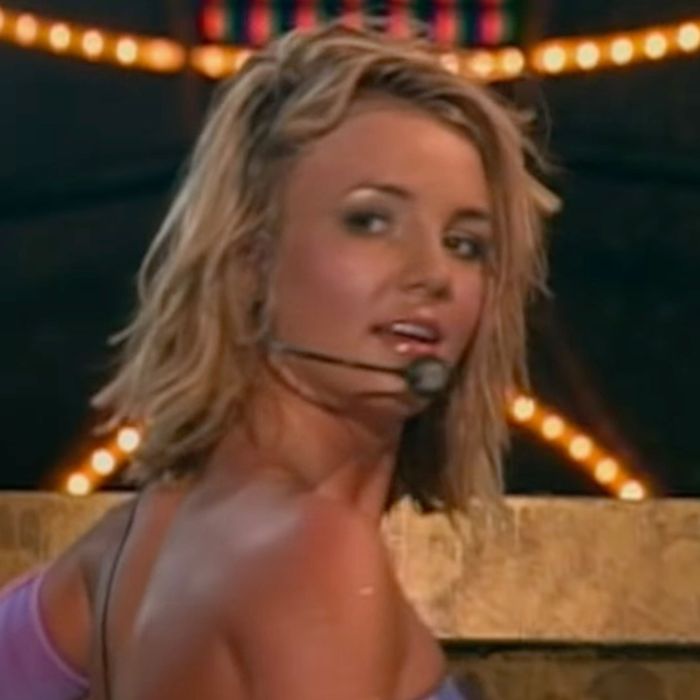 A still from Netflix's forthcoming
Britney vs Spears
documentary
Photo: Netflix
Here it comes, yet another documentary about Britney Spears's controversial conservatorship, this time from Netflix. On Wednesday, the streaming service dropped a trailer for its contribution to the canon, Britney vs Spears. It premieres on September 28, and you are advised to gird your loins for "years-long investigative work, exclusive interviews and new documents," per Netflix's official description. Roll tape:
How is this different from the other documentaries plumbing the depths of Britney's legal misfortune? you are probably wondering. Based on what director Erin Lee Carr told the Los Angeles Times, it sounds like Britney vs Spears will focus more firmly on the pop star's fight to reclaim her autonomy and the peculiarities of the conservatorship itself rather than, say, provide a "primer for how the media treated Britney." That's how Carr described Framing Britney Spears, the docuseries FX and the New York Times put out in February; the BBC also released its Battle for Britney: Fans, Cash and a Conservatorship in early May. As for Britney herself, she's taken a measurably more prominent role in all of this since June, when she made her first public statement on the arrangement at a court hearing. ("I just want my life back," she said in an impassioned, 20-plus-minute statement.) But as regards the avalanche of documentaries, Britney has been clear that the sudden race among filmmakers to present "takes" on her life feels "so hypocritical."
"They criticize the media" — for hounding her and subjecting her to relentless scrutiny early on in her career — "and then do the same thing 🤔🤔🤔 ????? Damn," she wrote in an Instagram caption in May, seemingly in response to the BBC program. And with that in mind, it's maybe worth noting that the Netflix doc debuts the day before a probate judge weighs Britney's dad's surprise petition to end the conservatorship entirely. Coincidence??