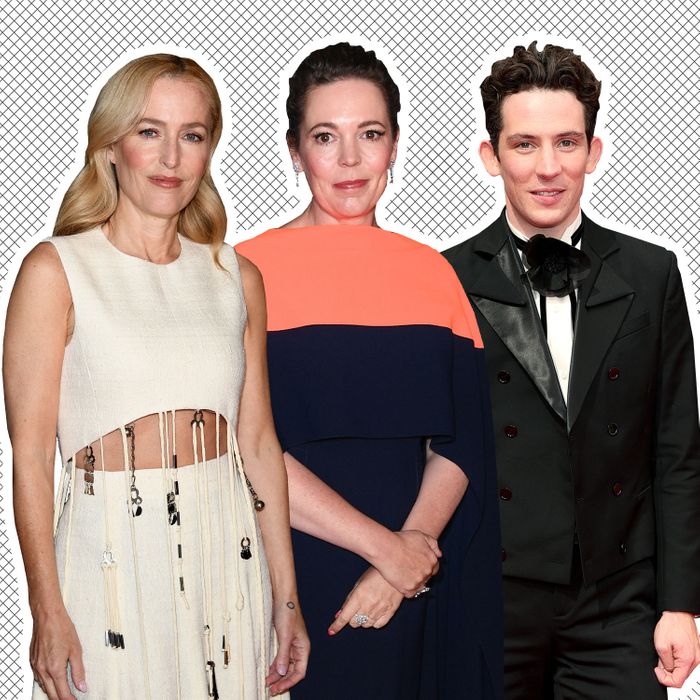 Photo-Illustration: The Cut; Photos: Getty Images
In a huge win for Netflix and also Barbour jackets everywhere, The Crown was nominated for a whopping 24 Emmy Awards this year, tying it with The Mandalorian for the most nominations. It was a swan song for most of the current cast, which also means it's their last year to pack the red carpet with the wilder couture looks of the night. And you can bet they delivered. Take Josh O'Connor, who wore a Loewe bolo with a gauzy black rose cinch at the neck:
And then there's Emma Corrin, who rolled up to the British red carpet in a pale yellow Miu Miu bonnet and fingerless gloves, topped off with witchy black nails:
Oh, and hello, Olivia Colman, in this drape-y two-toned dress by Roksanda Ilincic.
And finally, Gillian Anderson stunned in this custom Chloé look.
Anyway, awards! That's why we're here right? The Crown won seven awards, for its fourth season, which followed Princess Diana's entrée into the lives of the royals:
Olivia Colman won for Outstanding Lead Actress in a Drama Series (making her the second actress, by the way, to win for the same role); Josh O'Connor won Outstanding Lead Actor in a Drama Series; Peter Morgan won for Outstanding Writer in a Drama Series; Jessica Hobbs won for Outstanding Director in a Drama Series; Tobias Menzies won for Outstanding Supporting Actor in a Drama Series, and Gillian Anderson won for Outstanding Supporting Actress in the same category. It also won Best Drama — its first time winning despite being nominated three times in the past.
The Crown has a habit of cycling out actors as the characters they play age, which means shorter windows for Emmy noms. Claire Foy won an award in 2018 for her portrayal of Queen Elizabeth II in season two (her last time playing the queen), while the show's director also took home an Emmy for that season.
Historically, The Crown has always racked up awards in less flashy categories like production and costume design, but the acting awards are sparse. Season four, though, managed to dominate the acting nominations, placing it at the top of the Emmy noms pool. It was the final performance for most of the current cast: Emma Corrin had only one season to embody Diana and, quite frankly, nailed it. Olivia Colman is also bowing out as Queen Elizabeth as the royal matriarch transitions into slightly older age. The same goes for Helena Bonham Carter, a.k.a. the queen's sister Princess Margaret. And Gillian Anderson, who plays Prime Minister Margaret Thatcher, probably won't appear in future seasons since this one ended with Thatcher stepping down. And of course there's Emerald Fennell, who played Camilla Parker Bowles.
I am not sure if Elizabeth Debicki's shoe size has any correspondence with her considerable height, but either way: She has some very large ones to fill!