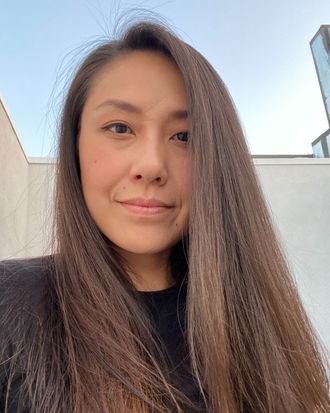 Photo: Courtesy of Jenny Qian
Want more skin care? Join the Beauty Group on Facebook.
Jenny Qian recently traded San Francisco for sunny Los Angeles, but unlike most people's, her thoughts of post-move organizing weren't filled with dread. For Qian, organizing is a sacred ritual, especially when it comes to her beauty products. "On weekends, I like to organize my skin-care collection. Or makeup collection. Or hair-care collection. Or nail-polish collection. It doesn't really matter; I find them all super-therapeutic," she says. "It kind of gives me the same effect as folding clothes — it's cathartic." The obsession comes with the territory: Qian is the co-founder and CEO of Newness, a livestreaming platform built specifically with the beauty community in mind.
Qian's beauty shelves are organized by active ingredient and molecule size. This system keeps her from combining the wrong ingredients and irritating her skin. "I have a tendency of overdoing it," Qian admits. "So if I know the active in each ingredient — I like to have at least one mandelic, lactic, glycolic, salicylic, and azelaic acid on hand at all times — I know what to grab for different concerns. Then the molecule size is kind of like a cheat sheet to tell how deeply it's going to penetrate into my skin. So if I want something a little more gentle, I'll probably go for mandelic acid, but if I want something that's really going to blast my pores, and on days I don't use retinol, I might reach for glycolic acid to exfoliate."
Qian especially looks to products formulated with ceramides, fatty acids, lipids, cholesterol, and shea butter for her dry, dehydrated skin, which is also prone to hyperpigmentation and blackheads. "Give me the thicc stuff. Hyaluronic acid alone just doesn't cut it," Qian explains. "Especially in the wintertime, any occlusive will make my eyes light up, though I've learned you don't need anything fancy for that." CeraVe's Healing Ointment is her go-to for slugging, or sealing in moisture with a thin layer of a petrolatum-based product.
Below, the CEO shares her current nighttime routine, including the only lip balm that works for her dry lips, the device that made "the biggest difference," and the toner that keeps her blackheads at bay.
The Double Cleanse
"I always start my nighttime routine with an oil cleanser because they're really great at melting your sunscreen from the day — oil breaks down oil, so it breaks down all the grease and grime that has collected on your face. Even if I don't wear makeup during the day, I still use this balm first.
"I love that Then I Met You's balm doesn't leave a greasy residue when you wash it off. The first thing I actually notice is the color. It's a sunshine yellow, and it makes me so happy. It's such an unusual color for skin care, then when you smell it, it's kind of herbal with hints of orange. I just use a dollop, and I have a little metal spatula from Muji that I use to scoop it out. This is where I'm very particular. [Laughs.] I have a little spray container from Muji that I fill with alcohol, so I spritz my spatula down with alcohol, wipe it off with a Clean Skin Club towel and then I go in. I hate jars so much."
"In general, I try to stay away from products that have fragrances — with the exception of cleansers because they're only on my face for a very short time. That said, I love the scent of Tatcha's Rice Wash. It does smell somewhat like rice, but it's not very fragrant; it's mostly just very calming and soothing. I think what makes it really special, though, and why I keep reaching for it over and over, is that compared to all my other cleansers, it slightly exfoliates your skin but is gentle enough for everyday use."
The Toner
"This is not the cult-favorite Facial Treatment Essence but the Clear Lotion — I've tried both, and this is the one I keep repurchasing because it's so gentle. It has a hint of salicylic acid, which helps with light exfoliation and keeps my blackheads at bay; I generally don't like salicylic-acid products because I find them way too intense and way too stripping on my skin, but this product has a minimal amount. I like to pat it in with a wipe just in case there's any bit of makeup or sunscreen left on my face. Hey, sometimes we miss spots."
The Device
"As lovely as skin-care products are, the tools I use have made the biggest thing with my skin. My blackheads especially are so stubborn, so once or twice a month, I'll go in with a Dermaflash Dermapore, which vibrates the blackheads out, or I'll use this device that I found called a W Skin. It's like an at-home HydraFacial. You load in whatever toner or serum you want — like the SK-II Facial Treatment Clear Lotion Toner — you pick a head depending on the suction level you want, and it sucks the blackheads out while adding in moisture. Aside from an actual facial, I have never gotten this level of efficacy from a device. It is amazing. When I use it, I can't stop touching my nose the next day."
The Serums
"Once a week, I'll use this from Shani Darden — I learned my lesson the hard way of overdoing it on the actives, so now I just pick one product with them on either Wednesdays or Sundays. I really love this because it's a combination of retinol and lactic acid all in one. It's probably my favorite for exfoliating, and it's really good with dry skin. It smells awful, though — like putrid milk — but it is so effective."
"If I don't use the Shani Darden Retinol Reform, I'll use the Joanna Vargas Daily Serum, which has galactoarabinan (a natural plant collagen). It's this fun green color because it's derived from the larch tree, and it has exfoliating properties similar to lactic or glycolic acid. It also boosts SPF (so you can wear it in the daytime, too, though it's a little tricky to wear under makeup) and strengthens barrier function. A winning combo, if you ask me."
The Barrier Cream
"This is the ultimate sensitive-skin relief. It is a must-have when I'm on retinols. It kind of has an odd, nutty smell, but it's really effective. It just protects the skin. This is a cream where, no matter what my skin is doing — whether it's inflamed, I've been out in the sun, I haven't been drinking enough water, or I've been snowboarding and I have windburn — it has never stung at all."
The Moisturizer
"My favorite line from all the different Tatcha moisturizers is the Indigo collection. The new Indigo moisturizer is perfect for sensitive skin but has an even better texture than the original Indigo Cream. It's silky smooth, and after I put it on, it literally feels like my skin has chugged a tall glass of water. It's the perfect setup for those who love sluggin' it."
The Occlusive
"This ointment helps seal in all the steps before it. I slug it pretty much every night to lock in all the goodness. Otherwise, the moisture will evaporate overnight, especially since I sleep with the AC on. This step is really what reminds me of the 'glazed donut' look. It does get a little messy on the pillowcase (you'll have to switch it out more often), but it's a must-have step for those with dry skin. A moisture trap!"
The Lip Balm
"I've had a really hard time finding a lip balm that actually works on my dry lips, and this is it. I really love the packaging because I open it, I squeeze it out, and I apply it directly onto my lips, which is much more sanitary than dipping my fingers into a pot. I'm now realizing a lot of my routine is based on how germophobic I am and how particular I am about packaging (and how well the packaging maintains the efficacy of the ingredients). [Laughs.]"