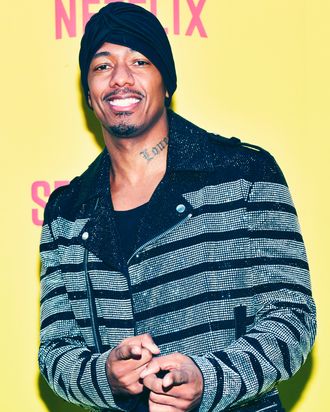 Photo: Rodin Eckenroth/FilmMagic
Folks, the end of an era may be upon us. Nick Cannon, who recently became a father of seven, says he is going to "take a break from having kids." I mean, once you reach a Von Trapp number of children, you can either go for broke or take a break.
"My therapist says I should be celibate," Cannon told Entertainment Tonight. That doesn't really sound like something a therapist would say word for word, but if that's the message he got, okay! In the past year alone, Cannon has welcomed four children into the world: Powerful Queen Cannon (nine months), whom he shares with former girlfriend Brittany Bell; twins Zion Mixolydian Cannon and Zillion Heir Cannon (three months), whom he shares with current partner Abby De La Rosa; and Zen (also three months), whom he shares with Alyssa Scott. Plus he's got 4-year-old Golden "Sagon" Cannon, whom he also shares with Bell, and ten-year-old twins Monroe and Moroccan Scott, whom he shares with ex-wife Mariah Carey.
"I'm not sitting out here planning it," Cannon told ET of his ever-growing family, which isn't exactly what he said a few months back on his Power 106 Los Angeles radio show. After City Girls rapper JT told him he should "wrap it up" lest he father more children, Cannon said he didn't have any "accidents." "Trust me, there's a lot of people that I could've gotten pregnant that I didn't," he said at the time. "The ones that got pregnant are the ones that were supposed to get pregnant." Cool, I guess!
However, it doesn't sound like Cannon has necessarily capped his number of children at seven. "Think about it: You can't be like, No I'm done," he told ET. "Like, what if God says, 'No, you not.'" I guess will see how long the Lord wants this extremely fertile man to remain "celibate."