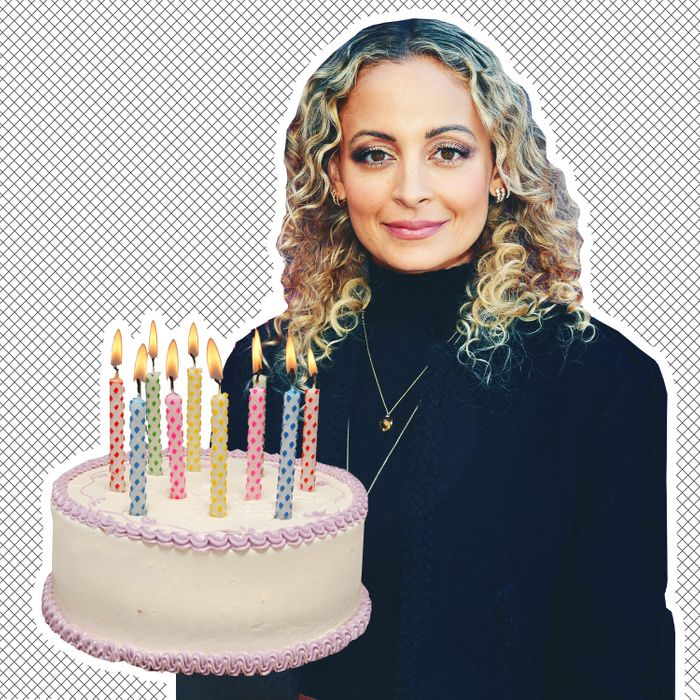 Photo-Illustration: The Cut; Photos: Getty Images
Birthday drama is, scientifically, the highest form of drama — nay, of art. An uninvited guest? Immediate tension. A birthday girl getting overly emotional about the color scheme of her cupcakes? The prelude to a perfect feud. Nicole Richie, baptized in the holy water of reality TV, knows this. She has just blessed us with an unrivaled nugget of birthday drama that surpasses all Housewives dinners and Below Deck meltdowns combined. It's succinct. It's suspenseful. It's high-stakes. It involves vanity, personal safety, and cake. Behold: Nicole Richie's hair catching fire from her birthday candles.
Let me walk you through these six seconds (a Vine???) of high-stakes birthday drama. It starts as all boring birthday-cake videos do. Here is Richie, leaning over her cake in what appears to be the perfect birthday Going-Out Top. It is a face cake (the best kind), depicting what I believe is a young Richie dressed as a Smurf. The candles have been inserted along the bottom of the cake, i.e., in close proximity to Richie's beautiful birthday hair. The stage is set.
Richie successfully blows out about half of her birthday candles, blissfully unaware that the bottom ends of her hair have been set aflame. This is that moment in Screenwriting 101 when they tell you to give the audience information the characters don't know. And then!
Richie springs back, screaming and tugging at her gorgeous birthday top with the bottom of her hair fully on fire. The disembodied arm of a kind friend who's definitely good in emergencies reaches out to pat down one side, while a disembodied arm on the other side, belonging to someone who's not good in emergencies, waves frantically near her burning hair. The video leaves us in a total chaos-induced cliffhanger, with the cameraman presumably jumping in to assist.
Richie posted this stunning piece of performance art with the caption "Well…so far 40 is [flames emoji]". What better way to step into one's fourth decade than with a new haircut? May we suggest … bangs?