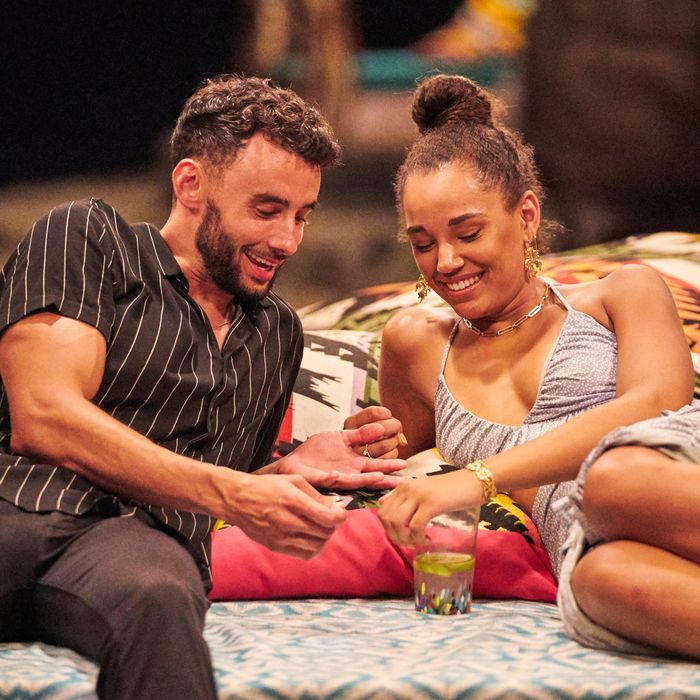 One of the key tenets of reality dating shows is the notion that seekers of love, lust, and roses be "there for the right reasons." This is an oft-repeated tagline of the Bachelor universe, extending across its flagship show, as well as The Bachelorette and Bachelor in Paradise. What exactly the "right" reasons are is up for debate nearly 20 years into the franchise's existence, but at the beginning of the show's history, it meant you were looking to find love and leave the show engaged to be married. Of course by its very nature, only two people can fulfill that destiny so lots of contestants can start their journey for the right reasons but end up an ousted social-media star anyway. And once it became clear that getting dumped by the bachelor or bachelorette could net you just as much fame and followers as the final rose itself, the purpose of the show became muddied by the opportunities it afforded its ever-growing roster of romantic hopefuls. Now, this latest season of Bachelor in Paradise is revealing how much more successful the show is at creating influencers than couples.
The Bachelor series has always relied on a few classic TV tropes to push along its fairy tale. Each season has an unlucky-in-love foil, beloved by fans but not likely to make it past the overnight dates, a "nice guy/girl," the one you bring home to the parents but ultimately leave at the altar, and of course, the villain. All of these characters help sustain the long tail of the ever-growing Bachelor universe, keeping the show and its various spinoffs in the tabloid cycle year-round. The nice guy/girl often ends up the next Bachelor or Bachelorette and the villain gets a book deal and appearances on a string of other reality shows. And for the past seven seasons, everyone else gets a free vacation on Bachelor in Paradise.
BinP was initially a great way to bring back memorable but short-lived contestants to screens and loosen some of the constraints of the main shows, including the fact that only one couple could end up in any kind of meaningful relationship. Still, it was always clear the show was more about getting airtime than finding love. But then in season two, Jade Roper and Tanner Tolbert ended up engaged, and three kids later, they've built an entire lifestyle brand out of their beach vacay. Repeat BinP offenders Ashley Iacconetti and Jared Haibon had a similar trajectory on the show and have managed to monetize everything from their engagement to a recent baby gender reveal. For final rose rejects, Bachelor in Paradise was a solid chance at coupling up and, more importantly, building a respectable social-media following and firming up some sweet brand deals. But just like the original, admitting to this is strictly verboten, everyone still has to operate under the premise that they're there for love, and everything else that follows is just a happy accident.
When the first season of The Bachelor aired in 2002, it was much easier to perpetuate the fantasy that everyone was on the show for a chance at love. Eliminated contestants disappeared from the spotlight as soon as they left the show, and even standout villains had to work hard to keep their name in People magazine beyond their season. But around 2014, following Juan Pablo's turn as Bachelor and four years after the launch of Instagram, Bachelor in Paradise hit the airwaves, specifically designed to flesh out some of the more charismatic characters from Bachelor Nation who otherwise had little opportunity to build their brand. Social media helped the islanders tease out their story lines, market themselves as wannabe actors and models, and grow their followings outside the confines of the show. It was a boon for the franchise as well as the individuals. But it also dramatically changed the nature of both The Bachelor and Bachelorette, as it became clear which contestants were looking for brand deals more than life partners and inevitably skewed the purpose of BinP as less romantic paradise and more influencer boot camp.
Now, as that naked play for clout bleeds onto the screen and infects story lines, the franchise finds itself at a crossroads.
It started earlier this year on 30-year-old Katie Thurston's season of The Bachelorette. One of her early favorites, Thomas Jacobs, was called out by most of the men in the house for being an influencer, wanting fame and angling to be the next Bachelor. By admitting to all of this in his first week on the show, he committed the No. 1 dating show sin: Thomas was clearly there "for the wrong reasons." Katie sent him packing, but it's no surprise that a few months later he ended up on the latest iteration of Bachelor in Paradise. Lucky for Thomas, a few more nakedly craven social-media-fame-seeking contestants joined the island this season, displacing his clout-chasing narrative.
Whatever the romantic story lines were supposed to be on BinP this summer, they were completely overshadowed by a break in the fourth wall — a reckoning with the true purpose of reality dating shows in 2021. When Clare Crawley and Tayshia Adams Bachelorette reject, model Brendan Morais, stepped onto the crab-infested BinP beach, he was an instant fave among the women, including Natasha Parker. Parker was partly drawn to Morais because on his season of Bachelorette, he stood out for his empathetic nature and generally chill vibe. He seemed like a good guy!
Brendan and Natasha got together early, but it was clear she was into it more than he was, with him holding off on even a kiss until a few weeks into the season. Rumors started circulating on the island that Brendan's aloofness was about more than Natasha, that he was already dating another former Bachelor contestant, Pieper James, and just killing time until she arrived. That in itself is probably forgivable, but when Pieper did arrive and immediately coupled up with Brendan, it raised some alarms. Suddenly Brendan went from cold fish with Natasha to full-on PDA with Pieper, a dramatic about-face that left several islanders, and me at home, with their mouths agape. It was immediately clear their relationship predated the show. They sealed their fate when they subsequently had several mic'ed conversations about the number of Instagram followers they'd each gained and laid out their plan to become a social-media power couple in front of the entire Bachelor Nation.
Eventually the rest of the cast confronted Brendan and Pieper, along with another couple accused of the same social-media scamming, Chris Conran and Alana Milne, and forced them to leave. Despite a bizarre, lengthy attempt at an apology from Brendan, pissed-off viewers started a campaign to unfollow Brendan and Pieper, who lost over 100k and 10k Instagram followers, respectively, since the fallout.
The irony is that once both couples left the island and business returned to normal, the show suddenly felt a lot less exciting and watchable. Peeking behind the window into the making of a social-media star, or at least building the brand of a Bachelor reject was genuinely interesting, complicated, honest TV. When they were gone, we were left with smooching D-listers pretending it's normal that their six-week Mexican influencer vacation could end in an engagement.
It's hard not to feel like producers set these couples up to take the fall for what is in many ways the central purpose of shows like Bachelor in Paradise. They can only film and air so many Bachelor and Bachelorette seasons in one year and in order to sustain interest in the franchise as a whole, offshoots like BinP help create more villains and story lines and keep audiences engaged in the Bachelor Nation.
But as ratings for the main events decline and the show faces its own racial reckoning following a tumultuous season with Bachelor Matt James (now doing an obligatory turn on Dancing With the Stars), it's getting harder and harder to pretend the entire concept is little more than a social-influencer breeding ground. And while that may not have been the aim at the start of the series two decades ago, its refusal to lean into it is another reflection of its inability to keep up with any of the changes to how the show is viewed. For years now, a blogger called Reality Steve has been spoiling the ending of the show and announcing who gets the final rose early. Rather than incorporate the spoilers into its teases, the show pretends he doesn't exist. On a much larger scale, it ignored calls to diversify its show and deal with issues around race since its inception, and its failure to do so contributed to the collapse of its season with the first Black bachelor and led to the dismissal of long-time host Chris Harrison. The Bachelor franchise is so committed to what it used to be, it can't evolve into what it could be, which has the potential to be entirely more entertaining that what it's been doing for the past ten years.
This season of Bachelor in Paradise has already been the most enjoyable iteration of any of the shows in years. And now that Brendan and Pieper are gone and we have to once again focus on the lackluster romantic connections between a handful of reality-show rejects, maybe it's time to admit that the entire show is in it for the "wrong reasons" and just accept what makes it so powerful — a closed loop of brand deals and social-media followings that make flogging yourself on TV for love a little more palatable.