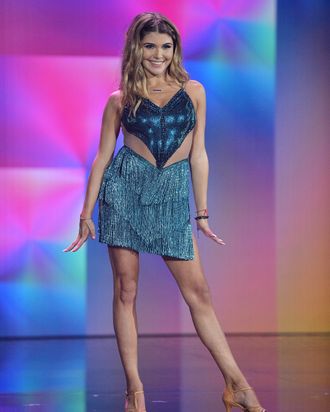 Olivia Jade on season 30 of
Dancing With the Stars
Photo: ABC
Famous Division I rower Olivia Jade made her dance debut on last night's season premiere of Dancing With the Stars. "I'm probably best known for being an influencer," Jade said in her intro. "But the last few years I've been, I guess you could say, wrapped up in a scandal." Yes, you could say that, I guess!
Jade is arguably better known for her involvement in the 2019 college admissions scandal, also known as Operation Varsity Blues. Jade's parents, Full House actress Lori Loughlin and designer Mossimo Giannulli, were among the high-profile clients who paid hundreds of thousands of dollars for their children to get into colleges like UCLA, Stanford, and the University of Texas. Jade's falsified college application touted her as a "highly talented" champion rower and included a Photoshopped image of Jade performing said rowing.
"I'm not trying to pull a pity card, but I need to move forward and do better," Jade, who dropped out of USC to return to full-time influencing, added during her Dancing With the Stars introduction. "I just want to show people I have a different side to me. I have a strong work ethic." She performed a salsa to "Juice" by Lizzo and did … perfectly fine. Show judge Carrie Ann Inaba said, "This is the start of a brand-new chapter," adding that Jade had "great lines and great legs."
Jade isn't the only vlogger on this season. Fellow YouTuber Jojo Siwa is also part of this year's cast, making history as half of show's first same-sex pairing. Siwa — who is a trained dancer and former Dance Moms cast member — and her partner Jenna Johnson performed a quickstep to Jet's "Are You Gonna Be My Girl," which, in my expert opinion, was very cute! It's both wild and completely unsurprising that it's taken this long for the show to have a non-hetero dance pairing. Other members of this season's cast include actual athlete and Olympic gold medalist Suni Lee as well as Bachelor Matt James.
Also equal parts wild and unsurprising: the fact that Jade continues to be given a platform. It looks like Jade will be vlogging her experience on the show on her YouTube channel, where she usually posts "get ready with me" videos, brand sponsorships, and videos cosplaying as a regular person who does regular things like grocery shopping. This is all to say, regardless of the aforementioned scandal, I'm sure she and her "great legs" will be just fine.