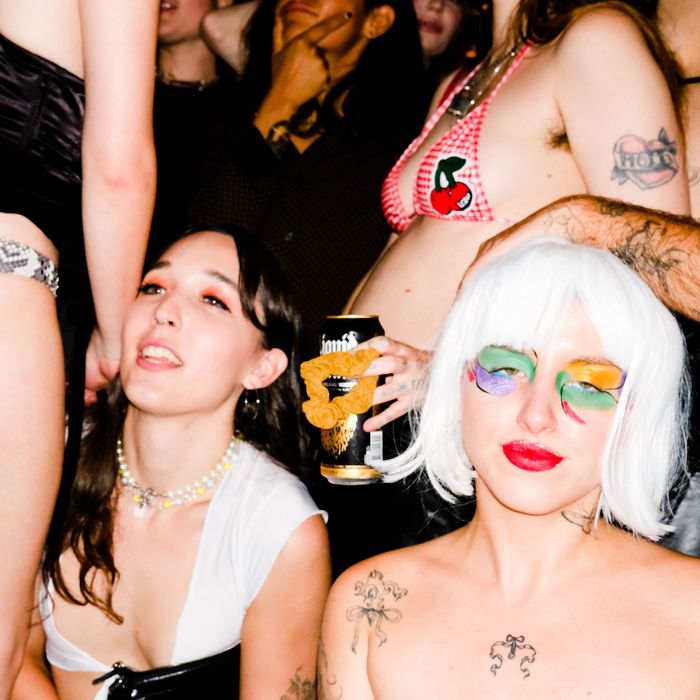 In the center: 
Dirty
 co-founder Magda, at Le Bain for the magazine's release party.
Photo: Max Lakner
I first heard about Dirty magazine — tagline: "Be what you wanna jack off to" — when I was invited to their summer pop-up at Café Forgot on the Lower East Side last month. There they demonstrated how to use Narcan and handed out issues alongside precut, neon-colored plastic straws and little metal cards, useful to chop up a line.
It's a defiantly retro thing, animated by a mythic 1990s pre-digital idea of downtown — the era of early Vice magazine, when the Cock was on Avenue A, Bushwick was still years away from being gentrified, and nobody had heard of something called "Dimes Square." "I believe New York's downtown always needs a magazine," wrote founder Ripley Soprano, 29, in the editor's letter of the first issue, recalling the words of another nightlife personality, Julie Jewels, in another downtown magazine, Project X, from the '90s. "More than ever, there's a need for a magazine that reflects … the people whose lives revolve around sex, drugs, and style." Their putative bad-bitch audience? "Hookers and truants, a.k.a. people who wanna land tricks." It's full of racy photo shoots, druggy manifestos, tall tales from sex workers, and even one cocktail recipe by writer Nico Walker. (In fact, the magazine is partially inspired by Walker's wife, the poet Rachel Rabbit White, and her "book-club-cum-sex parties.") "We're saying fuck you to something: the rules and shame culture that's come up because of the pandemic," says Soprano, describing Dirty as part porn, part fashion magazine, and part public-health project. "It's meant to get you off, one way or another." What's in, according to Dirty's trend column? "LSD, himbos, tramp stamps, hand guns, and the gender binary." And what's out? "It girls, COVID, Instagram, pronouns in bio, self-importance, and skin care." And, even though Dirty is print-only, it's built around an IRL community, centered on an exclusive chat room called Contraband on the encrypted messaging app Signal, where they share party invites and lewd photos.
Last Thursday night, I went to the magazine's second issue release party at Le Bain with Ripley and the motley Dirty crew, which Ripley described as "New York nightlife people" and kids "who have a lot of money, but not because of their parents" — meaning those who make it here by selling sex and/or drugs. It was a milder night than I expected, but that doesn't mean it was suited for work. As Ripley told me afterward, the group thrives on excess, which is, in fact, very downtown.
11:01 p.m. | I hop in line on the street outside Le Bain, where, even though it's early in the night, a woman in an LBD and long purple fingernails is doing drunken loopty-loops on the sidewalk, and the other women in line are scoldingly reminding her boyfriend to make sure her dress is pulled down over her ass.
11:37 p.m. | Upstairs, this early in the night, the party is subdued. I spot a former magazine editor, someone who's involved with the Dirty crowd, milling around with a can of Montauk ale, and she attempts to explain why things are so quiet right now: "Everyone is in their room doing K." I meet Ripley, in a red bikini top, and another Dirty cofounder, Magda, in a skimpy, white halter top, who are hawking magazines at the club, selling issues to out-of-place, beyond-their-sell-by-date straight guys and cute, up-for-anything gay boys from Brooklyn alike. I'm handed a small vial of something, which excites me, but then I'm told it's just a sample of someone's homemade perfume. I make a mental note not to mix it up with the other tiny vessels in my handbag.
Midnight | On Le Bain's rooftop, it's not difficult to discern who is here for Dirty (think: indeterminate gender; sickly looking, in a chic way; exposed nipples), and who is the kind of person who casually goes to Le Bain on a Thursday night (think: evidently cis; good-looking, in a suspect way; business casual). I spot a popular DJ, a party-going stylist, and a few other much lamer media people who have been drawn out of their apartments on this 90-degree late-summer night. "I used to come here in college," one of the latter tells me. Previous are u coming? subject Caroline Calloway is here, naturally, carrying a furry pink handbag. She invites a small group of us to chat at the table she's sitting at with a group of finance guys in khakis. A few minutes later, the men discreetly summon a security guard who demands we leave their presence; they're only interested in Caroline. She leaves the table a few minutes later, touting her loyalty, "If my friends have to leave, I'm leaving too."
12:20 a.m. | "My friend brought cum rags," I hear Ripley say, from a few feet away, and the person next to her coos in response, "What a great gift." "Next are cum socks," Ripley replies. I look around and wonder where those people are.
12:34 a.m. | Magda says it's time to head down to the magazine's hotel rooms for a "break." On the way to the elevator, we're joined by an androgynous gaggle of chunky chains, stiletto heels, pigtails, and one scantily clad groupie in one of those marching band caps with the feathery plumes. They're all serving I shop at L Train Vintage. And yet, I also find them to be rather intimidating, because they're not exactly friendly. When we get to the room, I discover the real reason we've left: so everyone can "collect goods." "Here we go ladies, gents, and everyone in between," says the last person in the room I'd expect to be their drug dealer, an inconspicuous partygoer in clunky black glasses, who pops open a locked box chock full of tiny powder-filled vials. "I love seeing a Pelican case in a hotel room. It means trouble," one of the few men in the group told me later. The dealer explains that they work as a "cannabis consultant" during the day, and occasionally mess with the harder stuff, like coke and MDMA, in their spare time. As for this particular coke? "Straight from the Colombians themselves." And the MDMA? "One of my colleagues is an old crazy chemist man who works at Johns Hopkins and told me to 'flood the streets' with this." Across the hotel room, a girl in a swimsuit starts talking about her "emergency supply of crystal" and I watch as she lights a glass pipe with a tea candle. After 20 minutes, we're pushed back upstairs, because, apparently, "there's a couple of sales" looking for Mx. Dealer.
2:14 a.m. | Back on the roof of Le Bain, I skirt the pulsating dance floor to hang out with the Dirty crew, who are lazing on big puffy outdoor furniture, like "how the Romans partied," and doing lines off their copies of the magazine on a quiet corner of the roof. A friend of mine at the party cheerfully informs me he attracted a dance-floor suitor and scored a restroom blowjob. Apparently the boy jumped on the opportunity, telling him he expected the night to be much hornier.
2:53 a.m. | Everyone heads back to Dirty's two hotel rooms, where I've been told all night the real party is going to happen. But instead, two dozen people pile inside only to sit on the floor and make stilted conversation. There's not even a speaker, just someone playing "Gas Pedal" on their iPhone. Two girls strip down to their lingerie and splash around in a hot Epsom salt bath, which is visible through a big window in the main room. Someone tells the room about watching a fight in the restroom upstairs, where she was smoking meth.
3:00 a.m. | While we sit around, waiting on … I don't know what, I ask Ripley about Dirty's pandemic sex party that got picked up by "Page Six" after Cat Marnell (who a decade ago occupied a similarly hellbent space as this crew in the culture, before she got sober and wrote about that) showed up and told The Drunken Canal all about it, in an interview with Caroline Calloway. ("All of a sudden it just started! Fucking and sucking … There was tons and tons of whippets and all the plastic razor blades in different colors, everyone was on drugs.") Ripley explains that it was actually a "gangbang" for a friend's birthday party, and Cat was probably just scandalized, having never seen anything like that before.
3:29 a.m. | Slowly, some of the crowd starts to trickle out of the room to another down the hall, where I'm assuming things are sexier than they are in here, where there are several burly guys who followed us from Le Bain. But when we go there the party is mostly the same, with the addition of a few girls making out on the bed. The after-party organizer, also in a bikini top, is standing by the door, peering through the peephole. They tell me they've already been yelled at by the Standard's "hall monitors" once, so they're trying to make sure everything stays in control. "That's why I'm good at planning parties, because I'm a Virgo but I also have anxiety disorder," they say. Asked what makes a good after-party, they tell me a "a good guest list and a good playlist," and at that moment, "drivers license" comes on, once again over someone's iPhone speaker. "This is more chaos energy than we usually want," they say, explaining that they would prefer a "sex-forward sex party." A bit bored, I wonder when that might happen.
3:56 a.m. | Finally, the sexual tension builds into something actually productive, and a couple of girls get naked and hop in the massive bathtub. Above the chitter chatter, you can hear them splashing around — this time the tub serving as a private sex room instead of a kiddy pool. "It's so humid in here, it's really hard to do cocaine, but thank you for having us," says a curly-haired blonde on their way into the hotel room, while a shorter boy in a du-rag attempts to snort a few unbreakable rocks of coke up his nose: "Nobody knock the drugs off my hand nape."
4:10 a.m. | I attempt to talk to a few people, but everyone seems too fucked up to manage simple conversation. "I'm not fully sure. I'll get back to you," answers one girl with a mullet, when I ask what brought her here. And the blonde, when I ask what they've been up to: "I've been reassessing my everything." I pour a drink from a cloudy pitcher; it tastes like coconut rum, but when I ask what's in it, several people call it "demon juice." The room — whether from a lack of sex, an excess of drugs, or the time of the morning — is restless, and a few people head out the door to see if they can break into Little Island across the highway. A few others say they're going home, but I don't believe them. Maybe there's too many people (and guys) at the party. Maybe everyone's just burnt out at the end of the summer. Or maybe I missed the real party happening outside of my view the whole time. Either way, the porn-rag exhibitionists seem to prefer to get it on in private.