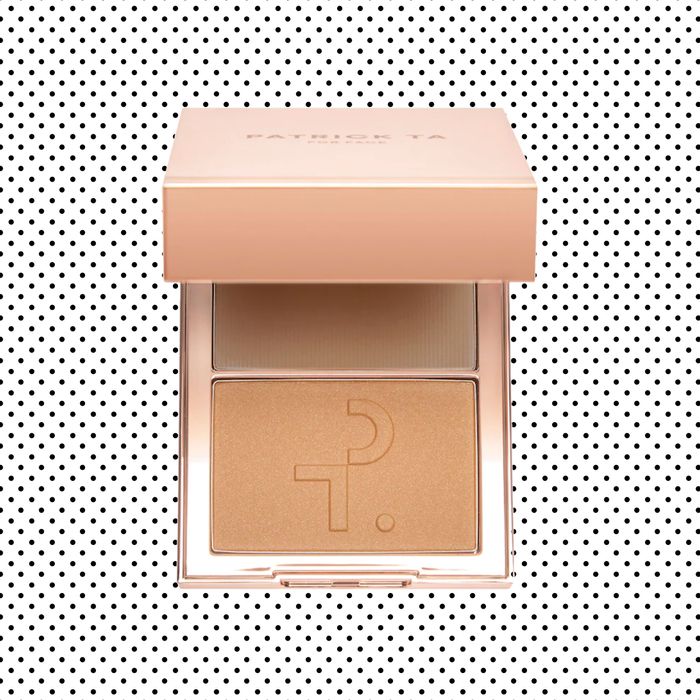 "Wth your passport photo actually looks good," began the texts. I looked at the two-inch photo in my hand. Not to brag but my friends were right — my passport photo did look good. It was not planned. My face, the morning I took the photo, was puffy after crying from bad news. The photographer made me pull my hair behind my ears, a move I haven't done since my eighth-grade school photo. She also told me not to smile with teeth, so I had given her a weak simper.
My skin looked pore-less and my cheekbones were popping out. A very famous dermatologist once took my face in her hands, turning it left and right, and declared that my cheekbones were "tiny." I hope you've never considered the size of your cheekbones, but if you've ever wondered where your cheekbones were, Patrick Ta Beauty's Major Sculpt Creme Contour & Powder Bronzer Duo can help you find them. It's a compact containing both bronzer and contour crème — two products that you apply along your bone structure to define and sculpt your face.
One half is the contour, which comes in a cool tone that might initially look like a dirt smudge on your face. But when blended, which is does very easily, it gives you cheek shadows. Unlike other contour creams, which can feel tacky or sticky, this one feels weightless on the skin.
The other half of the compact is a bronzer. I liked how velvety this powder was. It made my skin tone looked a little more warm and sunny, without looking orange. The combination of the two made my face look less gray and pasty, and more chiseled and glowy, even in a passport photo.
The palettes come in three shades, ranging from light to dark. I used the medium, called She's Sculpted, for a more defined look. If you've long been a bronzer and contour fan (especially of either NARS Laguna or Tom Ford's contour), you'll love that this palette includes passable dupes for both, at a gentler price point too.