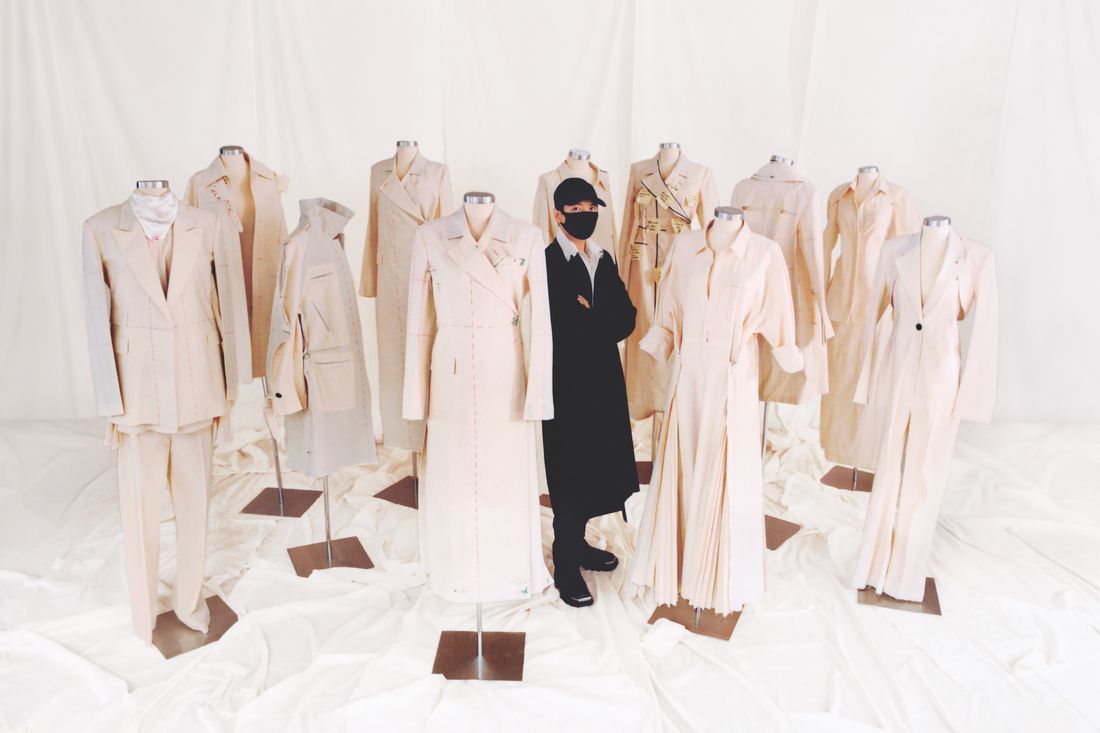 Peter Do with the muslin toiles of his spring-summer 2022 designs.
Photo: Ike Edeani
On a recent Thursday afternoon in Sunset Park, which is to fashion as, say, Seventh Avenue is to animal husbandry, the next great American designer is fitting a model with a funereal topcoat. Black, sharply tailored, falling nearly to the calf, it's a lot of coat for July. "It's light enough for summer," says Peter Do, laughing, who himself is wearing an oversize white cotton shirt and black Adidas gym shorts. Not so long ago, Seventh Avenue was American fashion's central artery, but Do works in an airy studio here at the Industry City campus — "a 40-minute subway ride from midtown Manhattan on good days," as Vogue couldn't help sniffing when reviewing one of his collections. "Seventh Avenue is not what it used to be," Do, who is 30, tells me. "I think everyone can agree on that. That's why no one's there."
Out here, Do (it's pronounced with a long O) is building
a fashion company in his own image. Having trained at major labels with European ateliers and all the friction they inspire, he knew he wanted a more collaborative spirit at his own fledgling company. It's run as a collective with four founding partners he recruited not from the industry's professional ranks but from the personal network he built as a quasi-outsider blogging about fashion on Tumblr. There's Vincent Ho, his business partner, who handles sales; Jessica Wu, who serves as both unofficial fit model and press director; Lydia Sukato, Do's roommate, who is operations manager; and An Nguyen, a designer.
Their label, Peter Do, is elegant and adult, with an emphasis on long lines, layers, and fine tailoring. A few items — a tube top here and a thigh-high slit skirt there — are off-kilter enough to telegraph "fashion" to the cognoscenti, but the bulk of the collection is practical enough to be worn by the professional, often older woman who, despite her erasure by many young brands, is the main customer for $3,000-a-jacket luxury fashion.
"There's so few young designers who want to enter that space," says Elizabeth von der Goltz, the chief commercial officer for MatchesFashion. "Maybe you'll have someone who's a European who's been working with big European houses for a really long time and has that tailoring know-how. But it's rare for a young designer from New York to break out like that." The Peter Do team has dressed Beyoncé and Solange and fielded requests from Jill Biden's office to send the First Lady clothes; last year, the Council of Fashion Designers of America nominated Do for its emerging-designer award.
When Peter Do debuted in 2018, the industry was still somewhat staggered by the departure of Celine's Phoebe Philo, arguably the most influential designer of her generation. Labels were in a fugue state of streetwear obsession, neglecting older consumers and anyone looking for something besides megaprints and status sneakers. Do had worked for Philo, and with his dignified sensibilities, he found a niche as one of her heirs. Initially, Do operated quietly, forgoing the usual emblems of arrival — like a splashy, bankrupting Fashion Week show — and wouldn't even show his face. (He has refused to be photographed for years, and for this article he insisted on being interviewed with his team, though in the end he did most of the talking.) But now, in September, Do will stage his first-ever runway show — helping to anchor the return of New York Fashion Week and, in the process, establish his brand as a comer.
Do's early experience with clothes was uninspiring. Growing up just north of Ho Chi Minh City in Biên Hòa, Vietnam, he had a single drawer filled mostly with hand-me-downs, which his grandmother taught him to patch as needed. His parents emigrated to the U.S. and eventually sent for Do, who arrived in Philadelphia at 14 speaking little English. "It wasn't like the America that I imagined it would be," he says. Philadelphia was ugly and covered in graffiti, he remembers, and at school he was shoved into a locker on day one. "I remember someone hit me with a baseball bat," he says. "I'd come home bleeding all the time. My brother would come home bleeding." The flared jeans and tight T-shirts he had worn in Vietnam were deeply uncool, and he replaced them with American staples — Abercrombie, Polo — designed to make him invisible.
His father, who died when Do was a teenager, odd-jobbed in cooking, construction, meatpacking, and sales; his mother became a nail technician. Fashion seemed far from the point. But Do was beginning to sense the expressive possibilities of clothes. At one point, he snuck off to Hot Topic to buy a pair of shredded jeans he loved but dared not wear in public. "I never wore them until college, when I went out for the first time," he says. "I remember feeling really free." (Two seasons ago, he channeled the memory into a pair of shredded jeans, which quickly became a top seller.)
Do attended Pratt after high school but found it too slow and conceptual, so he transferred to F.I.T. to get to the worktable faster. "Fashion designer" wasn't necessarily the immigrant parent's dream for a child; Do's mother, Hong Nguyen, would "rather me be a doctor, an architect, a pharmacist — anything else but this," he says. He remembers her saying, "I worry about you. Are you going to make Halloween costumes when you graduate? Are you going to be a seamstress?' " But at F.I.T., Do proceeded through the usual way stations (internships, grunt work) with unusual distinction. "Every once in a while, you see that perfect mix," says Joanne Arbuckle, then the dean of the School of Art and Design. "And it's something that you would gamble on and say, 'I would put money on this. I think this designer is going somewhere.' "
Soon he did. His graduate collection won a competition sponsored by the megaconglomerate LVMH, and Lady Gaga commissioned a piece, though it was never made. Afterward, Celine hired him to work with Philo in London and Paris, where he couldn't help but notice he was one of the few Asians in a design role. "Everyone else was a patternmaker or a technician, fabric cutter," he says. "Or an intern. And interns were, like, never hired."
Celine's studio could be oppressive. Do worked on the runway collections, absorbing what he could of Philo's sophisticated instincts and exulting in the expertise of the ateliers, but he chafed at the stresses of the workplace. In 2016, Do left Celine — on good terms, but abruptly, for reasons he won't elaborate on. "It's really hard for people in this business to walk away because it's so competitive," says the model Maggie Maurer, one of Do's muses, whom he met at Celine. "I think that the strongest people value themselves enough to say, 'I don't agree with this, and this isn't how I want to be treated.' And that's also what he carried through to how he runs his business and his team. They're very close because he doesn't ever want someone to feel the way that he felt when he was there."
Do signed on with Derek Lam in New York, where he worked on an eight-person team designing the collections and was sent to Italy to liaise with the atelier. But he wouldn't stay for long — and Lam doesn't begrudge him for it. "It's the talent and passion and ambition that come together in Peter," Lam says. "I don't mean ambition in a negative, pejorative sort of way. When I remember working with Peter, I could definitely see this guy is exceptional." On nights and weekends, Do was plotting out the Peter Do label with his friends.
Wu and Sukato were old F.I.T. classmates; Ho and Nguyen he had met on Tumblr. The style they eventually created was informed by what he had done at Celine, but with a more visceral sex appeal than Philo's intellectual collections. He persuaded Ho to persuade his parents, physicians in San Diego, to invest, and with a third, silent partner, a businessman from outside the fashion realm, Peter Do was born.
Do was a credentialed, award-winning, but still largely untested designer, and unlike some others, he couldn't afford to fail. "This had to work," Do says. "I already borrowed so much money to be here." (Ho, on the other hand, received a Birkin for his 21st birthday.) Factories and mills turned them away. "I remember going to fabric appointments, and people straight up told us, 'I don't think you can afford this. This is a luxury thing.' " To get to Paris to show the collection to buyers, they bought discount airfare with a 45-minute transfer in Iceland and arrived with zero appointments booked and their emails unanswered.
But Do already had a small following online from the moody, black-and-white Tumblr he had been keeping since his F.I.T. days, a following that migrated to Instagram. (In the tonier corridors of fashion, the platform was still seen as childish and suspect; at Celine, Do was hauled off to HR for posting a picture of the studio. "Phoebe hates Instagram," he says.) And when the team began putting the collection on Instagram, retailers started showing up. One was von der Goltz, then the global buying director at Net-a-Porter. "It was instant," she says of her reaction to Peter Do's first season, and she battled Barneys to secure an exclusive on it — and won.
That first season, they sold $500,000 worth of clothes. (There was a frantic scramble to borrow enough to pay for their construction; "$5,000 from my mom's friend, $5,000 off my brother — it was like that," Do says. "We low-key still haven't paid them back yet.") Net-a-Porter put them in its Vanguard incubator program, offering marketing and behind-the-scenes guidance, but even when the support ended, the pieces continued to move. "What's interesting is the business improved season upon season," von der Goltz says. "It just kept snowballing."
The Do ethos is still in the process of coming together. Some stores complained that recent seasons drifted further from the Peter Do DNA than they'd like, and a collection inspired by a car chassis turned out to be stiff and uncomfortable. Do can be vague on the subject of whom he designs for. So can Ho, who says, "When we talk about the vision of the Peter Do woman, it's kind of like, 'She's not uptown, she's not downtown, but she's definitely not midtown.' I've seen that person on the Upper East Side; I've seen her in Tribeca; I've also seen her in a warehouse at 4 a.m. in Bushwick." There is a push and pull between Do's more austere vision and Ho's interest in the short, the tight, and the high-slit.
Demand seems to be both present and growing. Three years in, the Do family is in the black, with $6 million in sales and 42 stockists worldwide, and it is attracting interest from both outside investors and larger labels hoping to swallow up a next big thing. So far, say Do and Ho, they're not interested.
Do decided to set his first runway show on the Brooklyn waterfront as a nod to "the point of arrival from our parents, or the people who came before us." For the founding members of the label, all of whom are Asian American, the tide of hate crimes that surged during the pandemic made it feel all the more important to show now. "It just felt like the right time," Do says. "People throw things at me on the train. People are telling us to go back to where we come from. So I've been thinking a lot about where we're from. And I really wanted to show people where we're from. I think it's as simple as that."
Do's Vietnamese heritage has always informed the collection, but lately the homages have become a bit more forward. At the atelier in Sunset Park, the black topcoat and a pair of trousers are an adaptation of an áo dài, the traditional Vietnamese ensemble of a tunic worn over long pants. Some of the new looks are based on photos Do found of his mother in the 1980s — the long dresses based on her dress, flowers embroidered where she had been holding them. Not that she's the target customer. "My mom says the clothes are really hard to wear," Do says. "She's like, 'My favorite thing from your brand is a T-shirt.' " (Ho's corporate-lawyer sister, on the other hand, is a major customer.)
One family member who won't get to see the runway show, of course, is his late father. I asked Do what he might have made of it. "I honestly don't know," he says. "He was quite a serious man. He'd be like, 'Well, you still pay student loans, so you're not that successful.' " But Do's mother told him recently that when they met in Germany in the 1980s, before Do's birth, his father had made her clothes of his own design, something Do had never known. He ponders the question a little longer. "I don't know," he finally says. "I would like to think that maybe he's proud."
MORE FROM FALL FASHION 2021
See All