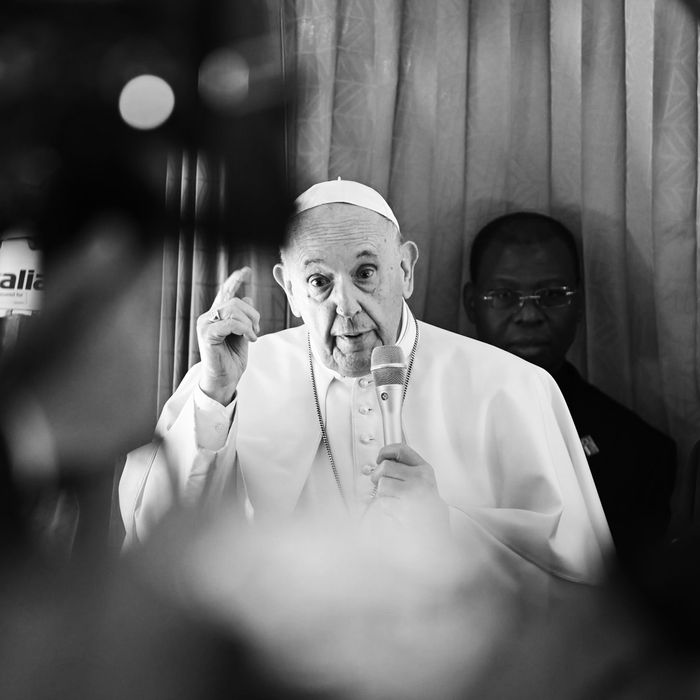 Photo: Johannes Neudecker/picture alliance via Getty Images
If there's one thing Catholics know how to do, it's make you feel guilty. (I can say that because I was raised Catholic and as part of a holy sacrament had to tell an adult man my "sins" when I was 9.) Thus, it's little surprise that Pope Francis has perfected the art of public shaming. During a September 15 press conference, as reported by the New York Times, the pope once again reiterated the importance of getting the COVID vaccine while appearing to throw a Catholic cardinal under the bus.
Francis was asked about his recent visit to Slovakia, where attendees were required to be vaccinated, a point of contention among the country's Christians, who have been divided over vaccination. In his response, Pope Francis seemed to reference Cardinal Raymond Burke, an outspoken opponent of the vaccine who is currently hospitalized and on a ventilator after contracting COVID. As CNN reports, Burke continually spread misinformation and racist messaging about COVID-19, calling it the "mysterious Wuhan virus," saying it has been used to advance the "evil agenda" of unnamed "forces," and perpetuating the falsehood that the vaccine contains microchips.
"Even in the College of Cardinals there are some anti-vaxxers," Pope Francis told reporters on Wednesday, "and one of them, poor man, is in hospital with the virus. But life is ironic." Sure is, pope!
During this press conference, Pope Francis also addressed recent questions about giving communion to people who support abortion rights. As the Times reports, some conservative bishops are trying to enforce guidelines that would prevent pro-choice politicians like President Biden, who is Roman Catholic, from receiving communion. "I have never refused the eucharist to anyone," the pope said, but added that he doesn't know of a time when a politician has gone to him to receive communion. "What must the pastor do?" he continued. "Be a pastor, don't go condemning. Be a pastor, because he is a pastor also for the excommunicated." So do as the pope says, and let the pro-choice eat their little holy wafers!
Now, before you start with a chorus of "cool pope," please remember that this man is still the pope. During this same press conference, Pope Francis reiterated that "abortion is homicide," adding, "Whoever has an abortion kills." While he has been notably more tolerant of homosexuality, he has still said that marriage is between "a man and a woman."
Anyway, I now have two things in common with this holy man: We both believe it's crucial to get vaccinated, and we both can appreciate a butt pic.