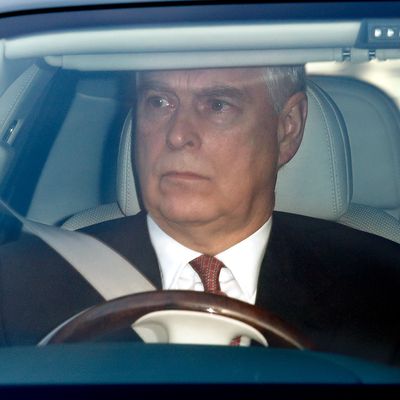 The queen's favorite boy.
Photo: Max Mumby/Indigo/Getty Images
For about a month now, Britain's Prince Andrew has been trying to shake the international agents on his tail. In early August, Virginia Giuffre sued the Queen's Favorite Boy for his (alleged) participation in Jeffrey Epstein's sex-trafficking ring. Giuffre has long maintained that Andrew raped and sexually assaulted her when she was 17, and since she filed her suit, U.S. attorneys have sought to serve him court papers. Andrew denies having been Epstein's accomplice and having had "any form of sexual contact or relationship" with Giuffre at all; still, the Sun reports that he has fled to Balmoral Castle in an attempt to dodge the law. Hmmm. Nothing screams innocence as loudly as a powerful man hiding at his mom's house.
The Sun published pictures of the prince and his ex-wife-slash-current-roommate, Sarah Ferguson, making the "500-mile dash" from the Royal Lodge in Windsor to Scotland in their Range Rover. According to the tabloid's sources, Andrew has been "going stir-crazy inside Royal Lodge for the past few weeks," afraid to go outside lest a courier spring the dreaded papers on him. He couldn't even go horseback riding! His security guards have reportedly deflected "multiple attempts" to serve Andrew, and good luck getting him at the queen's country estate, especially while she is there on her vacation.
The Sun's informants say that Andrew "knows he is far safer" up there, but attorneys for Giuffre have insisted that her case will go forward with or without princely cooperation. Though Giuffre wants a jury to weigh in on her long-standing allegation that Andrew abused her even though he knew "that she was a sex-trafficking victim" of Jeffrey Epstein's as well as a minor, Andrew does not necessarily need to be present for civil proceedings. Continuing to "ignore judicial process" would likely mean "a default judgment against him," Giuffre's attorney, David Boies, told the BBC. Boies added that "at this point" — Andrew has been batting down these allegations for years; recall the disastrous BBC interview of 2019 — "litigation is the only way to establish once and for all what the truth is." Giuffre wants Andrew to understand that "you cannot hide behind wealth and power and palace walls," but … I guess as long as Mother is willing to protect you, unfortunately, you can.