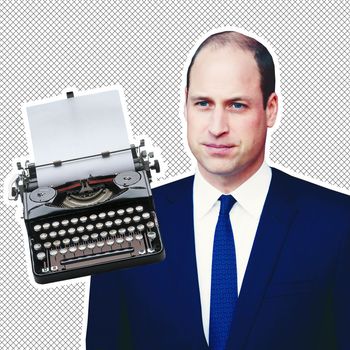 Possibly not!
Photo-Illustration: The Cut; Photos: Getty Images
What are the nonnegotiable criteria candidates for Future King must have, in your humble, non-royal opinion? Should they eschew shiny novelty titles, such as World's Sexiest Bald Man? Should they shield their interpersonal dramas from prying tabloid eyes? Should they … at a minimum, have expanded their typing skills past hunt-and-peck basics?
If you answered "yes" to any of the above questions, then sorry! Prince William is not the Future King for you. At least one award-bestowing body has deemed his pate very sexy, we will never forget that business with the Marchioness of Cholmondeley, and there is evidence to suggest that William stabs out his sentences with a single index finger. Exhibit A: This video of him sitting down to write his introduction to Earthshot: How to Save Our Planet ("Said to be the definitive book of the Earthshot Prize," per the Daily Mail) on a typewriter. A typewriter! How analog, or maybe the most secure mode of communication for a royal — who's to say?
Anyway, the official Twitter account for the Duke and Duchess of Cambridge made its disclosure on Friday morning, so at the very least, Britain knows what it's getting. Poke, poke, poke, jab, jab, jab.
On the one hand, Prince William probably never has to type up his own reports or emails or book introductions if he doesn't want to, and perhaps that explains what is happening here. On the other hand, I am thinking about how Queen Elizabeth did not get to have a formal education, whereas this man attended Eton and the University of St. Andrews — where he apparently studied art history, a writing-intensive discipline — among many other fancy institutions. Did none of them teach touch-typing? Does the prince know about computers? Does it matter? Sigh. Probably not.