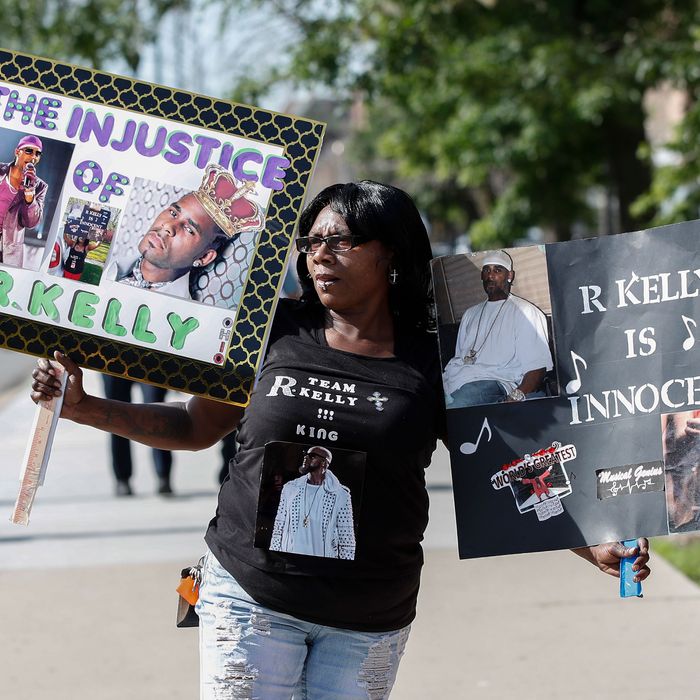 An R. Kelly supporter outside one of the singer's hearings on sexual abuse charges at the Leighton Criminal Court Building in Chicago, June, 2019.
Photo: Kamil Krzaczynski/AFP via Getty Images
When I first saw videos of R. Kelly's fans showing up to his trial in Brooklyn, I swung between disbelief and disgust. I was irate about the continued support for a man who has used his extensive resources to harm Black girls and boys for decades without accountability. Over the course of the trial, which began in mid-August, the reports and clips of their behavior became more extreme; images circulated on social media of fans gathering in Cadman Plaza to blast music and make clear their vitriol for the prosecution and support for the defense. Disputes reportedly broke out over access to the limited space within the viewing rooms, leading to intervention by U.S. Marshals. A search of the #FreeRKelly hashtag brought up small stan accounts dedicated to his exoneration, dissecting and interpreting information in real time, part of it via filtered reporting provided by the loyalists in attendance at the court proceedings. It all made for an unforgiving portrait and one that I had to see for myself to try and understand.
When I arrived at the courthouse at 7:30 last Monday morning, a small queue had begun to form of no more than ten people, including local court reporters. I spotted the fans, mostly Black middle-aged women in jeans and hoodies, from their banter with each other as they patiently awaited for security to give them the go-ahead; they clearly had a rapport built up over weeks together, waiting for the trial to begin every morning, as they passed brushes back and forth and checked in with each other to make sure they had placed their names on the check-in list. Half an hour later, I followed them into the waiting area outside the overflow room; because of new entry protocols, the day's line was more orderly and relaxed, security told me, and the fans joked about how the Marshals have used the courthouse's facial surveillance to identify who was responsible for the previous fracas. Few would agree to speak with me, though they let me sit with them and listen in as they discussed their shopping plans and coordinated Ubers together. I learned that while a few women were local, one had traveled from Kentucky, and two had traveled from Missouri; the sense of communion between them remained the same. They had jobs as bloggers and Census workers. They seemed like people I might see on my bus ride, my neighbors, or the stranger who might gladly offer me some hand sanitizer at a restaurant before I started a meal — and one in fact did offer me hand sanitizer after I made it through security.
I had expected the worst — a never-ending stream of histrionic expletives in adulatory defense of their musical idol. Preparing for the day, my body tensed in anticipation of interacting with that level of indignation as a survivor of repeated sexual violence myself. But I was struck by how intimate and familiar they felt, as Black women with middle-class jobs and pleasant demeanors, a quality that many associate with Black elders, oftentimes given the honorific of aunties. I found myself making small talk about everything from Niagara Falls and local graffiti art to the weather; one woman hoped to see snow before she left New York. It was almost disarming. Then I heard a woman next to me say she wished she could take the stand for the defense, and the scene snapped back into focus.
While I declined to share my own position on the case, despite their prodding, I did get to witness exchanges of differing opinions. Like that Kelly, guilty or not, should've known better than to let himself be put in a position to even be questioned, as one man explained. As a Black man in America, where innocence is not a privilege afforded to the underclass, Kelly should have … something. Known better? Done better? Whatever the answer (which never came), this prompted a tense exchange between him and his companion; I heard her utter phrases like innocent until proven guilty and What happened to Black Lives Matter? with the implication being that if Kelly were afforded the same privileges as white men, he would not be in this position. It's a mangled argument that, of course, ignores that most of Kelly's victims are Black themselves. As we sat and waited for the courtroom to open, her friend explained to me that the fans believed "R. Kelly's not on trial — his dick is on trial," an inexplicable point of distinction for me, as I could not grasp what was exculpatory about that allegation since sex trafficking and illegal sexual activity with minors would, naturally, involve his genitals.
These are common sentiments among Kelly's fans. As Ohio State University professor Treva B. Lindsey explained to the New York Times, "There's an attachment to him and there's this sense that what is happening to him is part of a larger history of Black men being criminalized and villainized as sexual predators and held to standards that white men are not held accountable to." But Kelly is being offered a specific sort of martyrdom partly because he has intertwined his art with his demons — performing penitence in gospel-influenced tracks while reveling in lewdness in chart-topping R&B hits, daring his audience to love the sinner but hate the sin — in a way that allows his most dedicated fans to paint him as transparent versus an abusive predator. Underlying this belief is the mythos of the fast-tailed girl in the Black community, which operates in concert with a sort of anti-carceral stance, penalizing women who choose to seek justice the only way they're told they can. Because these supporters believe Black men are overwhelmingly falsely accused of rape, any attempt at accountability, through the courts or otherwise, is seen as targeted subterfuge against male Black excellence.
But viewing the average R. Kelly defender as uniquely deranged misses the societal forces that empower people like him in the first place. Powerful men in media and entertainment have always used their capital to abuse women without repercussions. Russell Simmons has been accused of sexual assault or misconduct by 20 women; Charlamagne tha God was publicly accused of rape in 2018; T.I. has been accused of sexual assault by multiple women, though Los Angeles County officials recently declined to prosecute him. (All have denied the allegations against them.) Rapper Joe Budden was arrested in 2014 on allegations of domestic abuse (the charges were later dropped) and was later accused of sexual harassment by a podcast host. Despite these allegations, these men have not been deplatformed from their positions of influence and continue to use their relationships with high-profile women to inoculate them from critique. Shortly after Sil Lai Abrams came forward to accuse Simmons of raping her in 1994, social-justice activist Tamika Mallory appeared on a podcast on which she was asked about the allegations against her longtime friend. "I mean, I don't know if I believe in it or not," she said. "I wasn't there and don't know what really happened." It took more than 25 years to come to any sort of resolution on Kelly, and it cost the well-being of innumerable Black girls, yet the entertainment industry and its profiteers continue to take a passive wait-and-see approach to every new set of allegations. The women I met at the courthouse are not the only ones using logical fallacies to rationalize irreconcilable truths in famous men.
Dismissing apologists as incoherent extremists makes it easy to relegate the danger of Kelly's supporters to the obscure far reaches of the internet; seeing them as people I could plausibly interact with day-to-day drove home just how insidious rape culture really is. I was prepared to dismiss these fans as the worst of the worst, absurd apologists beyond rhyme or reason. My time with them, however, painted a bit of a different picture. The women I spent my morning with could easily be regulars at my local Target or people I run into at the gym. As I sat in the waiting area last week, waiting for the courtroom doors to open, I had a visceral feeling that in this environment, I was the interloper — a near-out-of-body experience that had me rushing to the bathroom to collect myself. In the moments I took to gather my thoughts in front of the mirror, I realized that as much of a boundary as I thought I had created to protect myself from harm, the nature of society will always make it more porous than I ever considered.
My culture reporting has, more than once, taught me that people protect and enable abusers more than social media would lead you to believe, both passively and actively; some are just bold enough to verbalize it. We have convinced ourselves that there is a social stigma against abusers and predators and those who enable them, yet the celebrity repeatedly proves otherwise. Identifying these supporters as the fringe doesn't allow us to grapple with the myriad ways we are learning and unlearning to accept these power dynamics by default — and the racialized rape stereotypes that can spill out of them — or with the number of conversations we don't have with people in our network whose opinions we either don't know or are afraid to confirm for fear of what that means for our relationships with them. The average rape apologist is not just the random bot account screaming in your tweets; it's the person next door.
Monday afternoon, when the jury announced its guilty verdict, I started scrolling, wondering how Kelly's fans were reacting. In a short video taken from outside the courthouse, I saw them, the handful I'd met before. They were blasting his music and declaring to those around them that they weren't going anywhere, they weren't abandoning him. I put down my phone, leaving the disbelief for the internet; in the real world, I can't be swayed into believing it's anything more than an ordinary day.