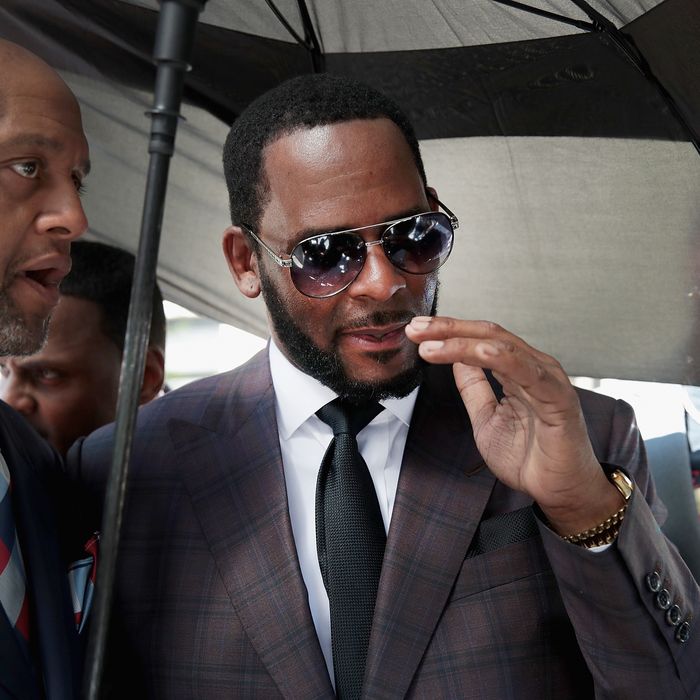 Photo: Scott Olson/Getty Images
After nine hours of jury deliberation, R. Kelly has been found guilty of all counts — one of racketeering and eight of violating the Mann Act, which bans interstate sex trafficking — in his New York trial. He could face life in prison.
The six-week trial was filled with disturbing revelations. The prosecution called 45 witnesses, including 11 alleged victims. Among them was a woman who says Kelly imprisoned and raped her when she was 21, another who claims Kelly raped her days after marrying 15-year-old Aaliyah, and a male witness who says Kelly asked him "what he was willing to do for the music" before assaulting him when he was 17. In his closing statement, Kelly's attorney concluded the horrific six weeks by comparing his client to Martin Luther King.
Rumors about Kelly's predation date back at least three decades, during which he is reported to have recruited and lured minors into a "sex cult." In the early aughts, he faced multiple lawsuits accusing him of having sex with underage girls and was tried on child-pornography charges in 2008. (He was found not guilty, in part because a key witness and her family declined to take the stand.) He was then arrested in July 2019, shortly after the release of Lifetime's bombshell documentary Surviving R. Kelly, and charged in Brooklyn federal court with racketeering, sex trafficking, bribery, and sexual abuse. He pleaded not guilty to all charges, and after two years, his trial finally began on August 18.
Kelly's sentencing is scheduled for May 4, 2022. He also faces state and federal charges in Illinois and Minnesota and will soon face another federal trial in Chicago.